Like other artists in the early stages of their careers, JD Moore is always on the lookout for new professional opportunities. The painter and photographer has shown portraits at several exhibitions across North Texas over the past few years. When a city employee with the Park and Recreation Department asked Moore if he wanted to volunteer his time for a mural near Panther Island Pavilion, the young artist said yes. The flexibility of the program, Moore said, allowed him to work during his free time, and the City of Fort Worth would pay for costs associated with the project. 
"I was sold on the idea and the premise of exposure," Moore recalled of those initial conversations last fall. "I don't have a problem volunteering my time. It was a commitment I could make. I'm not losing money. I'm just not profiting."
In November, Moore said he met in person with the Park and Recreation Department superintendent. Michael Tovar looked over Moore's proposal and expressed concern about the subject matter — portraits depicting dark-skinned men and women. Tovar told me in a phone interview that he worried that passersby would not know that the mural's creator is Black, and the depictions of Black men and women might inadvertently come off as "racist" without that context.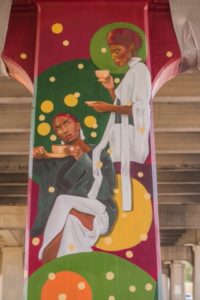 Tovar suggested that the artist place a Chinese figure into the work, something Moore refused to do. The people Moore planned on depicting were personal friends. Moore shrugged off the comments and started working on the large paintings. The mural's progress is documented on the artist's Instagram page @JDMoorePortfolios. Through photos and videos, the artist publicized the work in progress — portraits on eight pillars that support the Henderson Street Bridge — that he was clearly proud of.
Moore received a call from Tovar yesterday, and the two disagree over what followed. 
"His demeanor was calm and matter of fact," Moore said. "The conversion was more or less just one-sided in the sense that it wasn't a conversation. It was more like information that was being relayed to me. Any response to questions or something I asked was met with 'It's nothing personal. It's just business.' He was showing no respect at all."
In short, Tovar allegedly told Moore the painting was taking too long to complete and that another artist would need to be brought in to finish the work.
The most alarming part of the conversation came when Tovar allegedly told Moore that the artist would be charged with trespassing if he returned to work on the murals. Criminal Trespassing is a Class B Misdemeanor that can result in up to 180 days in jail. In Tarrant County, nearly half of the men and women who were charged with trespassing in 2018 and 2019 were Black, which makes the law a glaring example of institutionalized racism ("White Customer, Black Trespasser," Aug. 2020).
"He is either disconnected or doesn't care about the current climate about what it means to sic police on people who are being nonviolent," Moore said. "What it confirmed for me was that this is rooted in racism. I've had encounters with police. However, in an instance where I am an intended target, that makes me feel differently about my safety."
Tovar denies threatening Moore, although he did not deny bringing up trespassing in their conversation yesterday. 
"Did I mention the word 'trespassing'?" Tovar said. "I don't recall at this time." 
Any concerns over the subject matter of the murals were purely related to protecting the city from false accusations of racism, Tovar continued.
"Anyone can walk by there without knowing who the artist was or what his intent was," Tovar said. " 'I see African Americans, so I'm going to make a complaint because there are no white people or Chinese people.' Our concern was to cover ourselves."
The city is not canceling Moore's mural, Tovar said. 
"All we are doing is trying to help Mr. Moore, who has been a great support and asset for us since Day 1," Tovar added. "We are going to help him complete it."
Moore said he is currently seeking legal counsel and reaching out to Fort Worth City Councilmembers about the incident. Given the alleged threat of involving the Fort Worth police department, Moore now fears for his safety and has put the project on pause. 
In an email, a spokesperson for the Park and Recreation Department said, "On March 25, Mr. Moore was notified that the mural needed to be completed by April 9. Mr. Moore responded that he would try to meet the April 9 deadline. When completion did not occur, staff reached out to Mr. Moore to advise him that the city would arrange for assistance to complete the project. The city has reconsidered its decision and will offer Mr. Moore the opportunity to complete the project with a deadline of May 8. Graffiti Abatement staff has tried to contact Mr. Moore to inform him of the city's decision to extend the project deadline."
When it is safe to do so, the muralist said he hopes to complete his work. He understands that depicting dark-skinned men and women can make some people uncomfortable.
"That is my responsibility as an artist," he said, "to uplift my people."