My first nighttime venture to the West 7th corridor in several months found the area to be bustling at pre-pandemic levels. Several new restaurants and bars have popped up over the past year, including centrally located Trinity College Irish Pub, whose single large indoor space has a three-sided wraparound bar where during my visit heady pints of Guinness and shots of Jameson were liberally doled out to youngish patrons.
Trinity College Irish Pub, 910 Currie St, FW. 682-224-3525. 10am-2am Sun-Sat, 3pm-2am Mon-Thu, 11am-2am Fri. All major credit cards accepted.
There are several TVs mounted near the bar, but the overall vibe, established by the dark wood walls and Irish-themed regalia, is of a cozy pub. The indoor area was on the loudish side, so my friend and I opted for a table on the outdoor gravel patio.
Trinity College Irish Pub's menu boasts a wide selection of appetizers, pub specials, salads, soups, sammies, burgers, entrees, and even two vegan options (shepherd's pie and a veggie burger).
The Scotch eggs came out first. Two sausage-encased hard-boiled eggs had been immaculately plated and served on a bed of yellowish gravy. The meaty casing was firm with a texture more similar to ham than breakfast sausage. Parsley and sage livened up the pork, and the panko crust made each bite pleasantly crispy. The egg, with its soft, semi-boiled, golden yolk, had a texture similar to a poached egg. The gravy was its own sensory explosion of creamy, buttery goodness with a subtle brown mustard flavor that elevated the overall dish to near perfection.
Chicken wing lovers won't tire of Trinity's flavor options, which include pale ale mild, IPA medium, Guinness barbecue, and fiery inferno. I sprung for the duck wings: six large drumsticks tossed in a citrusy and slightly spicy glaze. A generous sprinkle of sesame seeds and diced scallions enhanced both the flavor and appearance. The outer skin was cooked to crispy perfection, and the meat was rich and flavorful.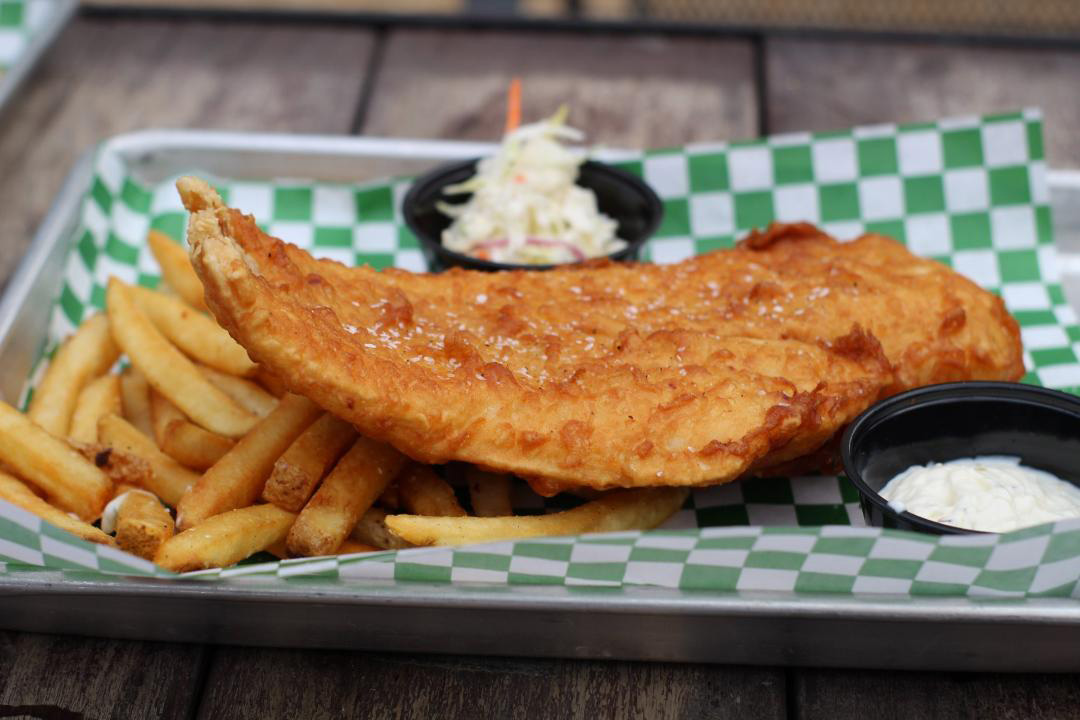 The fish and chips caused my guest and me to do a double-take. The popular English dish, which typically consists of several smallish fried fillets, was a gargantuan cut of cod that was about the size of a deflated football. The golden-fried beer batter wasn't overly thick or brittle and held the flaky but firm cod together nicely. The entree came with a small bowl of coleslaw and enough tartar sauce to lather the seafood from end to end.
The Dublin Double, one of seven burgers offered, was a savory belt-buster. The towering sandwich held two juicy Angus beef patties, several thick cuts of smokey bacon, melted cheddar cheese, an over-easy egg, and veggies. A mildly sweet sauce was a pleasant addition to the greasy burger, which could easily be split to feed two people.
Trinity College Irish Pub offers dozens of familiar and rare Irish whiskeys, bourbons, and Scotches. The Get Smashed (Jameson whiskey, watermelon puree, muddled blueberries, and lemon juice) was pleasant enough but didn't have any singular defining flavor profile. My favorite cocktail was the Irish Mule, also made with Jameson but with a delightful peach puree that gave the overall impression that I was drinking a boozed-up sweet peach tea.
My only disappointment that evening was finding that the pub couldn't validate my parking since the restaurant isn't officially part of the Crocket Row at West 7th development. Our waitress advised that we buy a beverage at nearby Crocket Row Food Hall, which we did, so our parking could be validated. The service was on point that evening, and I could see why the place was packed after being open only a few months.
Trinity College Irish Pub
Scotch Egg $10
Chips and dip $8
Duck wings $14
Dublin Double $17
Fish and chips $15
Irish Mule $9
Get Smashed $9