Summer sippin' and skinny dippin' aren't synonymous, but one can most certainly lead to the other. And after 2020's dismal results as a summer to remember, we want all of our readers to achieve some sort of success in the summer of '21, either on the way to becoming a master mixologist in your home tiki bar or maybe finding that temporary someone on Love Island.
For the former, we reached out to some of the finest cocktail slingers this side of the Trinity for some thirst-quenching cures for the summertime blues. And let's leave the bottom-shelf stuff behind.
Since opening Provender Hall, the Stockyards hotspot in Mule Alley, Chef Marcus Paslay and team have been serving finely prepared Southern dishes and sharp cocktails that don't make you feel like you're in the heart of Cowtown. Director of Operations Kellen Hamrah, who also oversees Paslay's Clay Pigeon and Piattello Italian Kitchen, talked about an upcoming cocktail named the Peach Stand Punch.
"We love to drink and eat in season, and with peach season right around the corner, this cocktail fits right in," Hamrah said. "We also love the fact that Parker County is so close and look forward to their peach harvest each year. Besides, tropical drinks always taste better when it's hot out."
Peach Stand Punch
1 1/2 oz Plantation Xaymaca
3/4 oz Mathilde Peche
1/4 oz St. Elizabeth Allspice
1 oz pineapple juice
1/2 oz lime juice
3 drops Emerald Absinthe
Pour all ingredients into a shaker tin and fill with ice. Shake vigorously and strain over pebble ice. Garnish with orange wheel, cherry, and mint sprig.
"It's got this wonderful aroma from the Jamaican rum along with a pleasant peach and pineapple backbone," Hamrah said. "The allspice dram gives it a touch of a pleasant, spicy depth, and the drops of absinthe bring a freshness to the drink that is mirrored in the mint garnish."
Proper owner Lisa Little-Adams describes their cocktail creation L'Orange as something reminiscent of her childhood.
"I wanted to do a cocktail with orange juice that tastes like a Creamsicle popsicle," she said. "As a child growing up in Florida, my friends and I would ride our bikes around town during the summer and stop at the local lakefront shop and get a Creamsicle popsicle, sit on the dock, and watch the people fish."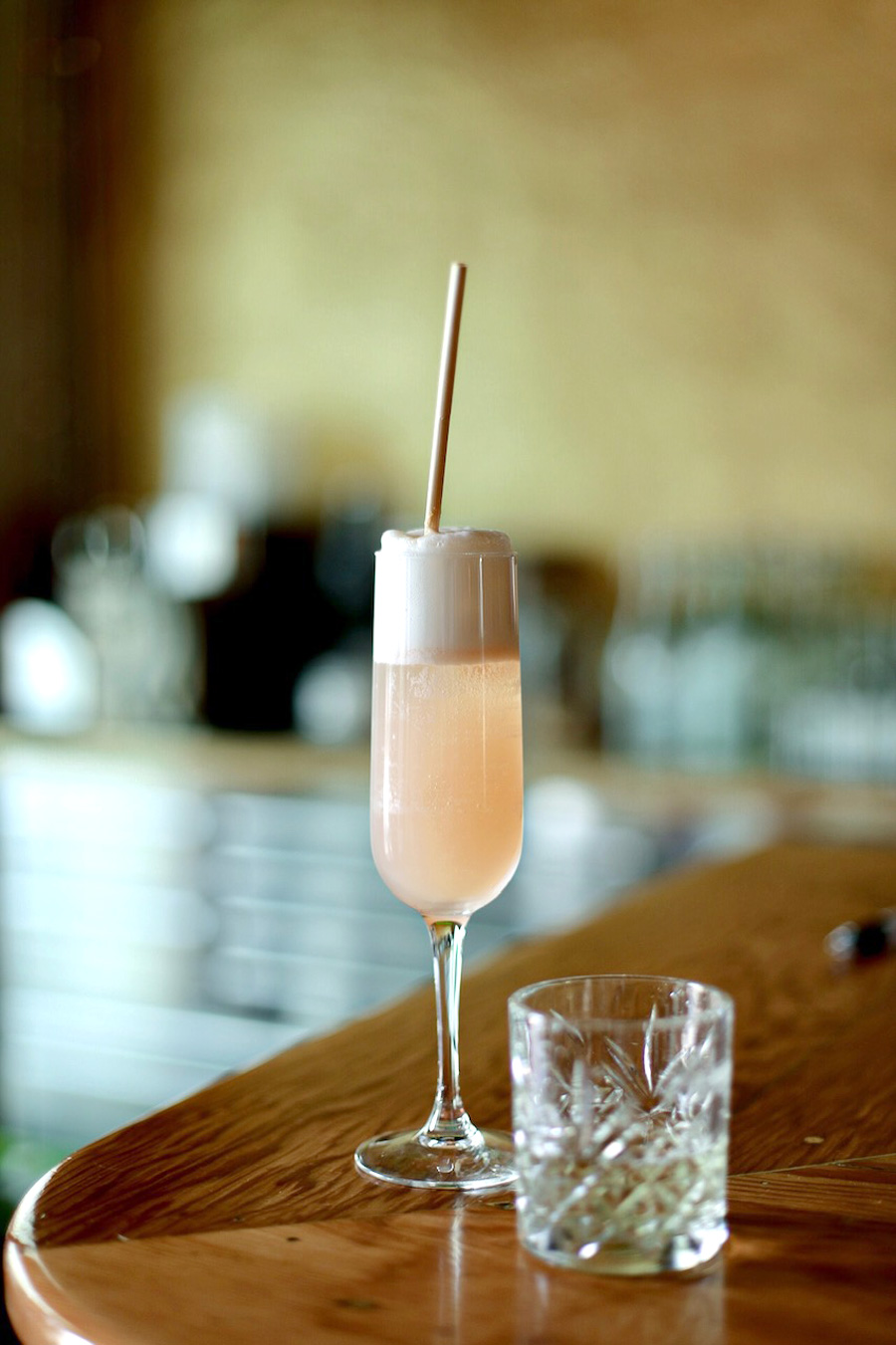 L'Orange
1 1/2 oz vodka
1/4 oz Aperol
1/4 oz orange Curacao
1 oz split orange and lemon juices
1/2 oz (1:1) simple syrup and 1
egg white
Taste of sparkling wine
Shake with ice, then pour into a wine glass before topping with sparkling wine.
We can find more sunny vibes at The Usual. Bartender and managing partner Jason Pollard said Tommie Fogle crossed state lines to generate ideas for their summery sauce, the Mrs. Sippy.
"We drew inspiration from the muddy waters of the Mississippi for this cocktail," he said. "Singani and vodka blend perfectly with lemon and strawberry for a refreshing yet familiar first taste. Once the juniper and fresh herb tincture sitting on top is introduced into the mix, the now muddied cocktail transforms into an invigorating and slightly more complex mesh of flavors that evoke fond memories of being in nature that we tend to neglect after living in the big city."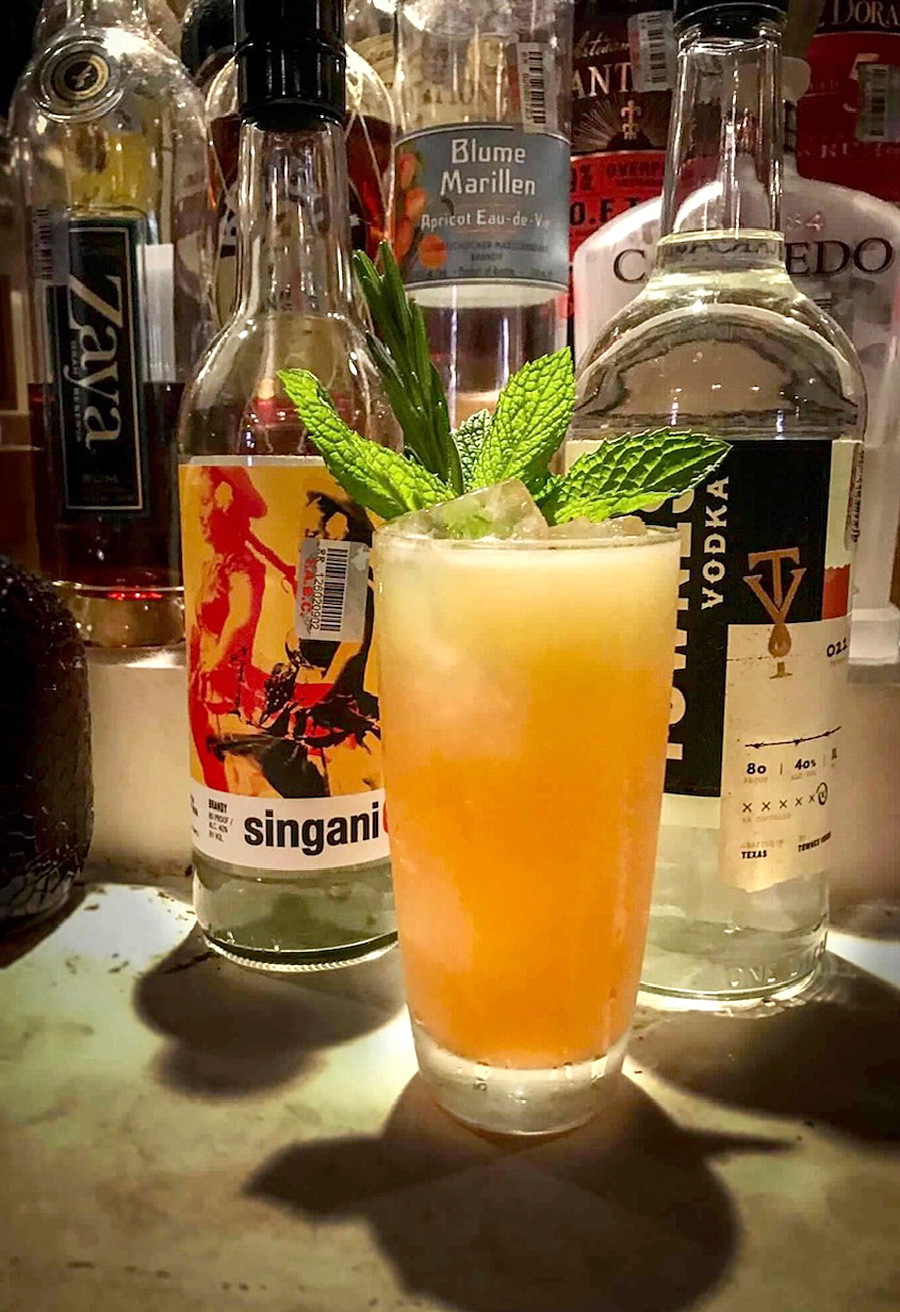 Mrs. Sippy
1 oz vodka
1 oz Singani
3/4 oz lemon juice
1/2 oz simple syrup
basil/juniper tincture
Twirl with stirring spoon, then top with soda and add 3-4 drops of basil/juniper tincture on top.
As with all of the recipes, this one will have you beating the heat in no time.