Discussions about heart disease, diabetes, and high blood pressure aren't exactly appetizing, but with obesity affecting 42% of American adults, Chef Julia Dunaway isn't afraid to tell her foodie followers about the health risks associated with America's fatty, salty, and highly processed diet.
"Look around," she said. Many people are "fat and unhappy. What are they eating? The standard American diet of meat, dairy, processed foods, and excess calories. People are on medication, and they feel terrible."
Dunaway, who leads online plant-based cooking demonstrations, said her largest contingent of followers are millennials. While many belonging to older generations have resigned to manage their chronic diseases, folks in their 20s and 30s are open to preventing the onset of health problems by mindfully avoiding harmful foods, Dunaway said. The chef made the switch to plant-based foods three years ago after her doctor warned that her high cholesterol levels would shorten her life.
After a 30-year career as an officer in the armed forces and a subsequent switch to the culinary arts in 2009, Dunaway said she has found her calling — exciting people about the flavorful potential of grilled veggies and other alternatives to meat and dairy products. Interest in wholesome, unprocessed food is growing, she said. Her ticketed Facebook video cooking classes regularly draw crowds of 150 and more.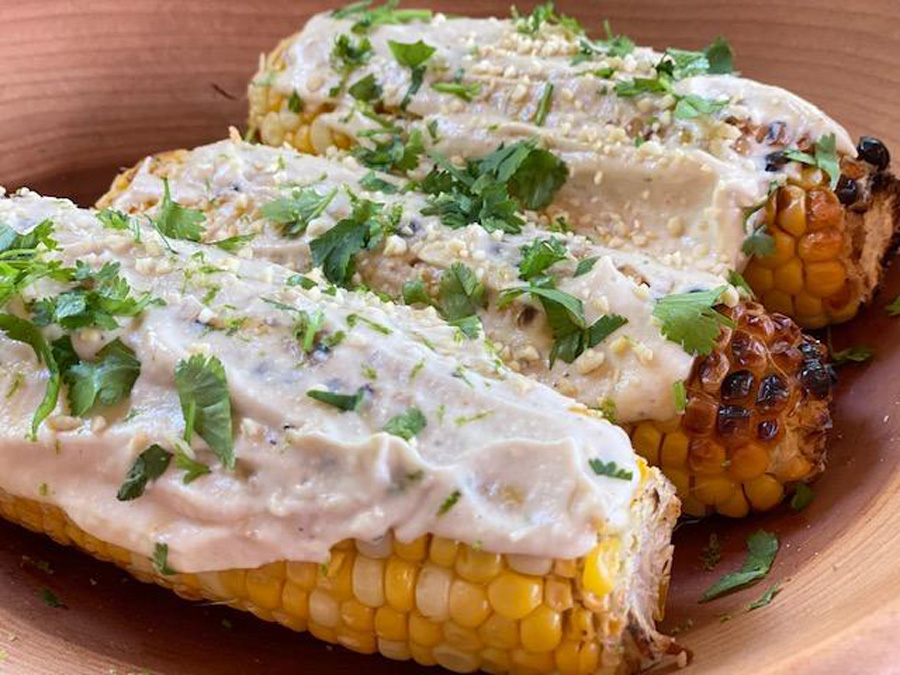 For folks who are looking to boost their energy — and increase their lifespan — through a nutrient-rich diet, Dunaway has this advice.
"Any movement toward a plant-based diet is helpful," she said, meaning you don't have to codify your eating habits as "vegetarian" or "vegan."
Most veggies grill well, Dunaway said, but some plants take longer to cook over an open flame than others.
"Mushrooms, zucchini, summer squash, and bell peppers" are easy to grill, she continued, but they need to be cut into planks that are a quarter- or half-inch thick so they can handle the heat of an open flame.
As part of Dunaway's health-minded approach to going meatless, she avoids oils and butter. Her personal substitute is a blend of tahini, vegetable broth, and spices. Even with that protective and flavorful barrier, the chef recommends using medium heat and not rushing the cooking process. She also advises grilling over grates that leave thick cuts of sweet potatoes, mushrooms, tofu, and other hearty meat substitutes with char lines.
Dunaway said her husband gladly gave up meat patties after he tried her veggie substitute blend of chickpeas, mushrooms, onions, spinach, carrots, and bell peppers — cooked down, blitzed with breadcrumbs and oat flour, and grilled to perfection.
Another option for satisfying meat eaters is tofu. Dunaway marinates thick cuts of the soybean curds in a Korean barbecue sauce before cooking them over an open flame and serving them with rice on lettuce wraps. Tempeh, or a mess of fermented soybeans with a dense texture, is a great tofu substitute, she added.
Carrot dogs, she said, are popular stand-ins for beef and pork franks. Take whole carrots (cut and peeled to hotdog size) and marinate them in a bath of veggie broth, spices, and apple cider vinegar. Once grilled, the carrot dogs can be served on a hot dog bun with traditional toppings.
Besides being healthy and disease-fighting, plant-based diets are low in calories. Dieters can enjoy large quantities of beans, mushrooms, and leafy greens while still shedding several pounds or more per year. In the three years since adopting her new lifestyle, Chef Dunaway's cholesterol levels have dropped from 211 to 170. At 66, she said she looks and feels younger.
"My purpose in life," she said, "is to help others adopt a whole-food, plant-based way of eating for the planet, the animals, and for the health and longevity" of others.
Dairy-free Grilled Elote
One cup raw cashews, soaked in water for 30 minutes to an hour, then drained
1/4 cup of water
1 tbsp lemon juice
1 tbsp nutritional yeast
1/2 tsp onion powder
1/2 tsp tamari
1/4 tsp vegan Worcestershire sauce
1/4 tsp mustard powder
1/8 tsp garlic powder
Freshly ground salt and pepper to taste
Place ingredients in a high-speed blender and blitz until smooth. Set aside. Take one or more ears of corn, remove husk and silk, and place over a grill (medium heat) for 15 to 20 minutes. Rotate corn regularly while leaving enough time for grill marks to form. For a smoky flavor, add wood chips that have been soaked in water to gas grills. Once cooked, remove corn and slather on dairy-free crema and top with cilantro, lime zest, and lime juice.
For a cotija substitute, mix 3/4 cup of raw cashews, two tablespoons of nutritional yeast, 3/4 tablespoons of kosher salt, and 1/4 of a teaspoon of garlic power in a food processor and blend until the topping has the consistency of breadcrumbs.
Follow Chef Julia Dunaway on Facebook @ChefJuliaDunaway and YouTube @JuliaDunaway.