In Twelve Mighty Orphans, author Jim Dent writes of football coach Harvey "Rusty" Russell arriving at the Fort Worth Masonic Home for Orphans in 1927 and being told by E.P. "Doc" Hall that the football field is used for grazing goats.
"Doc, I've been around sheep and goats all my life," Rusty says as he looks at the barren field. "I've never known goats that like to eat rocks."
"These are Fort Worth goats," Doc says. "Fort Worth goats are different."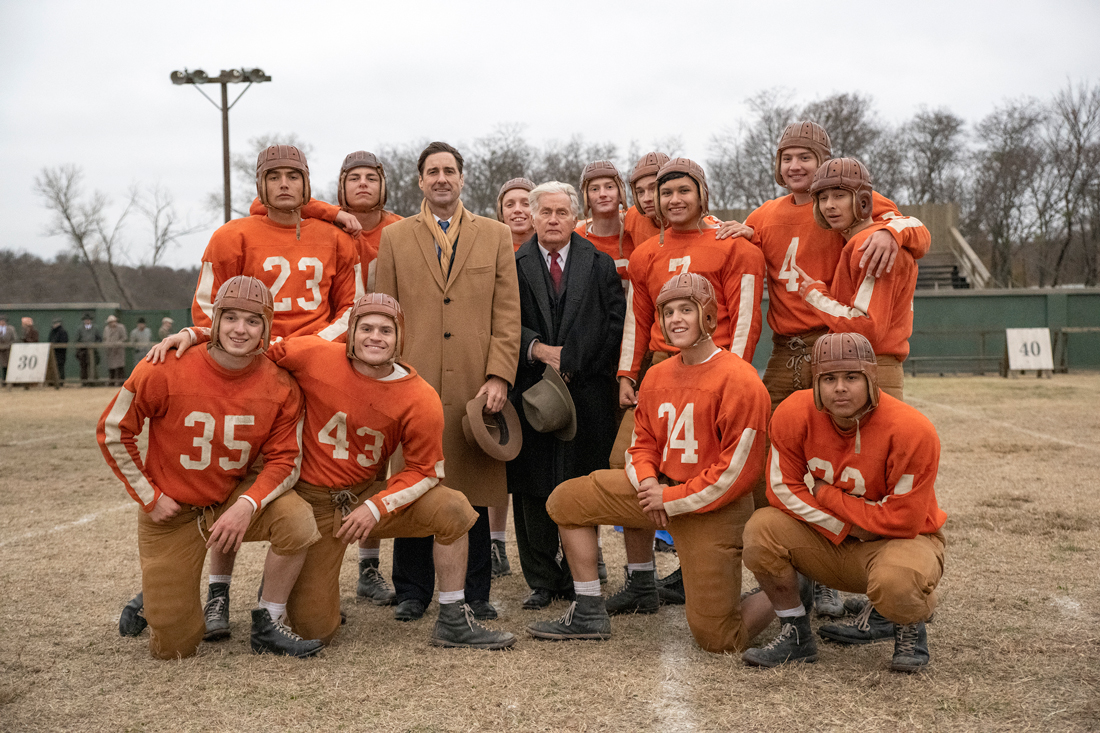 This exchange shows up in the film 12 Mighty Orphans, which is based on Dent's book about how the cash-strapped team of orphan boys nicknamed the Mighty Mites, who could field a team of only 12 players and thus had all of them playing both offense and defense, started upsetting the established powerhouses of Texas high school football and captured the attention of a nation. Luke Wilson portrays Rusty and Martin Sheen Doc, and they were standing in a Fort Worth field when they delivered those lines.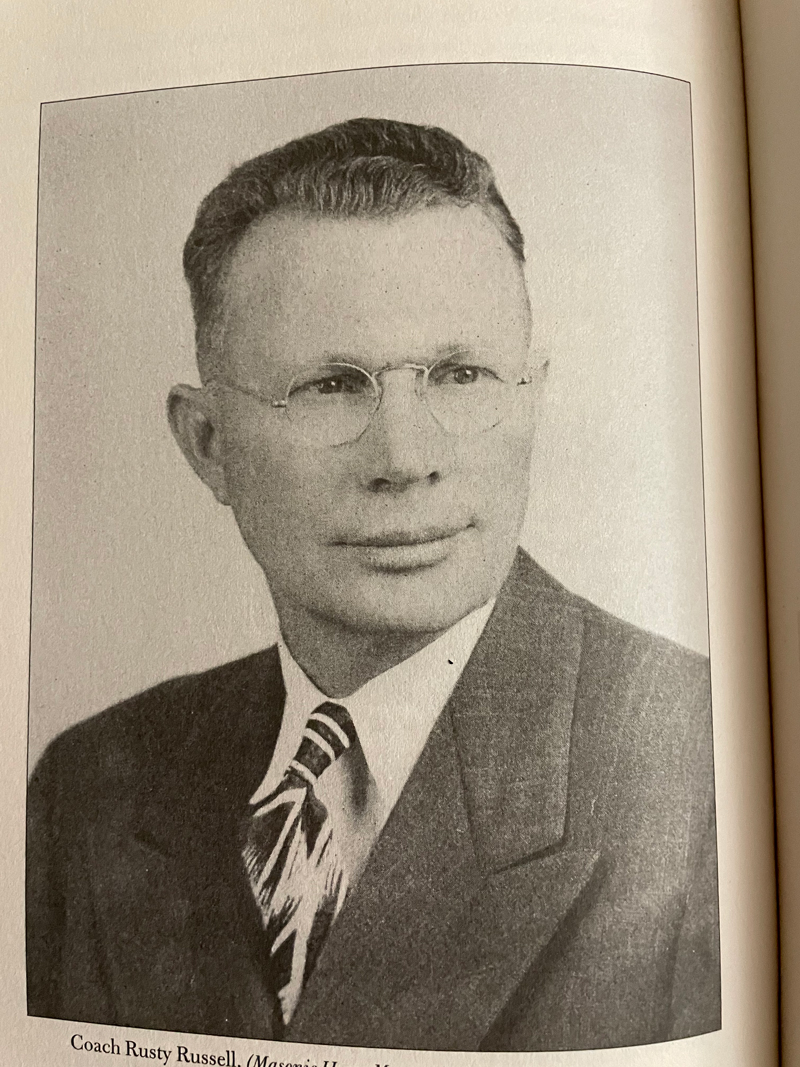 Midland native Ty Roberts shot the film in Fort Worth and the surrounding areas in late 2019, hoping to screen it at South by Southwest in 2020 and have the film distributed in time for football season that year. Of course, the coronavirus pandemic canceled the festival and forced the filmmakers to sit on their finished product.
"I've been doing a lot of writing and catching up on old movies," said Lane Garrison, a screenwriter and actor on the film speaking from his home. "It's almost like going back to school."
This past January came the announcement that longtime indie film distributor Sony Pictures Classics would handle releasing the film. This week, the movie comes to Texas multiplexes a week before the rest of the country has a chance to see it. Said Roberts, "Now it feels like there's light at the end of the tunnel."
******
The film has been more than a decade in its journey to the big screen. Back in 2011, retired investment banker Russell Morton, who was also the grandson of Rusty Russell, had taken Dent's book and started casting it into screenplay form with an eye toward a feature film, as the Weekly detailed in  ("Mighty Orphans Await Kickoff," Feb. 16, 2011). Collaborating with Matt Barr and Ryan Ross, he purchased the movie rights to the book and compiled numerous hours of interviews with people who had been at Fort Worth Masonic Home and known the main personages in the story.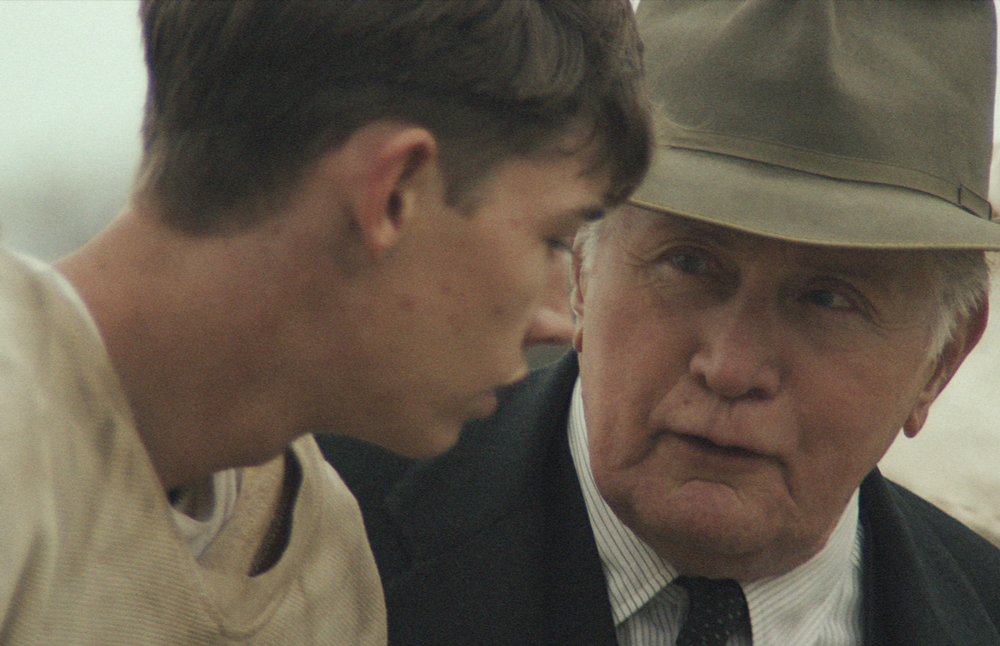 "We completed our own version of a screenplay," Morton said recently. "It was just very difficult to cover all those seasons, all those people and their stories. I wanted everyone's story told, and you couldn't do that in two hours or less."
What persuaded him to hand off the screenplay to Roberts, Garrison, and company was a viewing of Roberts' 2018 feature film debut The Iron Orchard, an oil-industry drama that is set in 1930s Fort Worth, though it was filmed in Austin.
"All the members of [our production company] 12 Productions knew [the filmmakers] understood Texas in the 1930s, knew they did a wonderful job with a period piece," Morton said. "It just seemed like a natural fit. Plus, they felt drawn to filming it locally, and I loved that idea."
For the 47-year-old Roberts, the story dates to his childhood, when he saw Indiana Jones and the Temple of Doom and found holes in the story's logic.
"I could never focus on one thing I wanted to do," he said. "As a writer-director, I realized I could switch topics. It fits very well with my being a jack of all trades."
Descended from an oil family, Roberts was in Argentina working as a consultant in the early 2000s when he made the lateral move into filmmaking, as his familiarity with the region allowed him to work on a documentary on the Andean condor. From there, a friend contacted him to scout locations for Disney's Chronicles of Narnia films, as the studio was looking for wild country similar to the New Zealand backdrops that did so well for Peter Jackson's Lord of the Rings movies. Disney then tapped him directly to do similar work on a documentary about Patagonia's wildlife, which allowed Roberts to travel all over the country and meet the woman who is now his wife.
He met Garrison when he cast him in The Iron Orchard. Prior to that, Garrison had moved to Los Angeles to pursue acting after a troubled childhood and received his big break portraying David "Tweener" Apolskis on Fox's drama Prison Break. He had promised his ailing mother to succeed well enough to allow her to move to Hollywood with him, but she passed away before he could fulfill that promise. As a former high school football player himself, Garrison immediately knew the world that Dent's book depicted.
"He reminded me of a young James Cagney," Roberts said. "We had written scenes together for The Iron Orchard. We have low-key, well-managed egos. We're willing to let someone rewrite a scene. I just brought him in as a consultant. Next thing we knew, we were on a daily schedule. I called [producer] Houston [Hill] and said, 'We need to do this together.' "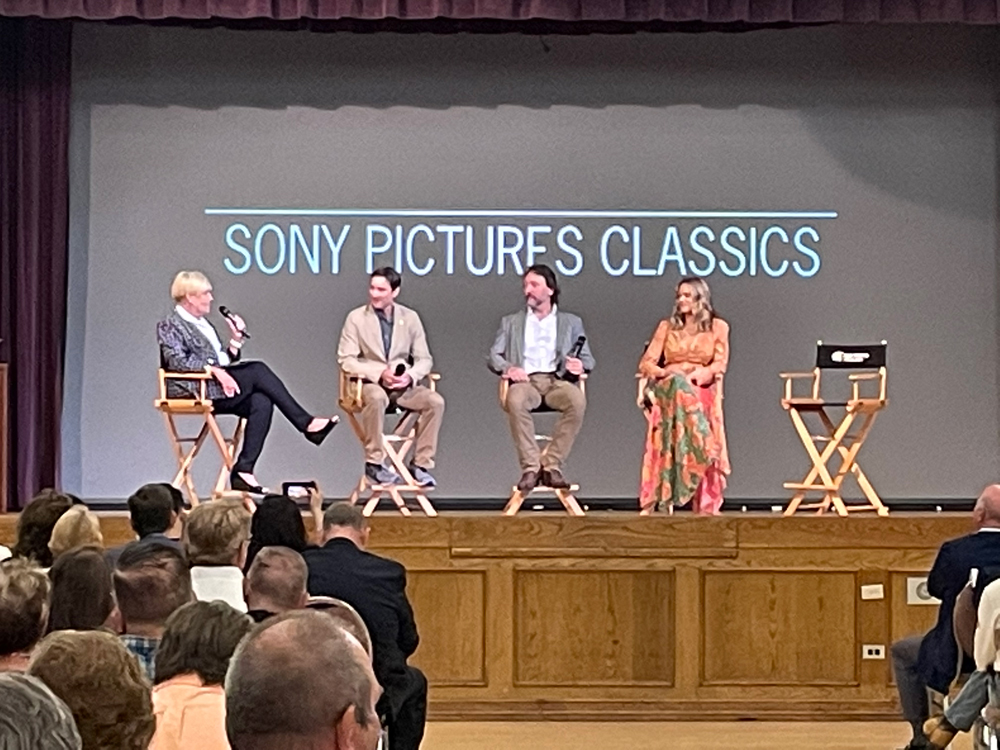 Garrison said that he and director Roberts immediately clicked. "I've been part of some big studio movies that would fall to pieces because of ego," Garrison said. Roberts, he continued, "spoke to who I wanted to be as a man and a father."
It was Hill who negotiated Morton's group handing artistic control over to Roberts.
Morton, Hill said, "let us make our movie. He knows this is a movie, not a documentary. His mother is 95, and he wanted to make the movie while she was still alive."
Roberts added that Morton was on set almost every day and available to answer questions.
How did Betty Morton react when she saw the finished cut of the film and seeing herself portrayed as a child by Josie and Lilly Fink?
"She got the biggest thrill seeing those little girls play her," Morton said. "She was just so touched at seeing [Wilson] and Vinessa [Shaw] play her parents. She said, 'I looked up and saw my parents right there in front of me.' "
*****
For the sake of drama, the film compresses the events of several years into the first season that Rusty takes over the team and has trouble gaining access to basic equipment yet still takes the team within one play short of a state title, an honor that eluded Rusty Russell during his coaching career. The narrative suffers from too much voiceover narration from Sheen's character explaining how the Fort Worth team gave hope to a nation buckling under the Great Depression. The dean, Frank Wynn (played by Wayne Knight), is shown taking pleasure in paddling the orphans when they step out of line, which is in keeping with the way he's depicted in Dent's book. However, the filmmakers change his history, as the real-life Frank Wynn came to a dramatic end by drowning in the Trinity River during a swimming expedition with some of the boys. Garrison cited the film's PG-13 rating as a reason for changing the historical events.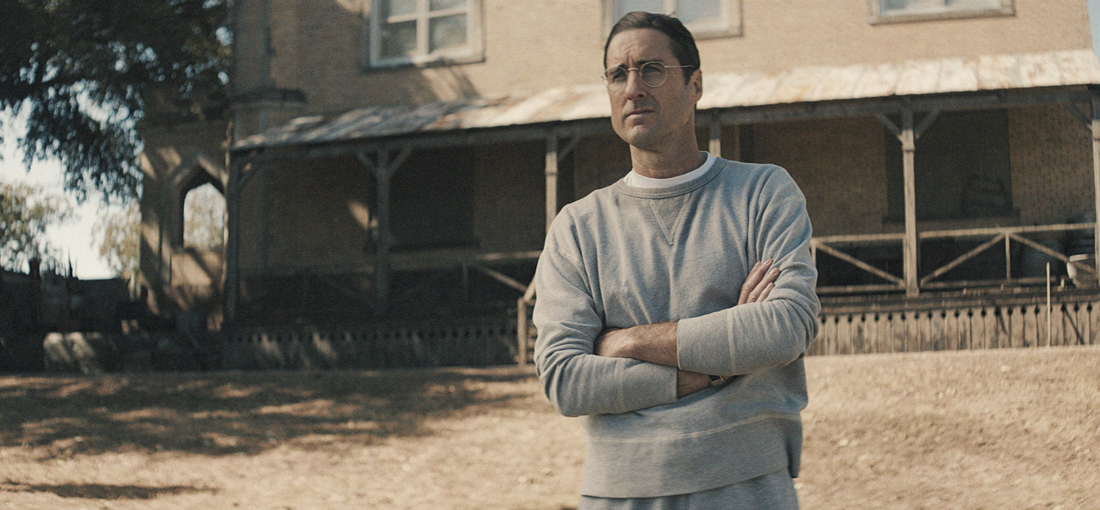 "We felt that Frank Wynn's death was going to be too harsh," he said. Roberts "came up with the idea of how we could serve his character justice without killing him."
Once the script was finished, the onscreen talent had to be assembled. Roberts had already contacted Wilson, unsuccessfully trying to contract him as the lead in his short film, then working as a crew member on The Wendell Baker Story, a feature that Wilson starred in and co-directed with his brother Andrew Wilson.
"Once we got Luke [Wilson], it opened things up to us," Roberts said. "The more people signed on, the more people got interested."
At a recent event, Wilson said, "Somehow I missed the book. I learned about Rusty through the script. [Roberts] sent it to me. [Rusty] was a remarkable guy, and I was lucky enough to be hired."
Robert Duvall portrays a composite character meant to embody the various donors who gave their resources to the school. He and Sheen play scenes opposite each other, the first time they've appeared onscreen since 1979's Apocalypse Now.
"It was awesome for me," said Garrison, who was on set portraying Luther Scarborough, the villainous coach of Fort Worth Poly High School who tries to have the Masonic Home's team banned from competition. "I was on the 50-yard line and looked over, and [Roberts] was leaning over giving Duvall direction. He got back behind camera and yelled, 'Action!' and had this great smile on his face. I'll never forget it."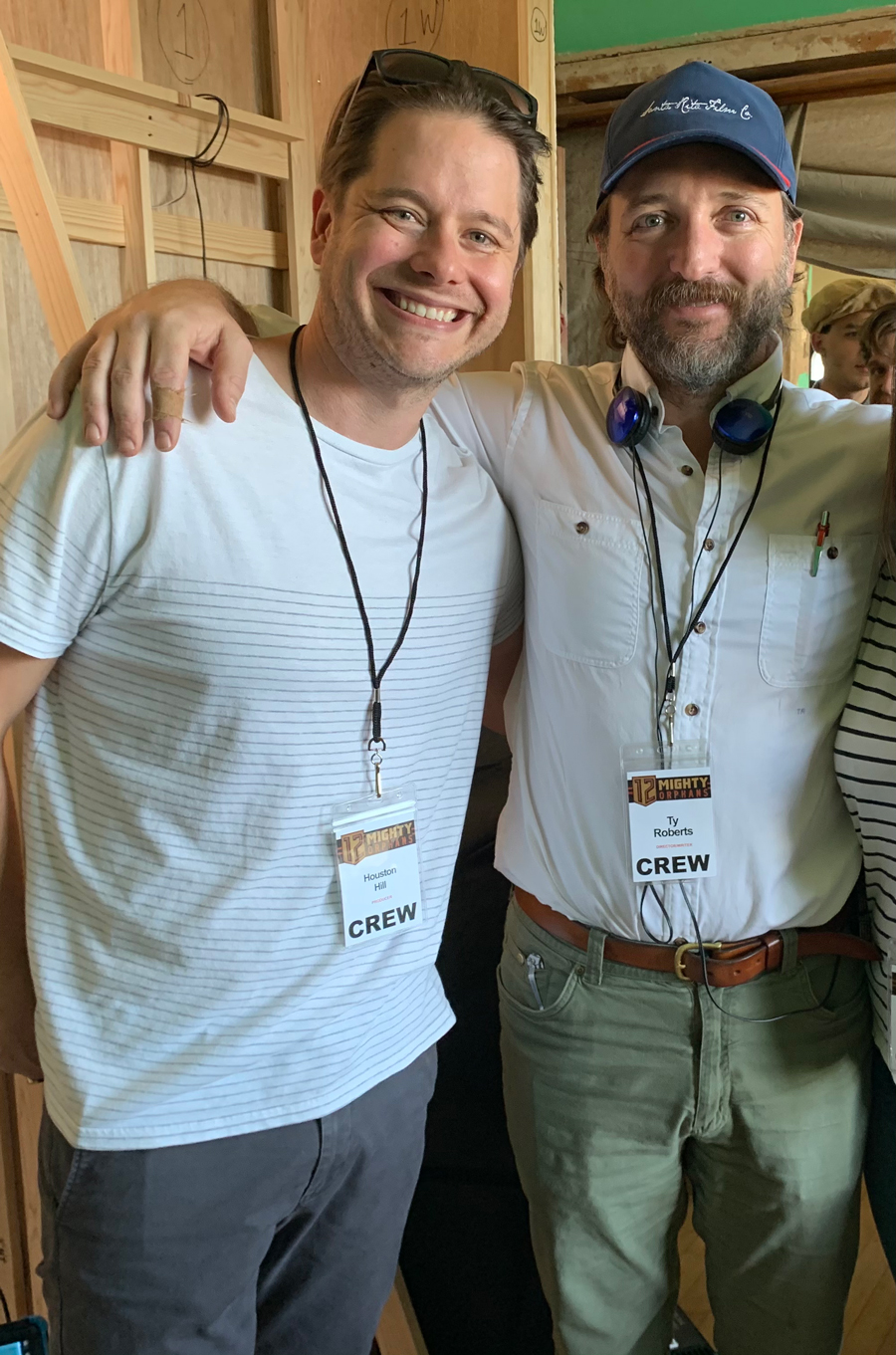 "That was probably the 102-degree fever," joked Roberts on the same conference call. "You answer their questions, but you don't direct [actors of that stature]. You just give them ideas to develop."
More of a challenge was directing the local actors portraying the orphans on the team, most of whom had little experience either with acting or with football. Before the shoot, Garrison ran a two-week football camp for them until they were calling their own plays. Still, the filmmakers were more concerned with the action off the field than the games, which look as ragged as you'd expect a 1930s high school game to look.
"We can watch football any time," Garrison said. "We don't want this to be a football movie. We want this to show how football teaches these boys to overcome adversity. Shooting football is time-consuming and intensive, and we want to focus more on emotions and scenes."
The filmmakers had used Austin as a location for filming the Fort Worth-set Iron Orchard because they needed ranch houses with wooden frames, something the state capital had more of. However, this story required local sites such as the Fort Worth Masonic Temple, in which Treat Williams filmed scenes portraying Amon Carter. The locker-room scenes were shot at Farrington Field, where the real-life M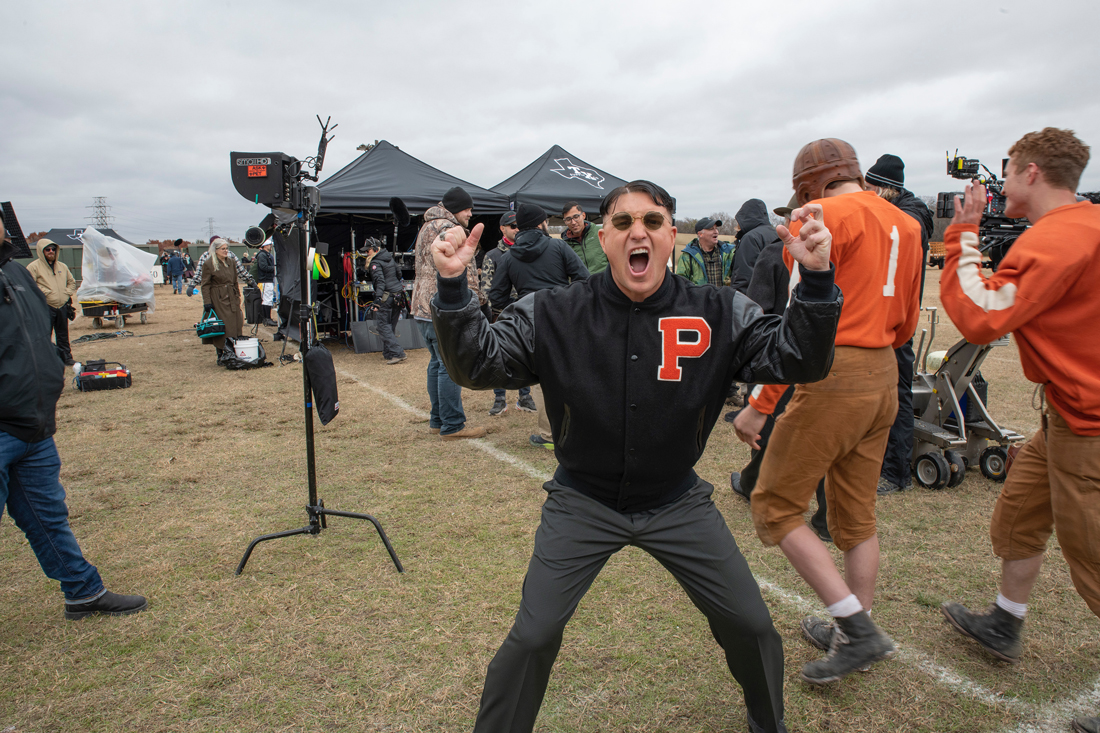 ites played their home games. The inside of the Masonic Home had recently been renovated, so Texas Pythian Home in Weatherford stood in for the place the orphans called home.
"There's something that happens to filmmakers when you shoot in the place where it happened," Garrison said. "We could have shot this in Oklahoma and saved a pretty penny, but we had extras that went to the Masonic Home, that played with or against the Mites. You won't get that truth if you don't have the actual location."
"I'm shooting a movie in Atlanta now, and it's supposed to be Nebraska," Wilson said. "You're not always lucky enough to shoot in the place where it happened. For a story this important, I was happy to be in Fort Worth."
The Mites' homefield had to be recreated at Gateway Park, with the filmmakers building a stand for fans and using CGI effects to complete the illusion of a Fort Worth stadium from the time period.
"These days, every Texas high school football program worth its weight has a modern stadium with turf," Roberts said. "Those old stadiums are pretty nonexistent."
In addition, the filmmakers could count on local investors such as George Young Jr., who is credited as an executive producer on the film.
"I've heard 'I've got a financier' for 20 years in L.A., and it never means anything," Garrison said. "We met George, and he wrote a check in 48 hours."
Wilson added, "We couldn't have done this without him."
The filmmakers contacted Sony Pictures Classics to ask the New York-based distributor to put the movie in theaters. Fortuitously, co-presidents Tom Bernard and Michael Barker both went to high school in North Texas, where Bernard had played as an offensive and defensive lineman for Jesuit High School (now Jesuit College Preparatory) in Dallas. They immediately understood the milieu that the movie depicts.
"I stepped in a rut in Cleburne when we were playing there," said Bernard, who has won 41 Oscars with Barker during their 40 years in movie distribution. "I found it amazing that you'd get on a plane to go play a high-school football game. Our coach worked part-time for the Cowboys, so Bob Lilly came to one of our practices. Meeting him was amazing."
It was Bernard and Barker's idea to put the movie out in Texas before the rest of the country.
"We had the trailer playing on the Jumbotron at the Cotton Bowl, and we made sure to have a heavy radio presence, because radio is big in Texas," Bernard said, adding that his rollout strategy was contingent on the actors' willingness to make promotional appearances. "Sometimes people do low-budget films and don't have the time or the desire to promote it. [Wilson] said he would do whatever was needed to make people aware of it in Texas. We want the rest of the country to see the movie succeed in Texas and become interested in it that way."
Another piece of cross-promotion can be found at the National Cowgirl Museum & Hall of Fame, which is holding , the latter taken by Laura Wilson, who is Luke Wilson's mother and also a recent inductee of the Hall of Fame.
After the film is released, Roberts, Garrison, and Hill have no plans to stop now that the world is opening back up. They have optioned the rights to Joshua Hammer's detective novel The Falcon Thief and are thinking of expanding 12 Mighty Orphans into a TV show to do justice to the many children who passed through the Masonic Home during Rusty Russell's time there. They're also thinking of switching sports to make a movie about the longest Little League World Series game in history, which a Fort Worth team lost in 11 innings in 2002. Whatever they do, they are certain of wanting to return to North Texas.
"We love shooting there," Roberts said. "The community is so great."