My first trip to Saginaw with the sole intention to dine was not disappointing.
After viewing the two-page food menu online, I was surprised upon entering to see that Eagle's Point Bar and Grill looks, simply, like a sports bar. Over a dozen TVs surround the room — soccer and hockey were on at the time of my visit along with the Rangers game, there on a massive screen in the corner in front of plush leather couches for those wanting to enjoy all the sportsball! in comfort.
Uniquely, Eagle's Point seems to have a family atmosphere. I watched a father and his young son play a game of pool to a rocking Heart jam while a young couple occupied a pool table nearby. Regulars threw back simple beers at the bar while friends chatted at their table over dinner.
Almost every appetizer on Eagle's Point's menu includes some form of cheese, which is nothing to complain about. Listed first on the menu, the Hot Mess caught my eye. When the dish was brought out, I couldn't see the toppings it contained, only large lumps hidden beneath hot homemade queso. The first flavor to jump out at me after I stirred the creation was a mix of sour cream and beans, and the taste reminded me of a hot version of a five-layer dip. My next chip unearthed tender taco meat, fresh guacamole, and traces of pico de gallo. It was a queso candy bowl. The hot and crispy chips were thin yet strong enough to hold each chunky scoop. If you're not careful, you could get plenty full on the Hot Mess alone.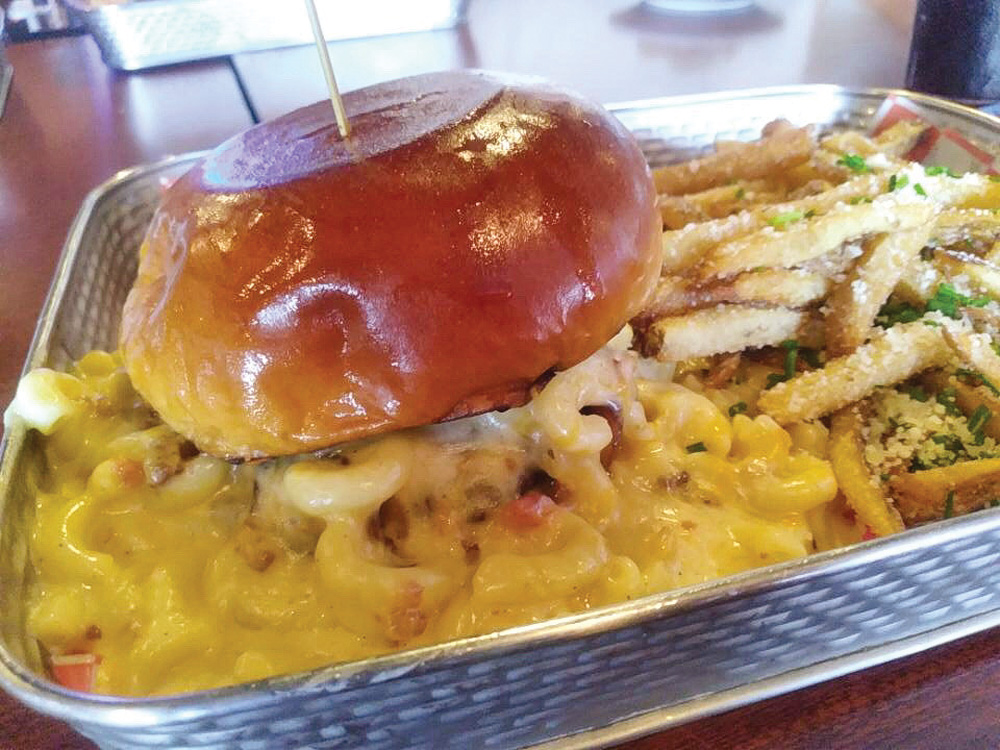 The kitchen's creativity also shows in the Tot-Cho Bowl. A large bed of golden tater tots lay beneath layers of taco meat, beans, queso, guacamole, pico de gallo, jalapenos, and sour cream. The crunchiness you hear as you chew is from the pico. The combination of ingredients, much like the Hot Mess, paired well together, and the style in which you eat it resembles a taco salad. Just hold the lettuce and add the taters!
For such a small place, the menu is enormous, stretching outside the norm of usual bar food. Some of the choices include catfish, shrimp, and grilled flatbreads. A unique entree is a bowl of mac 'n' cheese topped with smoked pulled pork, jalapeno cheddar smoked sausage, and chopped smoked bacon, drizzled in barbecue sauce, with several other meat options available. Unfasten your belt now.
Though I was intrigued by a lot of options, the half-pound burgers commanded my attention. With each burger, you're given the option to customize your cheese with American, pepper jack, cheddar, or blue cheese crumbles. My server asked if I wanted bacon mayo, spicy mayo, lemon garlic aioli, or sriracha aioli. On the menu, this addition is referred to as "bread booze." Every burger comes with the option of French fries, sweet potato fries, tater tots, onion rings, or, for an additional charge, mac 'n' cheese or a side salad (ha!). Fries are seasoned with your choice of salt and pepper, garlic chive parmesan, sweet and spicy, Cajun, or Devil's fry rub, which is Eagle's house blend of Ghost Pepper, Carolina reaper, and habanero seasoning. Buckle up.
The first burger I ordered was the Sagnasty. The yolk of the egg was already dripping down one side of the sandwich, pooling at the bottom bun. Part of the pepper jack had melted and started to slide out from underneath. Yes, it is possible for a burger to look sexy. I ordered my Sagnasty to be cooked medium, as I order all my burgers, with bacon mayo, and I was happy to see that the kitchen obliged my request. At first bite, I could detect a little kick from jalapenos and a tender crunch from the sliced hickory bacon. The sautéed onions were tender, and the mushrooms were subtle and almost lost amid the abundance of vegetables. The flavors from the egg and jalapenos would have been much more potent had I requested to hold the lettuce, tomatoes, pickles, and red onions. I ordered this burger with onion rings but didn't find it hard to restrain myself from getting full off them. They were extremely salty and tasted like they came out of a freezer.
Next at the plate was the Chubby Chaser. What makes this burger unique is that it is served with a mountain of mac 'n' cheese inside it. I opted for sriracha aioli rather than bacon mayo this time to spice things up. The smoked bacon complemented the cheddar that lay atop the overflowing mound of macaroni, made with rich cheddar and jack cheeses. When you're done eating it, you'll have plenty of their smoky, creamy mac 'n' cheese that fell out of your burger, so grab the fork. This one is borderline a meal within a meal.
My fries served with the Chubby Chaser were sprinkled with small bits of chives, which mostly fell to the bottom of the pile, but a multitude of parmesan crumbles stuck throughout to the soft, golden potatoes.
I was more impressed with each burger I sampled as I proceeded. The Porker was up next, with bacon mayo as my choice of bread booze. Served on a grilled brioche bun, as were all that I tried, this one had so much meat stacked beneath it that the top half of the bun was hanging on only by assistance from a long food pick. Two strips of bacon revealed themselves, glistening with soft, fatty parts within their lightly crisped borders. Jalapeno cheddar sausage was stacked inside, but it was dry and its jalapenos held little bite. I could smell the sweetness in the smoked pulled pork, and I then understood why this burger was presented with such thickness. Add the lettuce, tomatoes, pickles, and red onions onto its bed, and you'll see that this sandwich requires a big mouth. Not only was there a blanket of cheddar cheese inside, but the Porker contained a creamy cheese sauce and was lightly drizzled with barbecue sauce. Considering it contains so much meat, I would've appreciated more barbecue sauce to prevent dry bites.
By mere coincidence, I saved the best for last. Similar to the Porker, the Texana also had sweet-tasting, tender pulled pork and a scarce drizzle of barbecue sauce, but covered in queso, the Texana remained tight in my hands. This burger embodied the most tender meats and emitted a strong Texas barbecue flavor. Though ordered medium, it was cooked well-done. Never matter.
I ordered the sweet and spicy seasoned fries with the Texana, which were exactly as they claimed. Every bite embodied a mildly sweet taste, but the very moment I went to swallow, an instant kick appeared abruptly.
Eagle's Point Bar & Grill

1029 N Saginaw Blvd, Saginaw. 817-349-9387. 11am-1:45am Sun-Sat. Happy hour: 11am-7pm Sat-Thu, 11am-8pm Fri. All major credit cards accepted.
Eagle's Point Bar & Grill
The Hot Mess $8
Tot-Cho Bowl $9
The Sagnasty $13
The Chubby Chaser $13
The Porker $14
The Texana $12