According to his bio, Chef Sean Hill came to cooking by watching the matriarchs in his family in their Sunday kitchens. As a farm kid, he wasn't a stranger to growing, picking, or butchering. Hill worked his way across the country in corporate restaurants before landing the gig at Stone House Restaurant, opened recently by husband-and-wife restaurateurs Lisa and Paul Pardo, who also owned Coal Vines Pizza and Wine Bar in Southlake. Hill's backstory is shared by some of our city's most excellent chefs, including Jon Bonnell and Juan Rodriguez. Thanks to the raised bed gardens in the back of the restaurant, Hill gets to play a little with farming in a restaurant that's firmly citybound.
For starters, the roasted parmesan oysters were a delightful riff on a Low Country Southern favorite: Grill the oysters, then serve with a lot of butter and a sprinkle of salty parmesan cheese. The four mollusks came beautifully presented on a bed of rock salt, and the buttery, salty oyster liquor was so good that my table of two considered getting an order of biscuits to sop up the deliciousness. We also ordered a Bergie salad as a second starter, and the combo of fresh butter lettuce, heirloom tomatoes, and the piquant, unusual green buttermilk ranch dressing was a cool treat. The clump of blue cheese in the center of the round of lettuce somehow got spread out enough so that every bite of the salad had a pungent punch.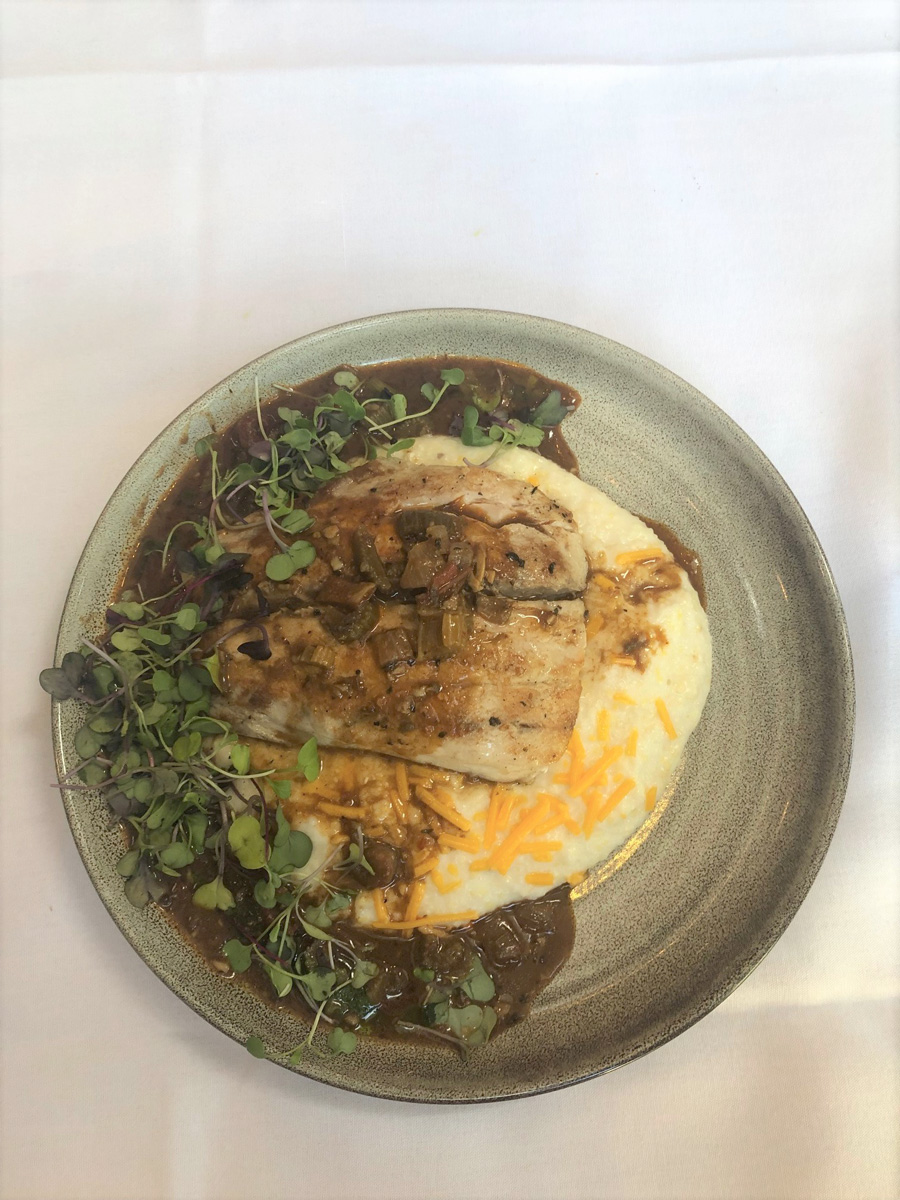 I was a little surprised that the Texas redfish came with gumbo as gravy, splashed across the plate. The immaculately fresh white fish wasn't hurt by the spicy gumbo, but it made it a little harder to appreciate the flavors. But the combo of the N'awlins staple, fresh fish, and toothsome grits reached into a part of my heart, or maybe my stomach, that had seen far too little Southern comfort food. The addition of peppery microgreens was all the extra zing needed for the dish. However, I quibble with the interpretation of "cheese grits" here –– adding shredded cheese to the admirably savory, slightly chunky grits does not cheese grits make.
The ribeye came out naked but for a little au jus on a plate. If you've ever been to Del Frisco's, there's that point at handoff when a server will ask you to slice into your steak to see if it's just like you want it. No coincidence –– Greg Kalina, who was a fixture at Del's as a manager forever –– is the managing partner here. A lot of the white tablecloth pizazz may come with his help.  The steak was a good size, but we regretted not sharing another side to sop up the jus. Fortunately, there were enough grits to go around, and the steak was flavorful, perfectly seasoned, and needed nothing else.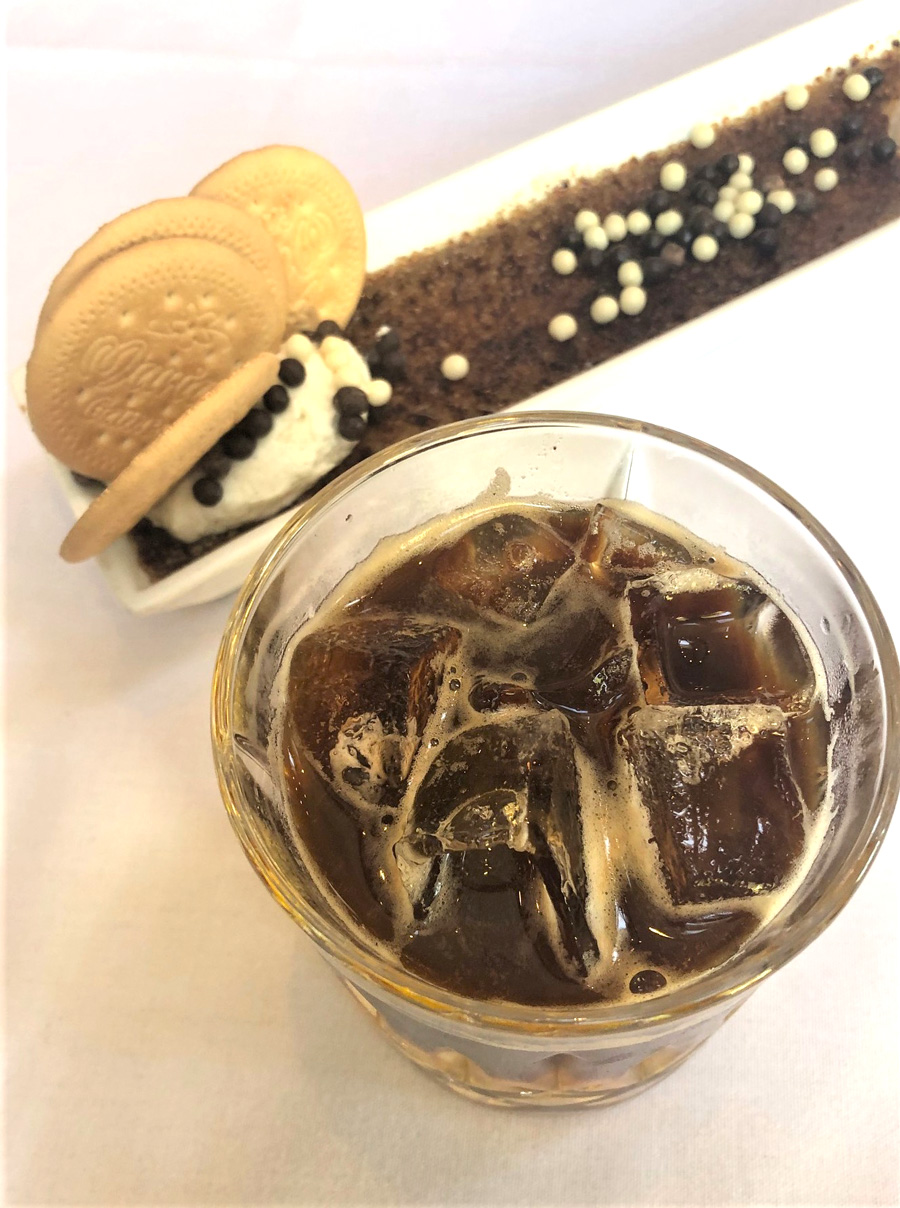 It's definitely worth saving room for dessert, especially if the chocolate crème brûlée is on the menu. A tiny, oblong trough of the crunchy-topped custard came out with small, malted milk balls and some hearty shortbread cookies. The cold pudding's immaculately crispy crust actually echoed a bit when we spooned into it. If you still have room, the boozy, espresso-anointed SH Carajillo makes for the ideal combo for an after-dinner splurge.
The restaurant was most recently a salon, so it's subdivided into more intimate rooms with a couple of cute patio spaces that will be lovely in another month or so. The place started out as an actual house in the 1940s, which is about as historic as Colleyville gets. This also explains the big-city parking boondoggle — the restaurant has valet service along with some parking available in neighboring shops that are only open during the day. If you visited the Stone House in its first three months post-opening, you didn't actually sample Hill's cuisine, but he got here as soon as he could, and if you haven't had the chance, it's well worth crossing the county for.
Stone House Restaurant

5201 Colleyville Blvd, Colleyville. 817-576-2626. 4:30-9:00pm Mon-Wed, 4:30-10pm Thu, 5-11pm Fri-Sat. All major credit cards accepted.

Stone House Restaurant
Roasted parmesan oysters $12
Bergie salad $7
Texas redfish $38
Hand-cut ribeye $42
Crème brûlée $9
SH Carajillo $10