It's the holidays, and we can't wait to pour ourselves a feast. Here we are for our annual Happy Holidaze Cocktail Compendium. Simply put, it's cheery recipes for those who need liquid assistance plowing their way through holiday parties and family gatherings.
With COVID in the rearview — fingers crossed — we are once again able to don our gay apparel, ride our reindeer of choice (mine being Blitzen — get it?), and joyfully prance into our favorite watering holes to get cheeky with those around us making the best of it, but if you would rather jingle yours bells at home, go forth and find your Christmas spirit on the shelf of the local liquor store because we reached out to local bar owners to enrich our lives with their takes on holiday spirits.
The Basement Lounge's Holiday Sidecar
A factor that shapes a decision for many when seeking refuge in a bar is the nondescript location, like a speakeasy or one that provides a similar feel. The Basement Lounge on Camp Bowie fits that mold. Located behind Oscar's Pub is a door that opens to a flight of stairs that descends into one of the best cocktail bars in town — although open for years, it continues to soar under the radar.
Owner/general manager Jesse Meraz has a thing for the classic Sidecar.
"We wanted to try to create a modern version that celebrated the holidays, so the Holiday Sidecar came into existence. Patrons often say, 'It's like Christmas in a coupe.' "
The Basement Lounge's Holiday Sidecar
1 oz. cognac
1 oz. Grand Marnier
1 oz. lemon juice
1/4 oz. Chambord
Combine in shaker with ice, shake, then strain into a sugar-rimmed coupe. Garnish with sage sprig and raspberry.
Chas Taipale's Fa la la la la Canela
Chas Taipale, who opened the pizza-tastic High Top Grub and Pub amid the pandy and provided us with a delightful recipe last year, makes a yuletide return with bar manager Edwin Gomez's creation. Found at both of Taipale's bar concepts, Bodega and Low Key Tavern, is their riff on a little Christmas tune featuring locally distilled spirits.
Chas Taipale's Fa la la la la Canela
1 oz. Blackland Distillery's brown sugar bourbon
1 oz. Acre Distilling's Cinnamon Girl
2 dashes Angostura bitters
2 dashes orange bitters
Stir over ice for 20 revolutions, then pour into a bourbon tumbler.
Lockwood Distilling's Café Locktte
Known for hearty spirits and a tastefully crafted food menu, Richardson, Texas' Lockwood Distilling Company very softly opened its Fort Worth doors on West Magnolia Avenue last month. Although beer is not found here, there is a plentiful array of spirits, from bourbon, liqueur, and rye to gin, vodka, and even hibiscus-flavored vodka. Even pineapple- and vanilla-flavored rums, which all sound like appropriate stocking stuffers to us, make the cut.
Vice president of operations Sean Saunders elaborated on cocktail creator Stephanie Welch's Christmas miracle, helped along by Avoca Coffee Roasters. "For the Café Locktte, we were inspired to make a drink that coupled our delicious Bourbon Cream along with everyone's love for coffee. We enjoy working with our neighbors and supporting local, so in this cocktail, we marry our Bourbon Cream with Avoca's espresso. It has the duality of being served warmed or iced."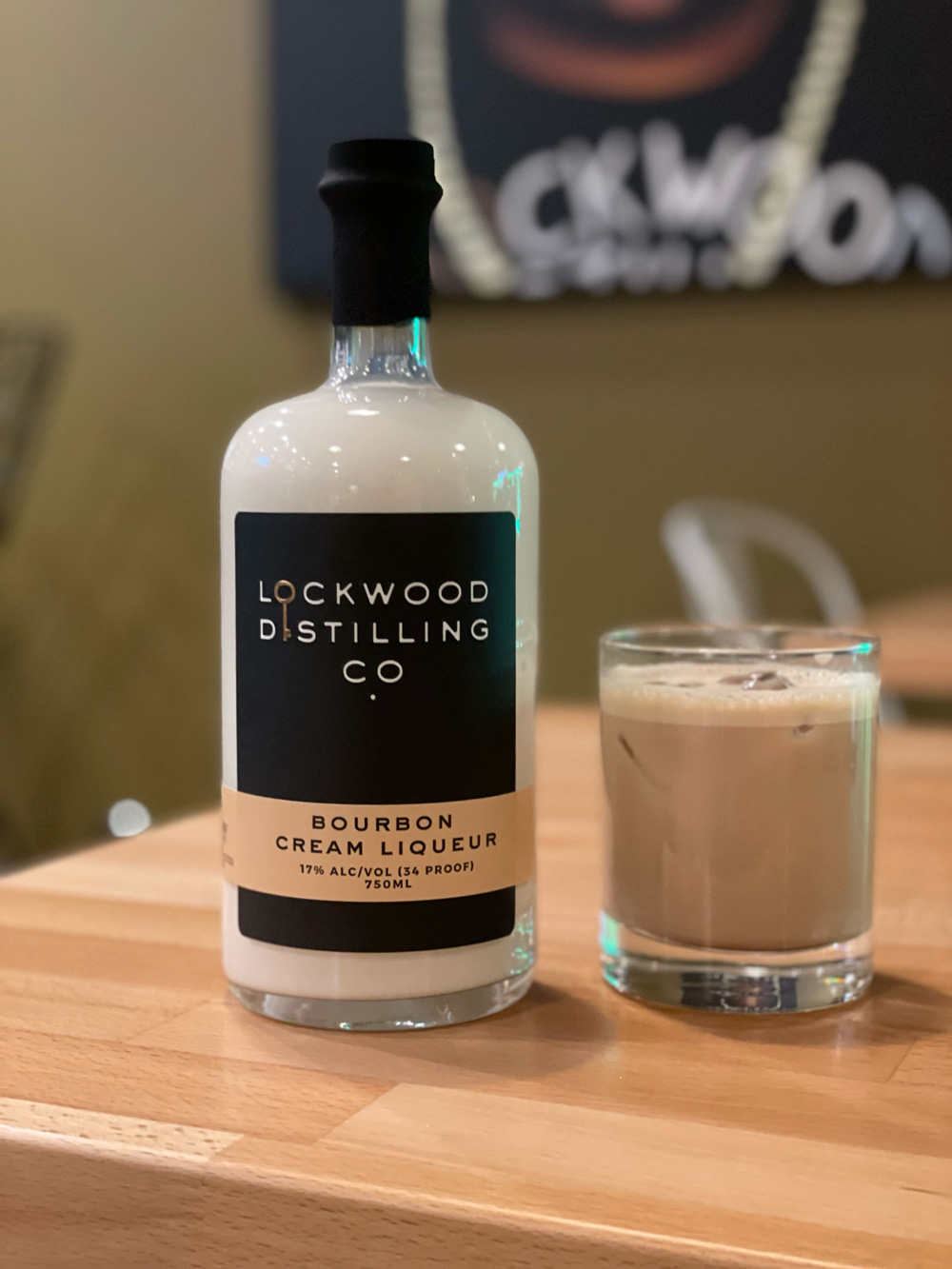 Café Locktte
2 oz. Lockwood's Bourbon Cream
2 oz. Avoca's espresso
2 oz. oat milk
Shaken and served to preference
Whichever direction your holiday takes, make sure it goes through our local distilleries. Cheers.