The western edge of Fort Worth, with its ubiquitous chain restaurants and blocks upon blocks of cookie-cutter homes, shares more in common with suburbia than the large urban city to which it belongs. Having lived in the stretch of Cowtown nestled between White Settlement and Aledo for several years before moving to the urban core, I can personally attest to that characterization.
So imagine my surprise when I googled Jimboy's Tacos, the highly Instagrammable and popular taco-centric restaurant from California, and found its first Fort Worth location is just miles from my old home. The restaurant has a simple layout with just under a dozen large tables and a walk-up register that's backed by a brightly lit menu offering tacos, burritos, bowls, appetizers, and desserts, all with a California twist. Cal-Tex cuisine is understood to be less spicy and less meat-centric than its Texified competition. Other than the use of black olives and the absence of hot sauce, I didn't notice too many differences between the Cal-Tex/Tex-Mex divide.
Three tacos arrived with crispy shells that had an initial crunch followed by a hearty, chewy texture. The slightly oily corn casings, which had a pungent ground-masa flavor, were no mere afterthought and added to the overall delicious profile. Topping off the three starters was a dusting of parmesan that added a bit of saltiness but not much else.
The ground beef taco was straightforward with a dense mix of seasoned meat and cheddar cheese. The only light-ish ingredient was the lettuce, fresh and freshly cut.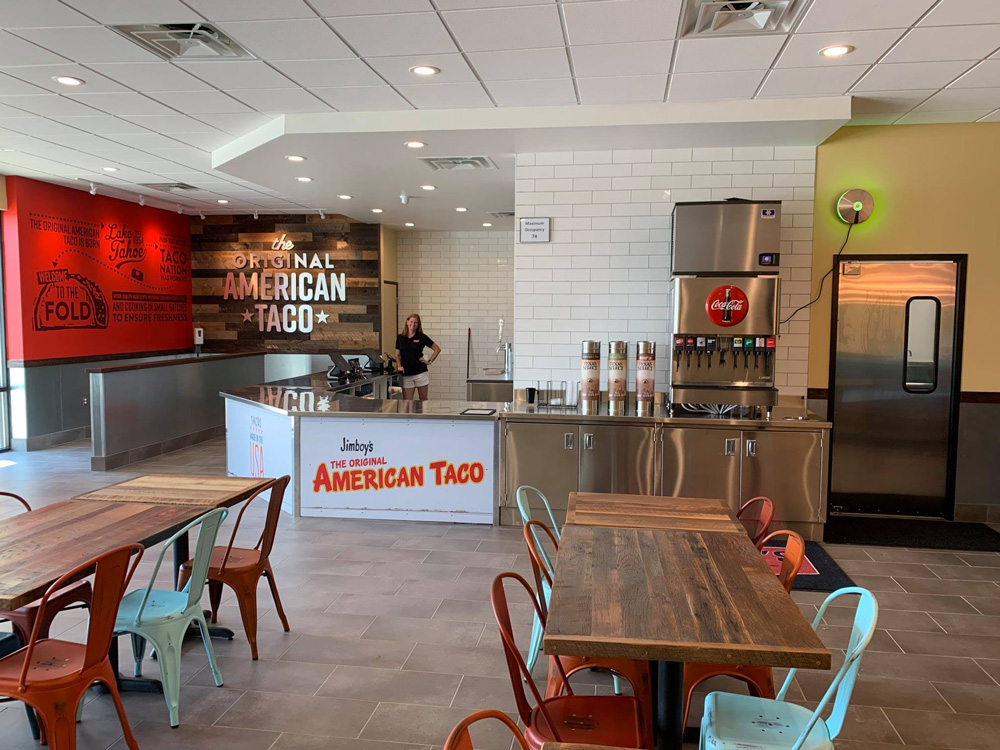 True to its name, the Taco Burger held all the goodies you'd expect from a burger — ground beef, diced tomatoes, lettuce, pickles, shredded cheese — and a "special sauce" that tasted like extra-tangy mayonnaise. The experience of eating a taco with the occasional pickle took some getting used to, but I dug it.
The carnitas taco offered flavorful strings of pork that could have benefited from hot sauce. Served as it was, the delicacy was a bit dry.
Jimboy's isn't known for health food, but they do have a delicious keto option. The carb-free taco came served on a thick leaf of Romaine lettuce. Juicy chunks of chicken seasoned with paprika and other spices were the center attraction. Drizzles of a pimento cheese sauce added heat to the handheld treat topped with a large avocado wedge.
Up next was the Tahoe Burrito, a behemoth of an entree that requires two hands to maneuver. The charred grill marks on the flour tortilla showed that some real TLC went into making the belt-busting wrap. Seasoned and perfectly cooked strips of steak made each bite delectable. The Spanish rice was fluffy and not too oily, and the dense sour cream added a lovely creamy mouthfeel to the perfectly balanced burrito that also featured pinto beans and a mild red sauce.
Jimboy's bowls come with several protein options. I sprung for the carnitas and found the morsels of pork to be every bit as tender and juicy as what I experienced with the tacos. Don't expect the mix of meat and vegetables to be the lighter, veggie-centric option that other restaurants and fast-food joints peddle. Here, it's all about densely cramming everything Americans love about Mexican food into one container. The dish was a mashup of rice, pinto beans, black olives, diced tomatoes, cilantro, and sour cream. The bits of lettuce seemed like an afterthought. The overall effect was filling but, disappointedly, only mimicked what I already ate that day without adding anything new.
I rounded out my Jimboy's Taco experience by indulging in the TaquitO-M-G, which could have been a meal in itself. Four dense and perfectly fried bad boys came topped with a fresh pico de gallo and lots (and lots) of creamy queso. Two generous scoops of sour cream and guacamole made the selection from the "munchies" section of the menu one of my favorite dishes.
When I left the West Side, hoping to land a more drivable hop to the Near Southside, I did so thinking that I was escaping a stretch of town that was devoid of fun dining options. My recent trip to Jimboy's Tacos left me wishing I lived a bit closer to my old haunts.
Jimboy's Tacos
Keto chicken taco $3.95
Tahoe Burrito $8.65
Carnitas burrito bowl $7.10
Ground beef taco $2.32
Carnitas taco $3.35
Taco Burger $3.65
TaquitO-M-G $7.35