My first visit to Helen's Hot Chicken could not have started less promisingly. The second location of an eatery whose original spot is in Lewisville, the new fried chicken joint off Camp Bowie Boulevard has an anonymous interior that looks like every other fast-food place, with the pictures of fried bird on the walls being the only clue as to what the kitchen serves. That didn't bother me so much. What did was the sign on the soda machine saying that it was out of order and not even dispensing ice. It was scant consolation that there was no tea available, since there was no ice to put in it. (What is it with me and restaurants without beverages lately?)
Hydration was an even bigger issue than usual on the Saturday afternoon that I arrived, because the air conditioning in the dining room was out. The fans in the kitchen were blowing out toward the seating area, which kept things just this side of bearable, but the warmth made me need the canned sodas and bottled water in the refrigerator case even more. When I switched from the Diet Pepsi to the water, anticipating the sweet part of my meal, I had to pay extra for it. Not that my employers at the Weekly will see it on the receipt, because the register won't give out paper receipts, something that may or may not be an inconvenience to you.
I cared less about all this because I had overslept and was very hungry. I came to Helen's for the chicken and waffles that they serve only on Saturdays and Sundays. A sign behind the counter told me that all food was made to order, so I could expect a 15-minute wait for my late brunch. I appreciated the advance word, but I was still thinking that the chicken and waffles had better be worth all the trouble. I ordered three whole wings (flat, drumette, and tip), and, yeah, it turned out to be well worth it.
The kitchen offers four levels of spice in the coating, from Plain to Hella Hot. I asked for mild, which turned out to be just right for me because I like to taste my food rather than have my tongue scorched off. The bird was not overly greasy on the outside and properly juicy on the inside, and the spices didn't rub off on my fingers. The waffle was slipped into the fryer for a few seconds to make it really crispy — too much so, in fact, for the flimsy plastic silverware that I was given. I could have done with real maple syrup instead of the sugar syrup that they gave me, but the waffle, which was practically a cookie on the outside, more than held up under the syrup and fat. Had I taken it home, it would have survived the trip well after I got there and put my own maple syrup on it.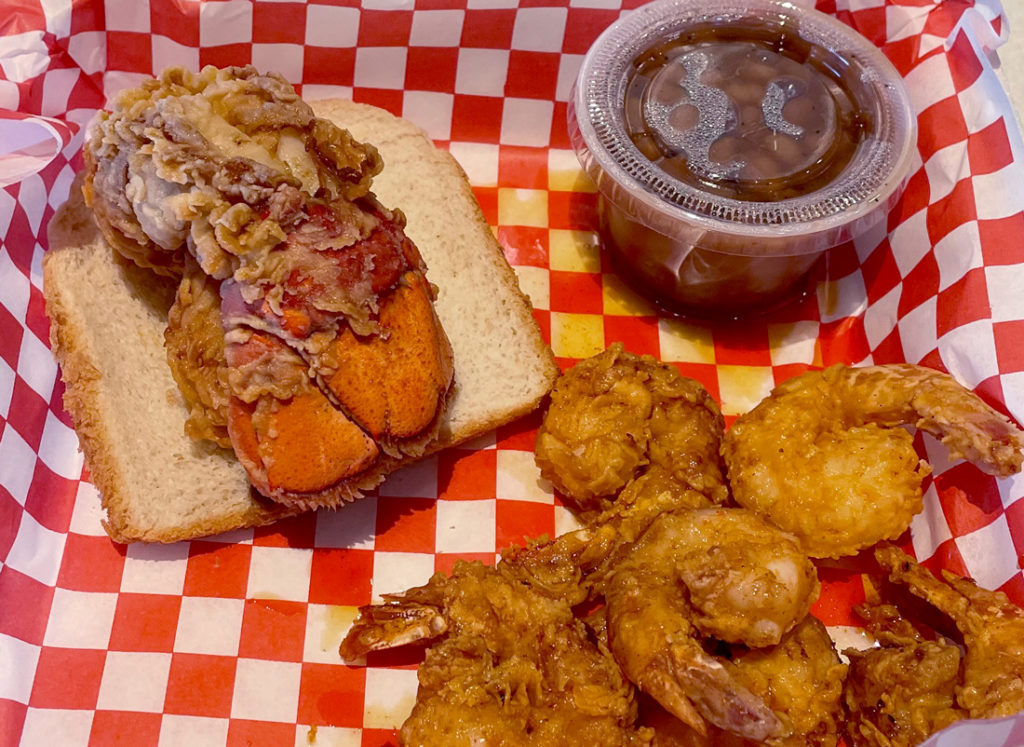 I went back a second time to try their seafood, by which time the air-conditioning issue had been fixed. I ordered six fried shrimp with mild seasoning and a deep-fried lobster tail plain. Let's just say you're not going to find fried lobster tail at Long John Silver's, and by itself, it's $12.99. (A seafood platter with the lobster, four shrimp, and a catfish or whiting filet goes for $20.99, which likely makes a more substantial and more economical dinner.) It came with an extra shrimp hidden in the curl of the tail, so score one of life's little victories for me. Both the lobster and the shrimp were good without being spectacular, and I did find the $2.09 side of baked beans overpriced for its size, although they were tasty.
I asked about the soda machine and was told that they anticipated it working again in three weeks. As I write this, that was two weeks ago. As soon as I can draw my fill of iced tea at Helen's Hot Chicken, I'm going to keep it in mind for when I crave chicken and waffles on the weekend. While I don't usually like taking food home, I think the fried chicken here will make an excellent takeout dinner. If the place becomes a bit more user-friendly, I'll be able to recommend it wholeheartedly.