On a recent chilly morning, employees of a local natural gas company sawed away at a street curb in the West 7th corridor. Behind them, a long chain-link fence blocked off several shuttered bars and restaurants.
Developers are prepping the once-bustling block of the entertainment district — just west of Norwood and south of Morton streets — for demolition as part of a massive new development set to open in a couple years. The former locations of Landmark Bar & Kitchen, Magnolia Motor Lounge, Playground Bar, and The Yard will soon be home to an as-of-yet unnamed 10-story complex that will be viewable from I-30 a mile to the south and will include a four-star hotel, 161 apartment units, and 150,000 square feet of office space.
"We want to create a plaza-type feel," said Brandon Schubert, head of acquisitions at Goldenrod Companies, the national developer behind the project. "We want people to look across the [Modern Art Museum of Fort Worth] and not just see a building. We designed it where we have a central plaza that people can walk to directly from the Modern."
The commercial real estate investment firm chose Fort Worth after number crunching which U.S. cities had the most potential for growth, Schubert said. The West 7th area, he added, was particularly appealing due to its proximity to the Cultural District, Dickies Arena, and downtown and walkability.
Goldenrod Companies is also heading the Van Zandt. Located at the northwest corner of Foch and West 7th streets, the 2.3-acre project will offer 110,000 square feet of office space, 226 residential units, and 11,600 square feet of retail when it opens in the fall of 2025.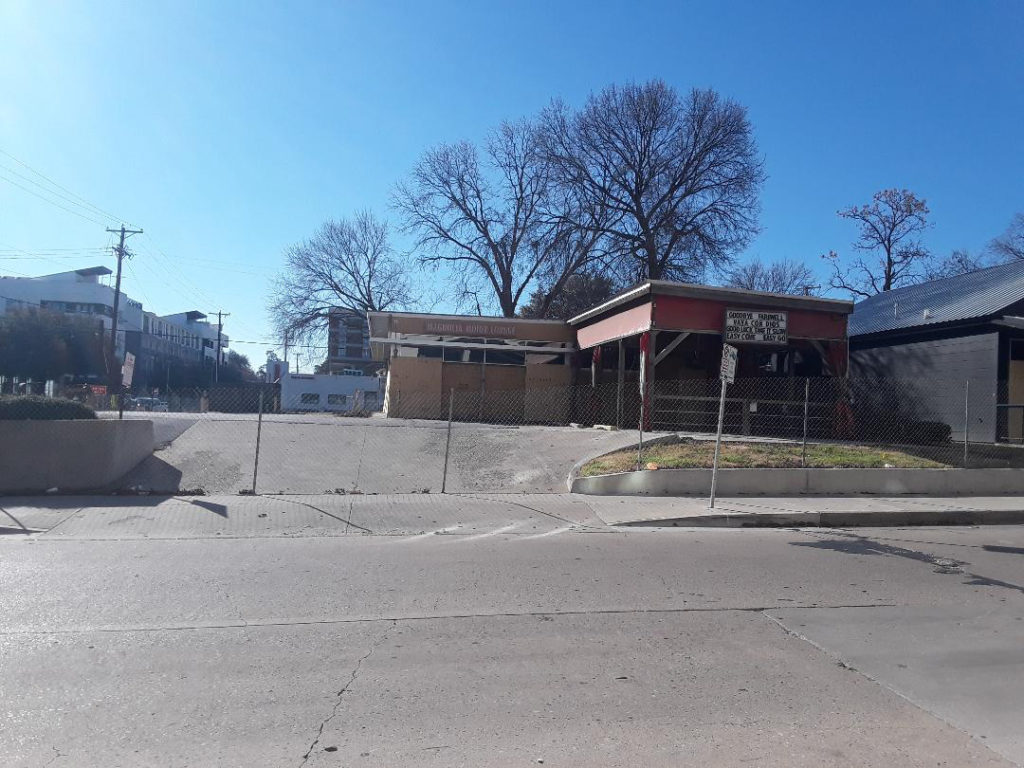 Both projects, Schubert said, will add tenants and office workers who will frequent retail stores and restaurants throughout the West 7th corridor, including nearby Crockett Row. Shortly after Goldenrod purchased the properties in 2020, Schubert asked area stakeholders what they needed. They said they wanted a more well-rounded mix of housing, office, and entertainment.
While the two Goldenrod developments will focus on the hotel, apartments, and office space, the former grounds of The Yard and Magnolia Motor Lounge will boast a handful of restaurants and coffee shops, not nightclubs.
Locals have long complained about the density of bars in the entertainment district that leads to drunken brawls on the weekends and worse while area business owners have privately told me that foot traffic is lacking during the daytime. The projects will address both those concerns, Schubert said.
With more guests and tenants in the area, it will be only natural that they will patronize the retailers and existing bars and restaurants within walking distance rather than travel by car or bike to other parts of town.
Fort Worth still has a shortage of hotels, especially ones that cater to middle- to upper-middle-class clients. Goldenrod isn't aiming to add the kind of $500-a-night rooms that Hotel Drover offers but rather provide rooms that are comfortably priced for folks who want a nicer experience than what a typical hotel offers.
Increased hotel vacancies could help Fort Worth attract major conventions and other events that currently end up in Dallas or Houston. Schubert said that based on his research many visitors who drive to Fort Worth from the north, west, and south are looking to spend the weekend here and that they prefer staying within walking distance of entertainment destinations.
"People will drive to Dallas to go to a concert" and leave that same evening, he said. "People tend to come here for the weekend. I think Fort Worth is only a couple of years away from competing with Dallas" for major conventions and events.
Flooding and crime were Schubert's top concerns coming into Fort Worth. After learning that major storms flood Norwood and the neighborhood to the east, Schubert's team removed the underground parking garage from the final plan of both projects.
The recent news of a shooting just outside Varsity Tavern, which recently closed without saying why, prompted Schubert to reach out to local officials.
"I wrote a letter to a lot of" city officials, he said. "I said, 'We are building 50 feet from where a shooting took place. We can't put $250 million into a project and have people stay at our hotel when there is a shooting across the street.' "
The city took the matter seriously, he said.
A Fort Worth police spokesperson told me in October that the West Division that oversees the area allotted several officers to new shifts on weekends (" Public Safety Concerns," Oct. 2022). The consensus from local bar owners is that public safety has improved, partly due to increased police presence and the city council's recent decision to ban open containers that allowed minors to consume alcohol and loiter outside West 7th bars.
Schubert said his team is still working on an official name for the mixed-use development that will open in late 2025 or early 2026. When he describes the layout of office space near University Drive and restaurants in the back, the business up front and party in the back design led locals to come up with an unofficial name.
"For now, they're calling it 'The Mullet,' " he said with a laugh.
This story is part of Inside West 7th, an ongoing series of reports on the past, present, and future of the area. Have news tips or ideas for us? Email Editor Anthony Mariani at Anthony@FWWeekly.com.