Boozie's Brewery & Gourmet Sandwiches, 6473 Camp Bowie Blvd, FW. 817-353-2074. 11am-midnight Sun-Thu, 11am-1am Fri-Sat.
When Dallas-based Bishop Cider bought Wild Acre Brewing last year, the purchase left Wild Acre Camp Bowie's fate uncertain. Bishop Cider's owners opted to sell off the Westside satellite location, and, along with two local investors, Chef David Hollister, who was already heading the Camp Bowie brewpub's food and drink operations, purchased the space.
For the past several months, the former Wild Acre offshoot has been under renovation. Now open, the restaurant has much of the same layout and feel of the former gastropub but with an enclosed patio and a completely revamped food and drink menu. Hollister gained local fame under the Wild Acre brand as a master sandwich-maker, and with his new menu, he builds on that prowess.
One of more than a dozen sammies on offer, the Hot Italian Beef is an imaginative variation on the Chicago favorite. In lieu of ciabatta or French bread, Boozie's offering arrived pressed like a Cubano with a side of au jus. The fiery giardiniera, heavy on peppers and sans carrots and cauliflower, packed a spicy kick and left me alternating bites with gulps of water. The broth softened the crunchy bread and enhanced the beefy flavors of the scrumptious and filling sandwich.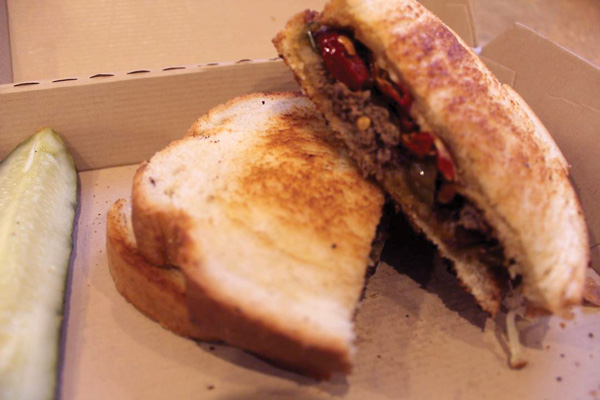 Boozie's boasts four burgers, and based on the menu descriptions, they are all whoppers. The largest is the Chef's Burger, which comes topped with a sunny side-up egg. The belt-buster required two hands to negotiate. Mixing sweet and savory can be a delicate balancing act, but the onion jam added a pleasant contrast to the protein-heavy burger served with a thick and flavorful sesame patty, sharp cheddar, smoky bacon, and arugula.
The grand finale that afternoon, the corned Wagyu beef hash, was exceptional, although the diced potatoes were a little undercooked. Are al dente taters a thing? Even with that minor offense, the dish was damn delicious. The pile of oily slices of beef, soft slivers of red peppers, caramelized chopped onions, and the aforementioned spuds was crowned by a sunny-side-up egg and drizzles of brown mustard. Every spoonful was a heavenly treat.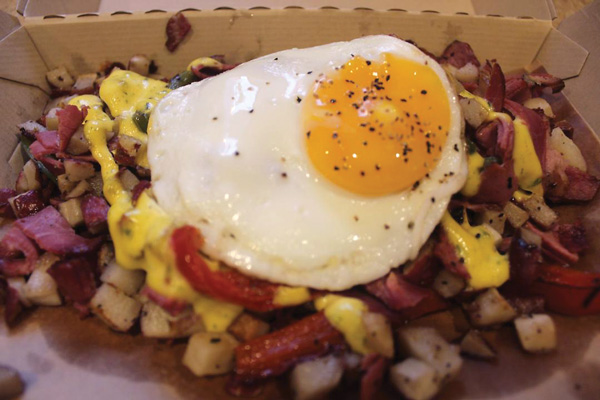 The first order up that afternoon, the Wagyu beef-stuffed chiles, were a creative take on Texas Rattlers. Three smallish, sweet red peppers swelled with juicy shredded beef, capsicums, and a bold pesto. Drizzled in reduced balsamic vinegar and a light cream sauce, the chiles were complex and lovely with sweet, savory, and salty alternatingly zinging my taste buds.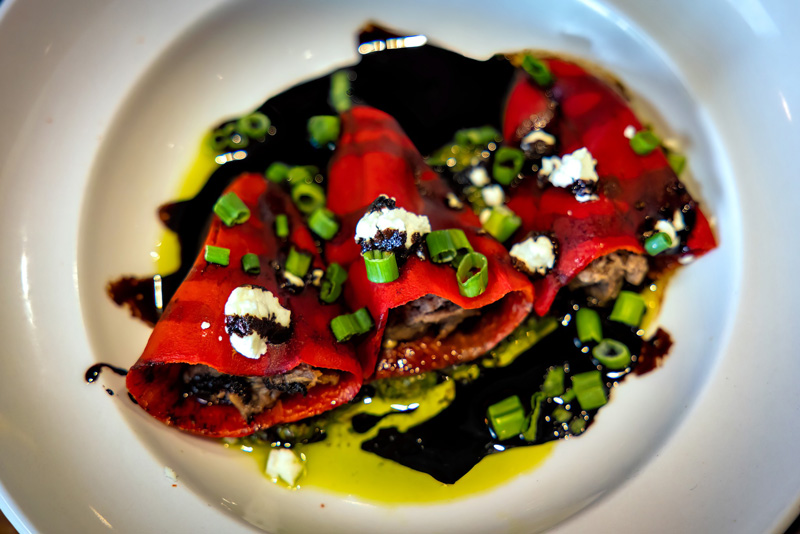 The yucca fries chimichurri — five large, golden stalks — were similar in texture to potato but denser and more fibrous. The fried root was livened by a side of zesty chimichurri sauce bursting with chile and garlic flavors.
Boozie's brewery isn't churning out beers yet, so while I waited to order, I opted for an Old Fashioned. "Washed" in bacon fat, the orange libation had a silky mouthfeel and savory profile that was more complex than normal. Although I could smell smoked pork with my first whiff, the cocktail tasted like smooth bourbon with light citrus notes.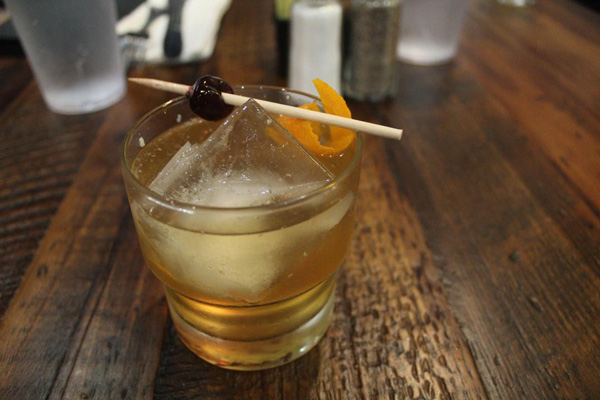 Hollister has gifted Fort Worth a culinary experience with unique spins on familiar dishes that are balanced and carefully plated. The famed local chef told me that he and his business partners plan to open multiple Boozie's locations across North Texas in the coming years.
Future patrons of this soon-to-be franchise can thank Fort Worth for originating the fun concept.
Boozie's Brewery & Gourmet Sandwiches

Chef's Burger $17
Hot Italian Beef $16
Corned beef hash $15
Old Fashioned $10
Wagyu beef stuffed chiles $10
Yucca Fries $3