Don't be confused by the sanguine, dance party-ish title of Laser Disco Wash, the second full-length by synthwave artist Annafell Lights. Despite recalling some long-forgotten coke-fueled, celebrity-stuffed event at Studio 54 in 1979, the eight-song collection likely won't inspire you to get down, get down. Rather, the moody, dirging synthscapes created by Darren Miller, the analog mind behind the electronic sounds, might have you brooding in a corner contemplating the fall of humanity. Which, for the generally anxious, nerve-severing times in which we live, might make for a better soundtrack for the era than anything you'll find in the clubs. It's that general sense of shared malaise — wars, pandemics, toxic politics — that no doubt influences Miller's output.
"I've been trying to get this CD out forever," he said. "I spent probably the last two years, on and off, working on it. After the pandemic, it took me a while to get back on track. In the early days [of the pandemic], I was really productive. I had been playing in all these projects, and then all of a sudden, all I had was this. I pumped out a lot of stuff really quickly, then I just sort of hit a wall. Once I gave myself a deadline, I was finally able to force myself to finish it and to exercise a lot of what I'd been feeling and thinking about."
Released last Friday, both digitally and on CD, Laser Disco Wash — which likely owes its title to little more than the brightly colored cover art of the interior of a dystopian-futuristic car wash — borrows much more from the haunting synthesizer-based film scores of Vangelis and horror master John Carpenter than the lighthearted flare of Giorgio Moroder.
"It's all veiled descriptions of stuff going on in my life," Miller said of the darkness of the music and the content of his often barely discernible whispered lyrics. "It's like if you are like, 'Ugh, I'm feeling whatever today.' Let's take that feeling and think about it and expand it and make it into something interesting."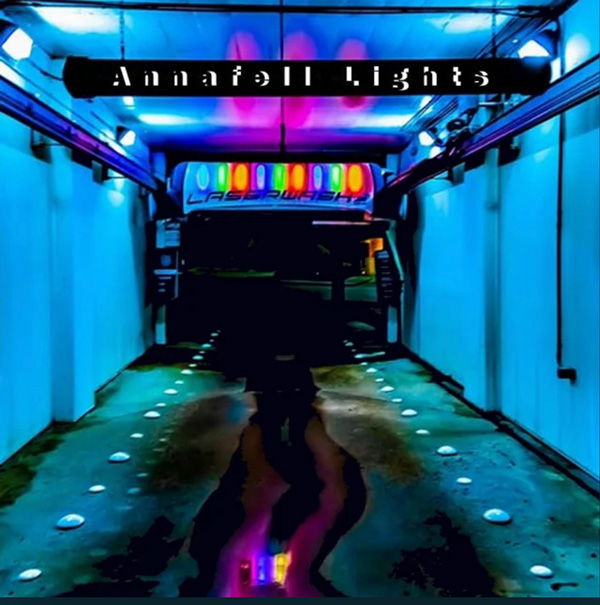 In addition to a perhaps subliminal influence on Annafell Lights' synthy aesthetic — Miller claims '90s trip-hop artists like Tricky and Massive Attack as his biggest sonic muses — Carpenter makes a direct impact on the opening track. Miller wrote "Outpost 31" in honor of his favorite sci-fi/horror movie, a Carpenter classic from 1981.
"The first song is about The Thing," he said. "Then, [across the songs], the subject matter kind of goes from that to how humanity sucks, to humanity sucking, to me sucking. I'm definitely not ever writing about rainbows and unicorns … unless they're on fire … or being hunted."
The sum of the churning, minor-heavy synth pads and Miller's spectral vocals creates a dark tension in the music that is never quite released, creating an ever-present grip on the listener's chest as well as on their attention. Adding to the unsettling, never-wavering thrum, through the 30-some-odd minutes of the record, the pieces flow effortlessly from one to another with a cohesion that couldn't contrast more severely with the single-song, hitmaker ethos of much of today's electronic music. There's an intention to the sequencing that adds to the sense of transfixation.
"I like the concept of listening to an album from start to finish," he explained. "Listening to something as the journey that the artist intended. I also want to make albums that are cohesive. The songs falling just where they need to."
Traditionally a guitar player — his contributions ranging from the post-hardcore of Wreck Room fixtures Benway to the idiosyncratic indie of Tame … Tame and Quiet and his own heavy-metal outfit Ox Combine — Miller basks in the differences that electronic music offers to his standard instrument.
"It's vastly different," he said of the contrast between writing on guitar versus with synths. "I'm pretty much recording as I go."
As opposed to the typical songwriting process of essentially completing a whole song before there's any thought of documenting it, "there's a lot of programming involved, a lot of refinement, layering as I go, then trimming things off."
Though the mediums are disparate, Miller's musical inclinations remain consistent. "Some of my guitar playing informs it in that it's the same kind of scales that I like and the same kind of chord patterns and tones, but it's a whole different kind of songwriting, especially because [in bands] I'm used to playing in weird time signatures and stuff, so making music in standard 4/4 or 2/4 is not what I'm usually used to," he added with a laugh.
When asked if he's ever considered marrying the two differing expressions by adding some guitar to Annafell Lights or expanding the project into a proper band, he's fairly definitive.
"It almost goes against the point of the project," he explained. "The point of [Annafell Lights] is to do something I haven't done before, in a way I haven't done before, to push my skill set as far as I can, short of having to go through the trouble of learning [to play] drums or something."
Plus, he enjoys being the sole person responsible for the results.
"It's all on my shoulders," he said. "Ultimately, if people like it — or they don't like it — I can only blame myself."