Brandon "Broke String" Burnett has been writing songs since he was 15, but it wasn't until his early 20s when he really found his sound. This was right around the time he married wife Jessica (née Williams), and in the years prior to their 2013 wedding, the couple wrote music together and, in 2012, formed a band.
As the Phantom Sensation, a folk-punk outfit with a yen for cinematic, noir-flavored storytelling, he and Jessica co-wrote two albums and an EP between them, and by the time they cut their second album, they had expanded to a full band. The Phantom Sensation's sinister themes of betrayal, murder, and revenge led the Burnetts to dub their rootsy, country-influenced music "blackgrass," which also became the title of that second full-length from 2016.
But like all good stories, the Phantom Sensation's came to an end. Jessica needed a break from performing to recenter herself, and, without her, Brandon did not want to continue the project. They played a few shows as the Burnett Duo, but eventually Jessica bowed out from the stage.
Brandon still kept writing songs due in part to Jessica's encouragement. "She really pushed me to keep writing … but without her, my writing process is different. … When I kinda think of me and her singing, I wrote to that."
Luckily for him, he found a new collaborator in an old friend. He and multi-instrumentalist/producer Calan Rawl had been friends as kids during the MySpace era, bonding over a mutual affinity for Radiohead and playing together in a long-gone band called the Yammers. Brandon approached his longtime friend with his new material, and the two began collaborating. What started as an acoustic solo project soon expanded into a much fuller vision, with Rawl filling out Brandon's songs with instrumental heft, playing the keys and drums as well as tracking, mixing, and mastering it at his home studio in south Fort Worth. The two pared down 15 tracks to a dozen. Collected as a concept album, Doppelganger is themed around what Rawl describes as an "emotional color wheel."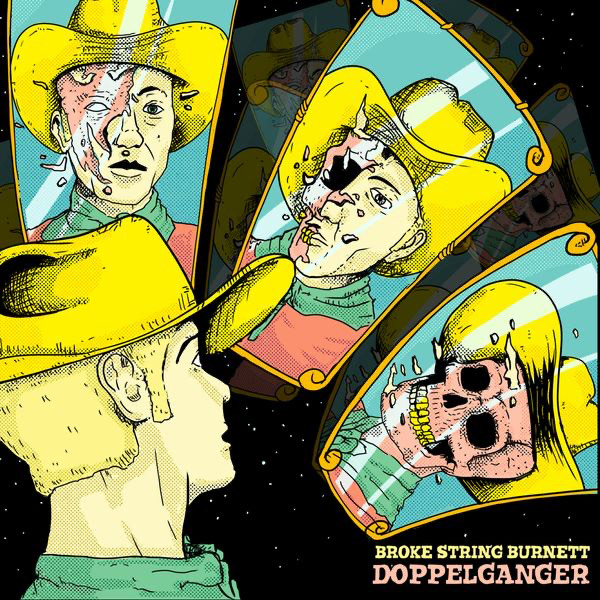 Sonically, Doppelganger still carries the shadows and minor keys of Brandon's Blackgrass era, but it also opens the curtains and lets some sunshine in. Brandon said that while he's still into darker material, he has enjoyed expanding his songwriting palette to include brighter shades and simpler arrangements. And in that way, he and Rawl found themselves with a record that ambles into the realm of cosmic country.
"I'm very existential," Brandon said. "What I think makes an album 'cosmic' is the subject matter, like if it covers a Beatles-like idea of universal love but also shows the dark side of that, which I think is existential dread."
He cites a gloomy Doppelganger track called "Shooting Star," whose ominous waltz does suggest inevitable doom, yet three songs before that is "Stardust," which sounds like two lovers staring into the endless wonder of the night sky, Rawl's roomy production giving the song dreamy, contemplative moments.
Broke String Burnett performs live as a five-piece, with Brandon on guitar and vocals and Rawl on keys, rounded out by bassist Jacob Martinez, lead guitarist Henry Sepulveda III, and drummer John-Paul Thomas, and onstage, they bring some serious fire. Yet Doppelganger also soars as a headphones album. Besides the spacey sonics of songs like "Stardust" and "Shooting Stars," the title track, a moody instrumental in the middle of the record, sounds like a country song by way of OK Computer. But whether heard between your noggin or seen live, Broke String Burnett and his debut album make for a satisfying auditory trip. You can catch them at The Rustic (3656 Howell St, Dallas) on Sat, Mar 25, at 9pm. — Steve Steward