I don't mean this in a bad way, but Dead Vinyl's existing catalog is a time capsule of sorts. Sonically speaking from a pair of EPs — 2016's Dead Vinyl and 2017's Gold Mine — you can tell that they put their influences on display as if they were patches on a denim jacket or stickers on a van. This is not to say they don't have any original ideas, but influences are influences, and Dead Vinyl's musical DNA has a pretty noticeable phenotype. For over a decade, the five-piece rock band (occasionally a sextet when joined by multi-instrumentalist Nolan Robertson) has been firing off turbocharged, hard-rock riffage inspired by the golden-est gods from across the Album Oriented Rock canon. To me, a lot of Dead Vinyl songs remind me of the first couple of Zeppelin albums, while others (in particular "Ride or Die" off their self-titled EP) seem to weld a Stone Temple Pilots frame onto a chassis based on Too Fast for Love-era Mötley Crüe. Their music is loud and ballsy, and all of that rock 'n' roll comes packaged in overdriven guitar grime applied in layers of varying thickness. The riffs and the volume are part of what makes them fun, as is the fact that their sound is a Rorschach test of the listener's favorite classic rock bands.
That Dead Vinyl, at least as far as their recordings are concerned, exists in discernible temporal stasis is also due to the reality of being a band post-2020, a year that saw many bands essentially frozen in time, though for them, it was not for lack of effort. When that year began, Dead Vinyl — crewed by singer Hayden Miller, guitarist Tyler Vela, drummer Parker Anderson, bassist Jordan Tucker, and guitarist Aaron Haskin — were powered by an influx of new songwriting ideas, in particular, how to work their love of Motown into a sound that was closer to "Detroit Rock City." Miller said Dead Vinyl was fired up about new directions prior to the pandemic.
"What happened in 2017, we had this momentum after Gold Mine, and we went right into the studio with this new batch of songs," he said at a local hangout with Vela. "We had a lot of plans."
"We were working on these new songs," Vela said, "and me and [Miller], we thought, 'You know what? There's a lot more soul in these.' They had a lot less guitar leads. We sat down to write actual songs."
At the time, the band had been listening a lot to rock 'n' soul act J. Roddy Walston & The Business, as well as pretty much anything James Jamerson ever played on.
Miller said he and his bandmates have always been into '60s and '70s R&B, and "we wanted to get that feeling into our own style."
Unfortunately, the lockdown arrested the band's trajectory, cutting their first West Coast tour short and sending them home, but before they departed for their shows in California, they had been hard at work recording new material, recording six songs by the early part of 2019 with Taylor Tatsch (Maren Morris, Cut Throat Finches, Shadows of Jets) at his Audiostyles studio near Austin. On Friday, March 31, Dead Vinyl will release them as the EP Day Shift, celebrating the drop with a show that night at Lola's. I asked Miller and Vela what stopped them from releasing the material in 2019.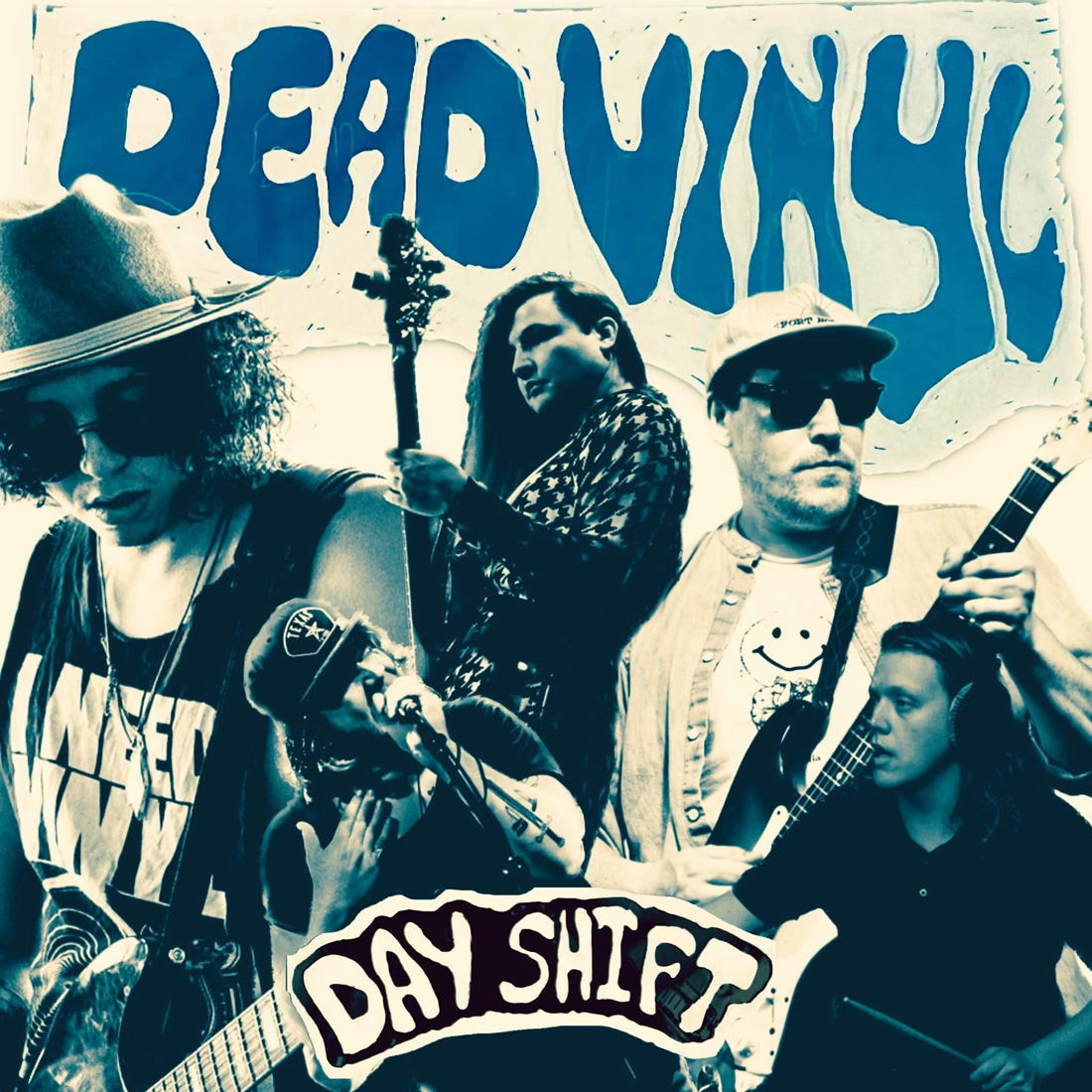 "We wanted to do a full album," Vela said. "We had this first batch, thought about doing an EP, and then got the idea of doing a full-length, 12 tracks or so, and put it out on vinyl, too."
But before they started on the second half of the nascent album's songs, they hit the road.
"It was going well," Vela said. "Two runs to Colorado, one to the Midwest, then that one to the West Coast …"
"Which was ill-fated," Miller added.
As well as Dead Vinyl's larger, full-time rock band ambitions, the pandemic put their stylistic shift on pause until summer 2022, when they were able to begin work on the second batch of songs with engineer Joel Raif at Niles City Sound (Leon Bridges). They have since revived their full-album aspirations.
Day Shift, Vela said, is "going to be the first EP, and then we have the new stuff we've recorded at Niles City Sound with [Raif], which will be the next EP, and both EPs will go on a vinyl record later."
Dead Vinyl has released four of these songs as singles already, but Vela cited the two unreleased ones as indications of where the band's sonic evolution is heading. " 'Tracks on Fire' is just fun rock 'n' roll. Nolan Robertson helped us with the arrangements, and it's really Big Star-sounding. The other one is a soul song called 'Following You.' It has a three-part horn arranged and directed by Preston Lewis [the Chris Watson Band] and his crew of horn players. And there's no guitar solo. It was one of those songs where I was like, I don't want this to sound like [Dead Vinyl]. I play a lot of R&B [at home], but I didn't so much with Dead Vinyl at the time we were working on these songs, and so I was like, I'll squeeze this [R&B chord] progression in, and we jammed on it, and it ended up being a really solid soul song."
So, with their upcoming releases, the band is un-sticking itself from where it was in March 2020, but since the songs on Day Shift are four years in the rearview already, Vela and Miller are already looking ahead while reflecting on where their band is now.
"What's funny, these songs are pretty old," Vela said. "Sometimes I forget about them a little, and I've changed as a guitar player since then. I play a lot more bass, and piano is my main [songwriting] instrument now. That's changed my guitar playing completely. I don't sound like I do on [Day Shift], and Miller's been doing his own thing, and he has a new songwriting style. … I guess on Gold Mine, we thought we had to flex a lot, do a lot of vamping, and I was like, 'Man, I'm tired of that.' "
When Dead Vinyl does release both Day Shift and its follow-up EP, their fans will find two eras of the band on display in a unified format, bridging their scuzz-blues origins and their vision of heavy R&B. For now, the band plans to keep moving forward. While they may have been stylistically frozen in a particular epoch, it sounds like Dead Vinyl is ready to turn up the heat and head in a new direction.