Absolutely loathing their favorite team's front office is the great unifying tenet of Cowboys fandom. Whether you're young enough to hate Dak Prescott because he's not Tony Romo or old enough to hate Tony Romo because he wasn't Troy Aikman, ire toward owner/GM Jerry Jones and his merry band of nepotistic hillbillies is the tie that binds us. Like having opposable thumbs, an upright posture, and runaway credit card debt, it's what makes us human. Two and a half decades of mediocrity can do that.
Still, the Jones clan (had to squash the temptation to spell that word with a "k" considering Jerruh's recently resurfaced yearbook photo) does one thing well, very well, in fact, and that is drafting. Since the promotion of Will McClay to Director of Player Personnel 10 years ago and Jones' increasing deference to that man's expertise, Dallas has hit triple 7s on the annual player selection extravaganza time and again. Among just the players picked over the last decade, the Cowboys have earned a staggering 40 Pro Bowl nods. By comparison, in that same span, the Oakland/Vegas Raiders have had only eight. Add on top of this Dallas' gaudy 12 All-Pro selections over this same McClay-run era, and Jerry, flying boldly in the face of indignation from the Cowboys faithful, sits right near the top of the league's best GMs on draft day. Beginning Thursday night on ESPN, the Cowboys' war room will get busy trying to select even more future Pro Bowlers. Coverage starts at 7 p.m.
One factor that has helped Dallas hit on so many players is McClay's ability to protect himself from drafting for need very often. He's shown a keen ability to acquire solid stand-in players on the cheap in free agency, allowing him on most occasions to embrace the sacred rule of good drafting: take the best player available, regardless of position of need. Often, the Cowboys' needs coincide with said "best player," but a broken clock yadda yadda.
This year, Jerry via McClay managed to shore up a thinning defensive secondary and the stagnant offense by flipping inexpensive compensation picks for Pro Bowl talents Stephon Gilmore and Brandin Cooks. He added Chuma Edoga and Ronald Jones to fill the departures of guard Connor McGovern and running back Ezekiel Elliott, respectively. These moves along with the retention of nose tackle Johnathan Hankins and safety Jayron Kearse ensure the team can field a full roster if required to tomorrow. Make no mistake, however, that despite these contingencies, the Cowboys still have plenty of positions they'd like to upgrade and/or bolster with depth.
Due to aging veterans or potentially expensive imminent free agents like Trevon Diggs and Micah Parsons, the most "pressing" position groups that should be at the top of Dallas' shopping list are cornerback, linebacker, running back, and the interior of both the offensive and defensive lines. Hell, there's really no position they absolutely couldn't use, save starting quarterback, though a developmental signal caller might be wise.
This year's draft class is thin on elite-level talent but does stretch in just about all the positions the Cowboys will be looking for. It's Day 2 prospects, especially, that will provide the best value among this year's rookies-to-be. The following is a full seven-round aspirational mock, and I believe it manages to check off all the exigencies. I used Pro Football Focus' mock simulator, and though I disagree with some of their rankings, the app is as detailed and user-friendly as it gets.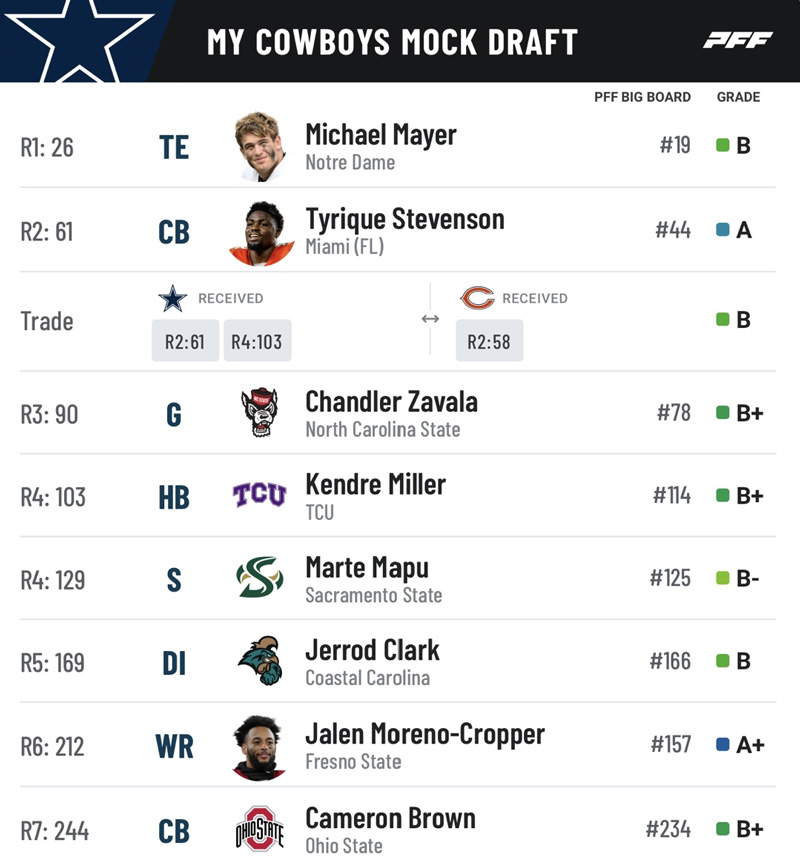 Round 1, Pick 26: Michael Mayer, tight end, Notre Dame
Since age finally started catching up to future hall-of-famer Jason Witten, the Cowboys have been chasing production at the tight end position and have never quite found it. In an era of freak athlete seam-stretchers a la Travis Kelce and Mark Andrews, Dallas still prefers an older model TE. In this scheme, blocking is as important as pass catching. If head coach and new play caller Mike McCarthy is to be believed, there will be a renewed focus on running the ball in his offense. An inline masher who also has soft hands and is a total mismatch against tiny slot corners and slow-footed linebackers is a dream at the position. Mayer is a popular pick to the Cowboys among the mock draft intelligentsia. I'd do a backflip up to the podium to turn in the card. It could be argued that outside of running back Bijon Robinson, who will likely be long gone by the Cowboys' turn, there isn't a single player that could help impact Dak and the offense more than Mayer.
Round 2, Pick 61 (via Chicago): Tyrique Stevenson, cornerback, Miami
Rounds 2 and 3 are where this draft is best stocked. I'm always a proponent of trading down when you pick late in rounds as the Cowboys do this year. Unless there is a player you just can't pass on, I'm listening for the phone to ring for any teams looking to jump up and offer multiple bites of the proverbial draft apple in return. In this instance, Chicago is on the line, offering Pick 103, the first pick in the fourth, to move back just three spots. Another pick just outside of the Top 100? I am so in. Stevenson has all the length and feistiness that DC Dan Quinn covets and can be an asset across from Diggs (if not his replacement) in future years. Stevenson would likely have been Dallas' pick at 58 anyway.
Round 3, Pick 90: Chandler Zavala, guard, North Carolina State
Edoga was a smart pickup in the offseason, but nobody really wants him starting. Zavala is many scouts' third best guard in this class. At 6-foot-5 and 325, Zavala is a Ron Leary starter kit but bigger. And just as mean. By pairing him with left tackle Tyler Smith, Dallas will have one of the most brutal left sides of the offensive line in football. Allowing pressures on fewer than 1% of his snaps in 2022 will be a welcome stat for Prescott, who saw far too many bull rushers penetrate up the middle in recent years.
Round 4, Pick 103 (via Chicago): Kendre Miller, running back, TCU
Jerry finally let go of his golden baby this offseason. Though Elliott no doubt regressed over the last couple of years, he still amassed the second most rushing yards since he came into the league in 2016. Just 100 yards behind Derrick Henry. Breakout runner from last year Tony Pollard will start in the Dallas backfield next season as he plays on the franchise tag. However, TP has never carried a full three-down load, and there are questions as to whether he can. Miller is a well-rounded back who averaged a whopping 6.9 yards per carry last season. He is familiar to area fans as he helped lead the rest of the Cinderella Horned Frogs to the National Championship game. He will be well positioned to take over for Pollard as Dallas' new bell cow next season. A great snag with Chicago's pick.
Round 4, Pick 129: Marte Mapu, safety, Sacramento State
Though he played safety in college, Mapu projects as a linebacker in the NFL. With Parsons, who is mostly at edge, an injury prone Leighton Vander Esch, a disappointing Jabril Cox, and a still largely unknown Damone Clark, there's plenty of room in the LB room. One of the best predictors of Cowboys draft picks is if they were a Top-30 visit for the team. Unlike Stevenson and Miller, Mapu was a surprising small school invite. His tape shows why. He's a physical tackler but has a fluidity of movement that will make him a special teams ace right from the start. He has the potential to take over the middle of the linebacking compliment in the future.
Round 5, Pick 169: Jerrod Clark, defensive tackle, Coastal Carolina
It's no secret that McClay prefers big-time programs to smaller schools, but a beefy nose tackle is an area of need. Clark at this point in the draft is a decent value. At 6-foot-4 334, he's a little light in the ass for a traditional nose, but DC Quinn should be able to help him improve his balance and his base a little better. A third-team All-Sunbelt selection last year shows upside. If it's there, DQ will force it out of him.
Round 6, Pick 212, Jalen Moreno-Cropper, wide receiver, Fresno State
"Dak-friendly" is a near-must descriptor for anyone wanting to see the field in this offense. As a late-round flier, JMC is a crisp route runner who often achieves big-window separation. His shiftiness out of the slot or the backfield on jet sweeps should be an upgrade over the uninspiring Kavontae Turpin experiment from a year ago. JMC even shows a little return ability.
Round 7, Pick 244, Cameron Brown, cornerback, Ohio State
With Anthony Brown and Jourdan Lewis both in contract years, not to mention both recovering from season-ending injuries, another dart at defensive back is worth throwing. He has the size that DQ likes at DB and the flexibility to play man or zone. The downside is that he is verily eaten up with the injury bug. Every year of his collegiate career ended prematurely due to being hurt. If he could stay healthy, the kid's got upside.