For the last 11 years, Parker Howard worked his way up to executive chef at Spiral Diner, Fort Worth's first vegan restaurant. After a brief delay, he'll open Dreamboat Donuts & Scoops later this month. It's a concept that he says the Spiral crew discussed a year before COVID ravaged the restaurant industry.
"Dreamboat was always in the back of our minds," Howard said. "I love donuts, and I don't want to have to drive to Austin to get a vegan yeast-raised donut. At Dreamboat, we're using the donuts to get the ice cream in your face."
Soy-based ice cream has been a staple at Spiral diner for years. A soft-serve machine will crank out a plant-based, nut-free version to top the yeast-raised and cake donuts (some of which will be gluten-free), croissants, muffins, and parfaits. On the surface, it doesn't seem hard to make a donut without using any animal products. It's pretty simple to sub plant-based milk and plant-based butter for the dairy versions, and some modifications can leverage the lifting power of baking soda and baking powder instead of egg. Making a croissant without the intense amount of butter required by that finicky, flaky pastry is another story, but Howard shrugs it off –– apparently vegan butter chills just as well as the dairy version.
Howard's menu will include traditional options like apple fritters, vegan Oreo, and glazed donuts. His repertoire will also feature an Earl Gray-scented donut with the crisp combo of bergamot and lavender, along with goodies in mint, peanut butter, and matcha.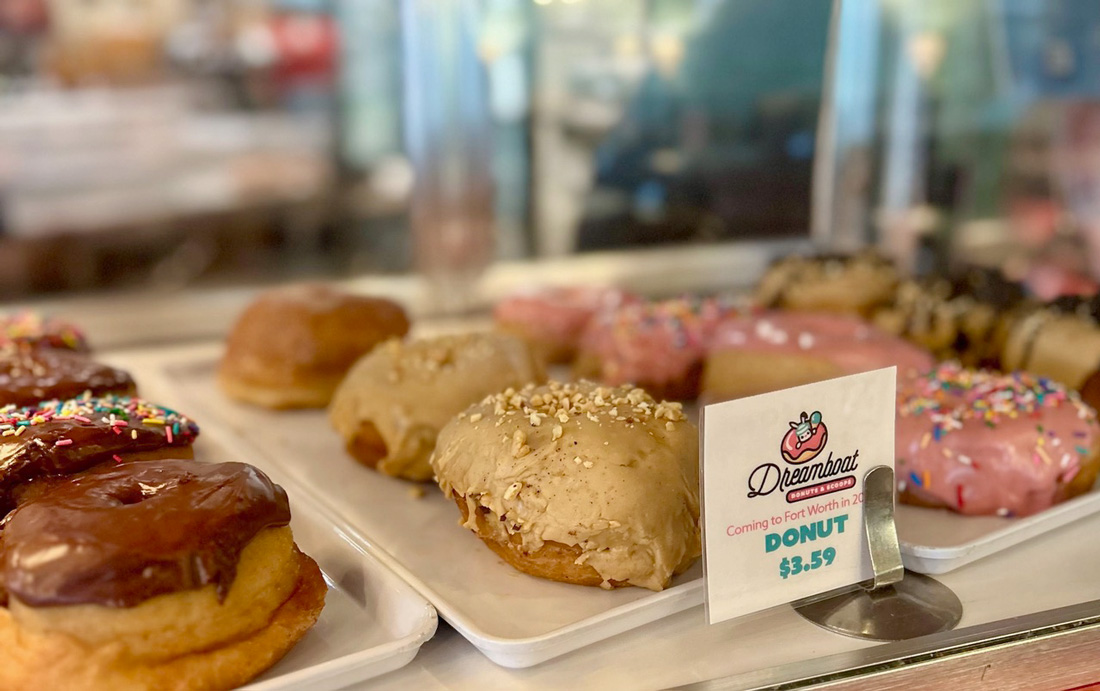 Howard attended UNT not to be a chef but a filmmaker, then turned to philosophy. Along the way, he played in some punk and hardcore bands locally, but he says at no point did it enter into his mind that he wanted a career as a vegan chef. The new restaurant will be located across the street from Spiral Diner. Howard says that he and the core team at Spiral are hoping for the creation of what he calls a little vegan village, where Dreamboat will offer breakfast, Spiral Diner will run the lunch shift, and the upcoming vegan fine-dining establishment Maiden (also helmed by Amy McNutt, Spiral Diner's founder) will be the go-to choice for dinner. Howard, who as a child had family in Portland, Oregon, says traveling in his youth influenced his thinking. For decades, the American West Coast always had a thriving, meatless, ecofriendly culture, even though much of Central Oregon and Washington are cattle ranchland.
"Portland," he said, "had a vegan mini-mall with a vegan clothing store, vegan grocery store, vegan café — when I was 18, that blew my mind. I think about that when I think about the vegan village."
Howard came to veganism in an unusual way in 2006.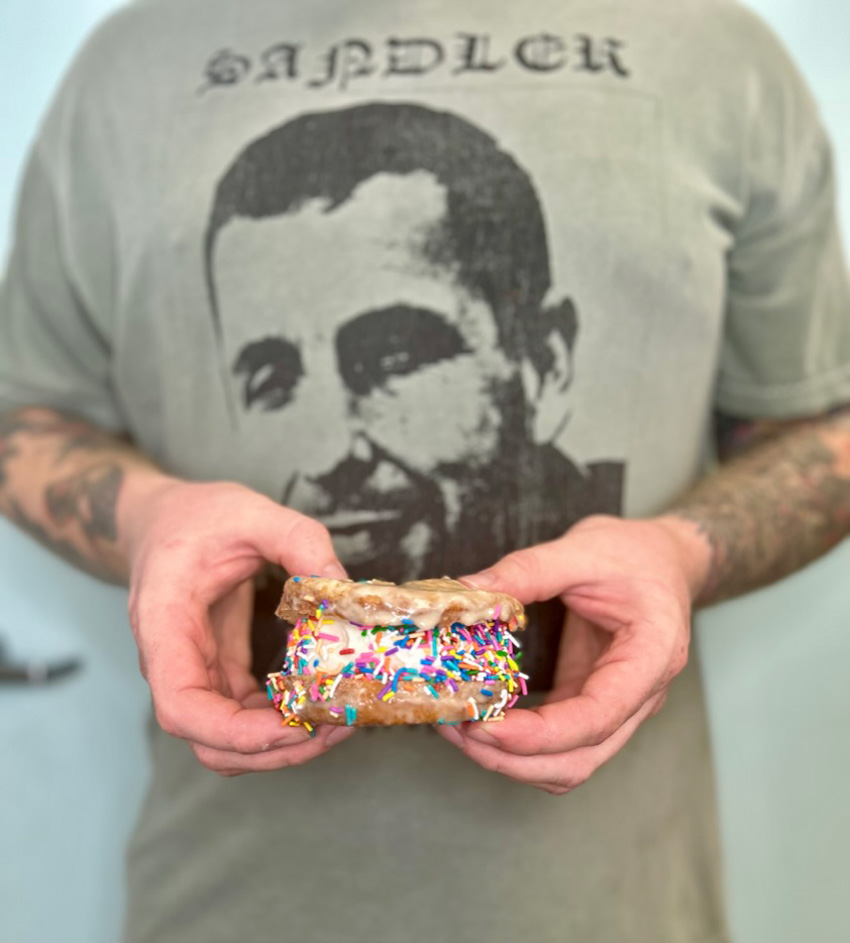 "One of my friends who was a vegetarian basically dared me to go a week without eating meat," he recalled. "I cut out meat purely out of spite."
Vegetarian since that year, he became a vegan in 2008, so it's natural that he fell into McNutt's orbit –– Spiral Diner has been holding down its corner of West Magnolia Avenue since 2002. Long before Fort Worth became a Blue Zones city, and long before the proliferation of Beyond Meat and other plant-based products, Spiral was a small enclave for the town's few committed vegans and vegetarians, along with those of us who like to be a little experimental.
Beyond Meat, Impossible Foods, and similar products are made with pea protein, potato starch, coconut oil, and other vegetal ingredients. Howard sighs a little when asked about the fairly popular plant-based meat substitutes, but he says they serve a purpose.
"They're kind of a gateway drug to help people be vegan," he said. "You can bring your grandpa to Spiral Diner, and he can still have a cheeseburger."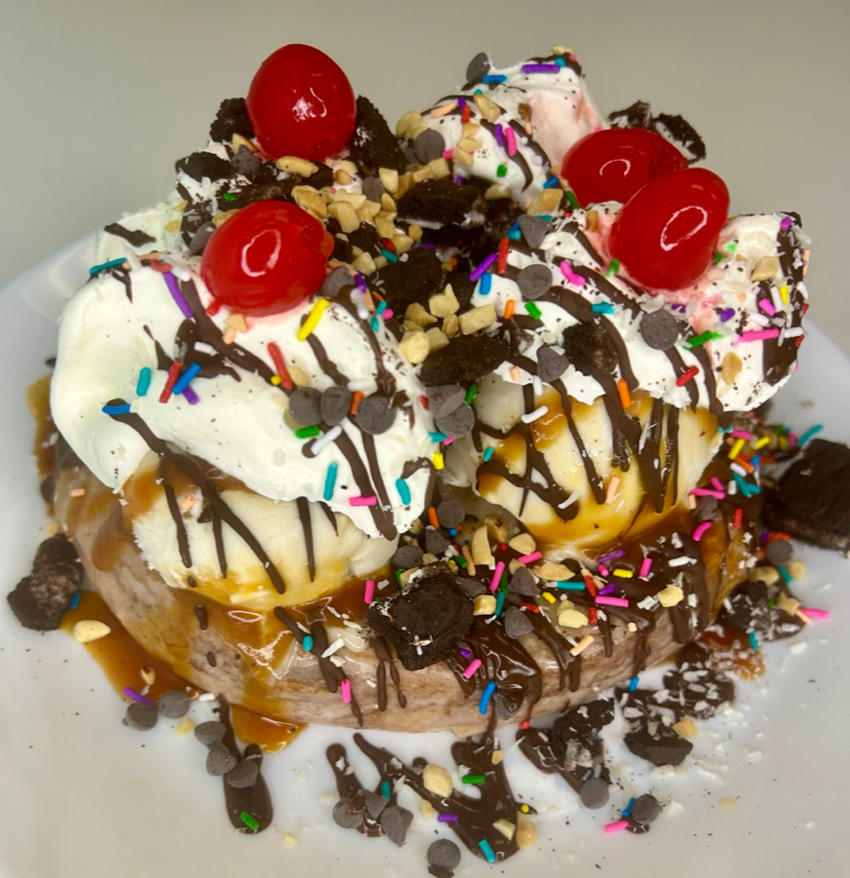 Or something that looks and tastes like a cheeseburger, with neither beef nor cheese.
For Howard and everyone at Spiral, the goal has always been to create genuine comfort food that is completely plant-based. And that kind of cooking doesn't come from a package.
"We make everything from scratch and don't depend so much on the Impossible Burger," he said. "That's how I learned to cook. You find a recipe and tinker with it."
Plant-based cooking is often healthier and more nutrient-dense than cooking with meat or dairy, but in the case of donuts, plant-based does not necessarily equal "healthier," although it does provide an option for people who choose not to consume dairy or cannot consume gluten. And Howard, a life-long donut junkie, is now happily revisiting some childhood memories for Dreamboat.
"As a kid, my favorite donut was a Boston cream éclair, so I'm trying to make that a reality," he said. "It's 2023, and the products now make it so much easier than what we had in 2010."
Dreamboat Donuts & Scoops
1204 6th Av, FW.
DreamboatDonuts.com