From butchers to bakers and charcuterie board-makers, there's an unlimited number of people who can make your life easier (or harder) while you're planning a wedding. Having dealt with all of the above for my upcoming nuptials, I was excited when the idea of staying at a 57-acre ranch in the Hill Country of North Central Texas two weeks before the big day came up.
The stay in Graham at Oak Ranch Resort (303 Young Ln, @OakRanchResort) was extended to me from owner Pam Benson, who also owns Japanese Palace (8445 Camp Bowie West, Fort Worth, 817-244-0144).
After looking at the specs for La Casa Tierra (the main house), I decided to treat the whole wedding party to a pre-event getaway weekend. I knew that our group of 12 could stay there quite comfortably. We'd enjoy the pool, the wildlife, and the quality time. At least that was the plan.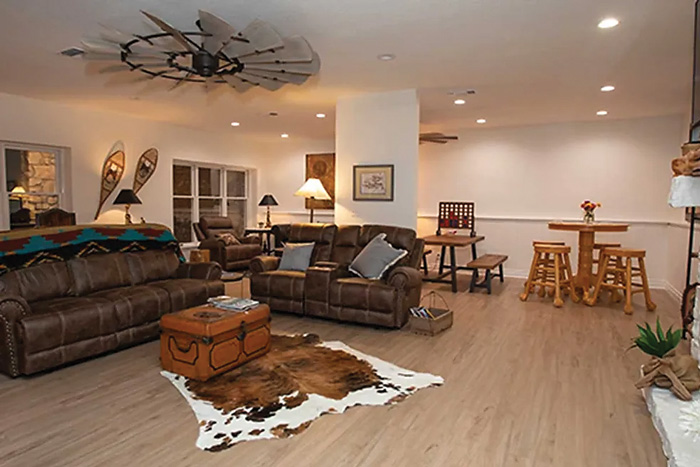 On the day of our intended check-in, the gang fell out on me like dominoes. Two groomsmen became sick, and their bridesmaid girlfriends needed to stay behind to care for them. (I don't know what Wayne's major malfunction was, but Dave had a mysterious gastrointestinal obstruction-mimicking situation. We feared surgery, but it subsided by the end of the weekend. Maybe it was just a hairball. Meow.)
With my other bridesmaid and the groom — yes, the groom — unable to take off work, I was down to no one and had a decision to make. Should I stay, or should I go (now)? #SongReference. I opted to keep the reservation and go solo.
And so began a getaway with just me, myself, and I.
From Fort Worth, the journey to Graham led me through Weatherford and Mineral Wells, and I noticed some interesting places along the path, including the National Vietnam War Museum (12685 Mineral Wells Hwy, Weatherford, 682-239-0683) and the Clark Gardens (567 Maddux Rd, Weatherford, 940-682-4856). Then there's the historic Baker Hotel (201 E Hubbard St, Mineral Wells, @TheBakerHotelandSpa), which is currently closed for major renovations. This place is on my bucket list, so once it reopens in 2025, I intend to return.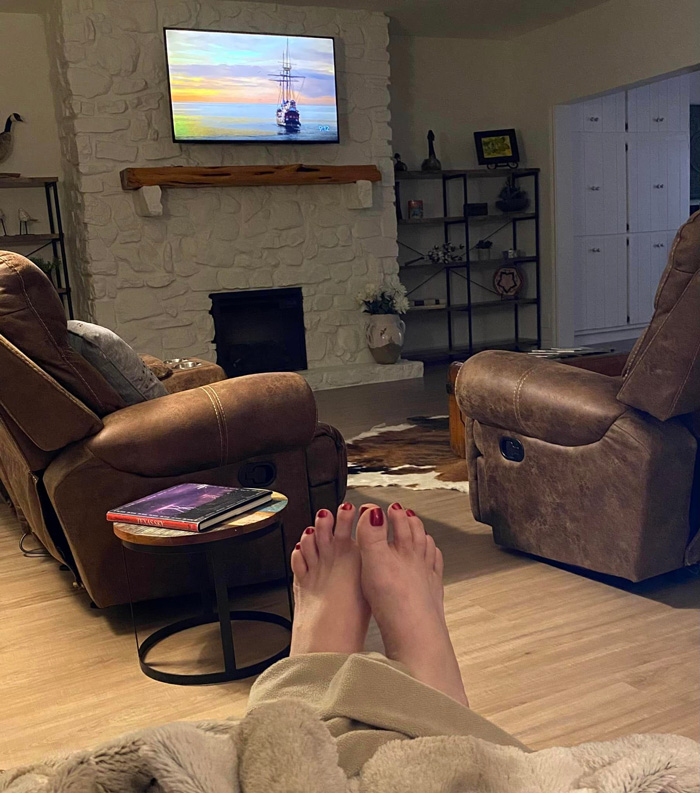 Right at sunset on Friday, I arrived at Oak Ranch Resort completely unprepared. Like most vacation rentals, you need to bring your own groceries to cook in the full-sized kitchen or on the gas grill out front. As a storm had followed me in, I didn't want to head back out for provisions. Instead, I fixed myself the only thing on hand (coffee), plotted revenge on the wedding party that abandoned me, and then marathon-watched the new season of Queer Eye.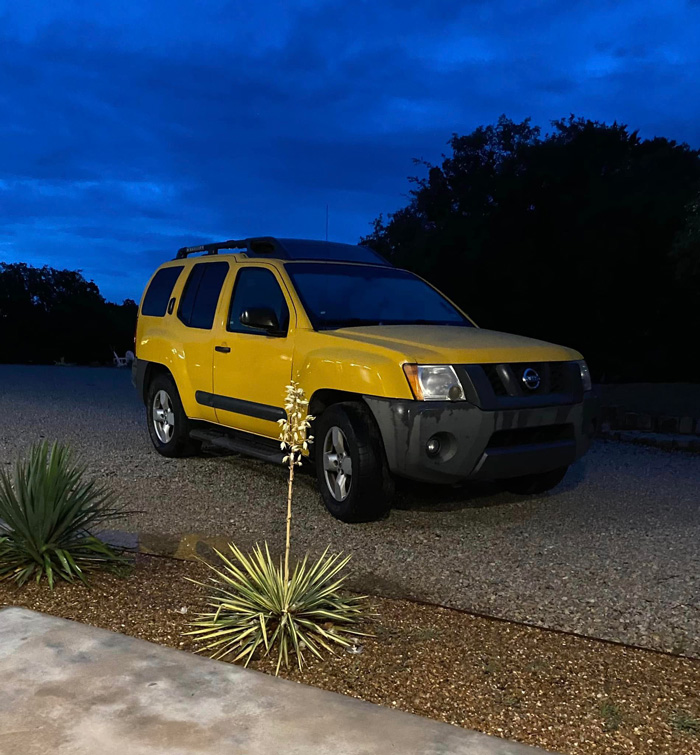 By morning, I had decompressed and gained a new perspective, and I was excited to be having an adventure of my very own. The lack of planning meant that I woke up starving, so I headed to the town square to check out Marlene's at the Big Chill (518 Oak St, Graham, 940-549-4772). The "big chill" in the name comes from the soda fountain/ice cream shop that originally occupied the space.
One delicious veggie omelet with a side of sausage patties later, and I was all better. My only complaint about Marlene's is that the omelet had whole spinach leaves and too many of them. I prefer chopped, but that's my bad for not asking. However, the sausage has a great spice to it and has been a staple of Marlene's for 24 years.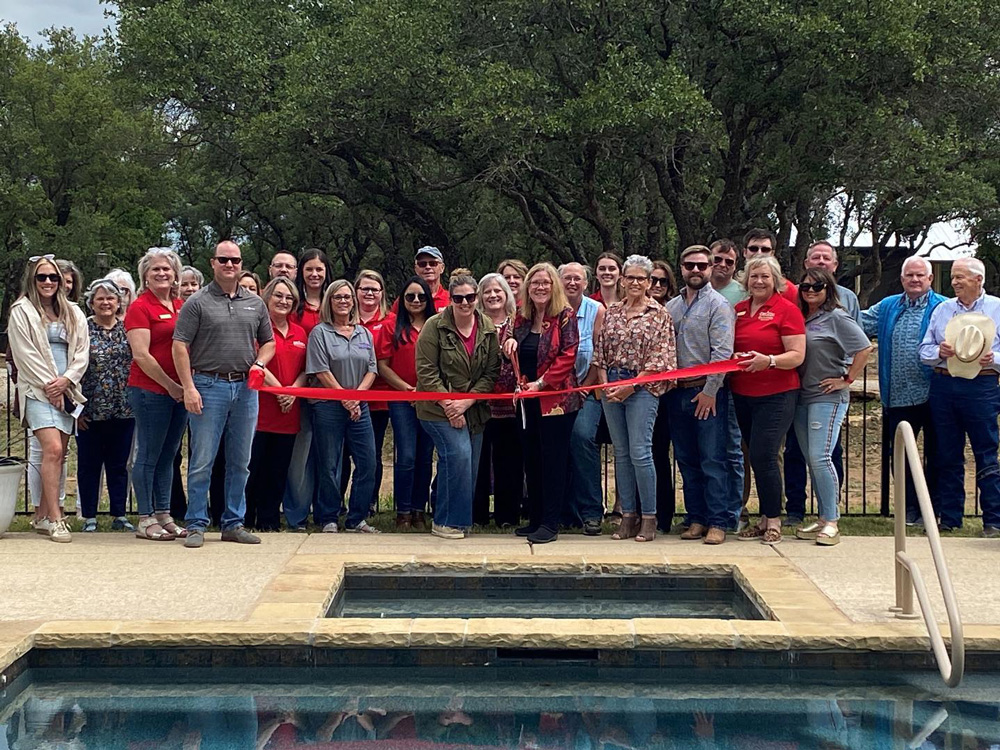 After breakfast, I did a little shopping on the square. Small towns usually have cute little places with antiques and other funky finds. Graham is no exception.
First, I stopped at The Vogue (504 Oak St, 940-549-0020). This consignment furniture and home accessories store is, unfortunately, going out of business soon, but in the meanwhile, there are deep discounts to be had. I found a set of silver pinecone candle holders and a gold vase for the wedding at 50% off. Score!
With the sun in my eyes, I accidentally stepped into Welch Western Wear (514 Oak St, 940-521-0881). The polite young roper — or whatever the kids are calling cowboy types these days — who was working the floor told me that with the sun behind me, I look just like his Aunt June.
"Does Aunt June get a discount here?" I said. "If so, I can be your Aunt June."
No. No, she does not.
He went on to tell me that his grandfather founded the Western wear company, and he's the third generation to work for the business. Still, there was nothing that I couldn't live without. I did, however, learn that there is a John Wayne brand of cologne, and it smells pretty dang good.
My next stop was Crazy Cora's Emporium (608 4th St, Graham, 940-456-1980). Housed in an 1878 building that was the former home of the Young County Jail, Crazy Cora's is full of unique items in every winding room. When Pam Benson was ready to decorate Oak Ranch Resort, this was her first stop.
Some of our wedding decor will have an earthy, pagan vibe, so I was excited to find some small antlers to add to my bouquet and to the groom's cake. When Cora realized I was getting married, she gifted me the white vintage pillbox hat and gloves that I was checking out for my "something old." I even found the perfect Mother's Day gift for my future mother-in-law, who collects Noah's Ark items. Crazy, right?
As it was time for more caffeine, I headed to Downhome Bakehouse (404 Elm St, Graham, 940-521-6080) and ordered a Honey Bee. Made with oat milk and sweetened with honey, this specialty drink comes hot or cold. It was a warm day, so I made it an iced coffee. It did not disappoint.
Along with coffee and baked goods, Downhome also caters. A fellow customer told me about Downhome's Cowboy Beans, with ground beef and some other types of meats. She described it as basically being a hearty one-dish meal. "All you need to go with it is cornbread." The next time I stay at Oak Ranch Resort, I'm putting in an order!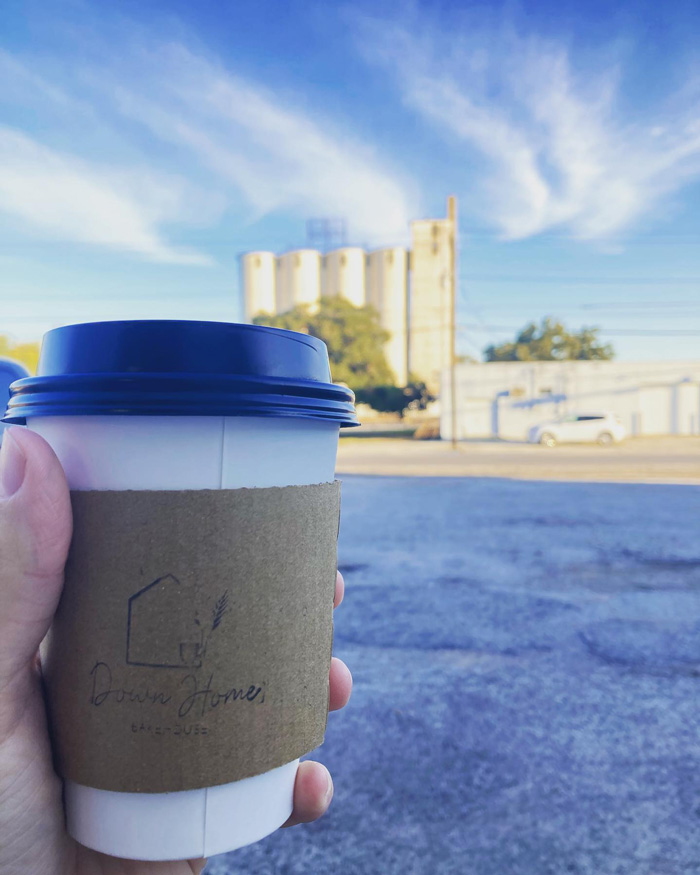 After my full day of shopping in downtown Graham, I was ready to settle in back at the ranch house. I picked up some charcuterie-style items at United Supermarket Foods (1229 TX-16, Graham, 940-549-3271) — the high-end sister store of Albertson's — and returned to the resort to enjoy the hot tub and work on this article uninterrupted by the city sounds that plague my apartment back in Arlington. (How am I doing?)
Had I gone out Saturday night, it would have been to check out Middle Sister, a coffee and cocktail bar in the shipping container hotel the Middleton (509 4th St, Graham, 817-705-7403), where charcuterie, flatbreads, and treats are served inside the building and outside in the painted container in the courtyard. Live music is scheduled every Saturday night. #MyNextAdventure
In my rush to get situated upon arrival, I didn't take in all the beauty around me, including not noticing that the house was built right into a hill. As I returned from my downtown outing, a black hummingbird changed that. It landed on a plant right in front of me.
"They like the pink flowers best," Pam said. (She actually lives on the adjacent property and stopped by to give me a proper tour.) I'm sold. Farm/ranch living is the life for me!
Her neighbors built the house about 40 years ago, and when the opportunity arose to buy it, she did. After gutting the inside and remodeling it to its current, gorgeous state, Pam decked it out with Texas art and furnishings. From Texas-themed books sprinkled around the rooms to an awesome windmill fan in the living area, the ranch aesthetic is very tastefully done.
Oak Ranch recently celebrated the grand opening of its three smaller casitas (cabins) now available on Airbnb. Golden Rock Casita, Rocky Ridge Casita, and Silver Moon Casita are also decorated in a Texas theme but with more of a pop art vibe. Pieces include '50s movie poster art featuring Gene Autry and a Coca-Cola patio table acquired at Crazy Cora's. The peaceful country setting makes it a prime location for company retreats, family gatherings, and such, especially now that there are four accommodations to choose from, each with different amenities.
A great time to check out all that is Graham is coming up. On Sat, Jun 3, the eighth annual Food Truck Championship of Texas takes over the town square (608 Elm St, 940-549-0401) from 11am to 5pm. Admission is free, and food items are typically priced at $8-10 each.
Along with the food truck competition, there will be activities for children, an art walk, live music, and a vendor market. The day ends with a concert at Young County Arena (120 Barclay Blvd, Graham, 940-550-8790) featuring Clay Walker with Ian Munsick. Tickets start at $45 at FoodTruckChampionshipofTexas.com.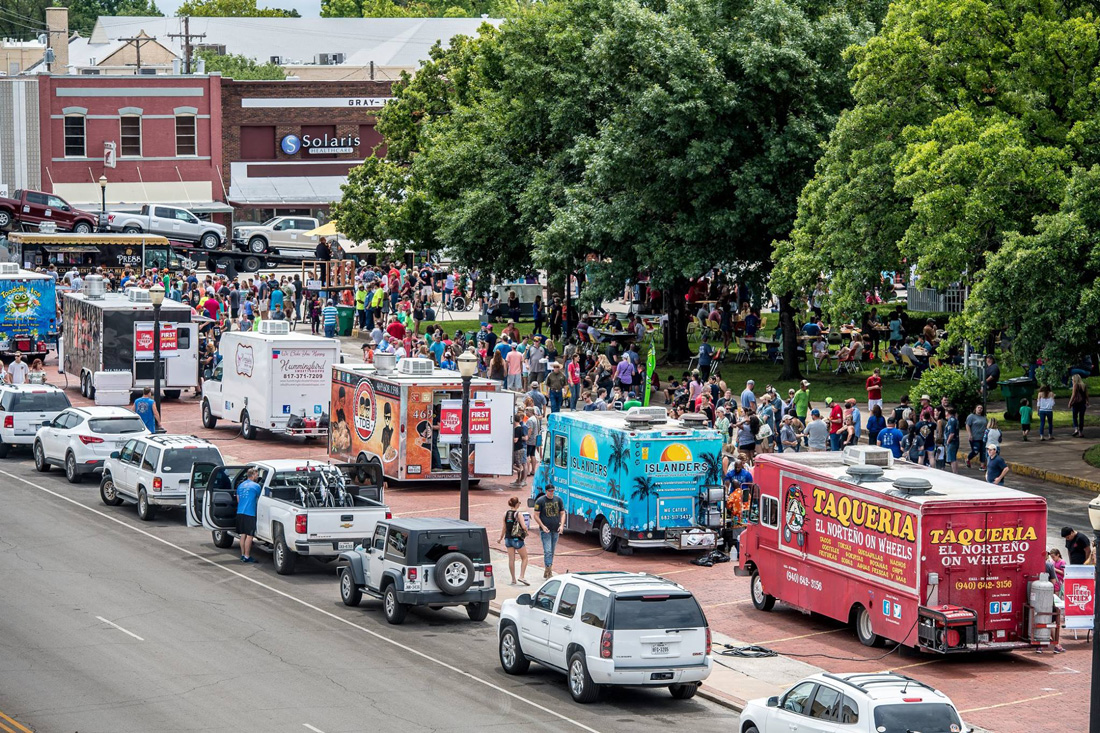 As for lodging, while I did hear that a certain local foodie celebrity who shall remain unnamed will be staying in the area, Oak Ranch Resort still has some availability the weekend of the food truck event. Book now at OakRanchResort.com.
Feeling relaxed, recentered, and refreshed from my #MeTime, I am ready to take on the world. Our wedding venue, Amore Mio Italian Trattoria (101 E Abram St, Ste 190, Arlington, 817-538-5553) will undoubtedly appreciate dealing with a decompressed me this weekend. (Eek!)
As for the baked goods and the charcuterie spread for the wedding reception, my friend Lisa who owns a new cottage business called Raking in the Dough (@RakingintheDough) will be doing the whole damn thing. Wish us luck!