If you haven't already taken the cover off your grill or smoker and cleaned those grates, you're probably headed that way this weekend. To celebrate the coming of grilling season, three local experts offer tips about wood, safety, and spices and explain some tricks that home grillers and 'cuers can make their own.
Reggie Robinson is half of the dynamic duo behind Lil Boy Blue BBQ (LilBoyBlueBBQ.com). Reggie and brother Cedric Robinson pay homage to their grandpa, a chef during his time in the U.S. Navy who became a butcher and pop-up barbecue salesman. Over the last four years, the Robinsons have gathered an adoring following with their catering and pop-up supper clubs, which sell out within days of their announcement on social media.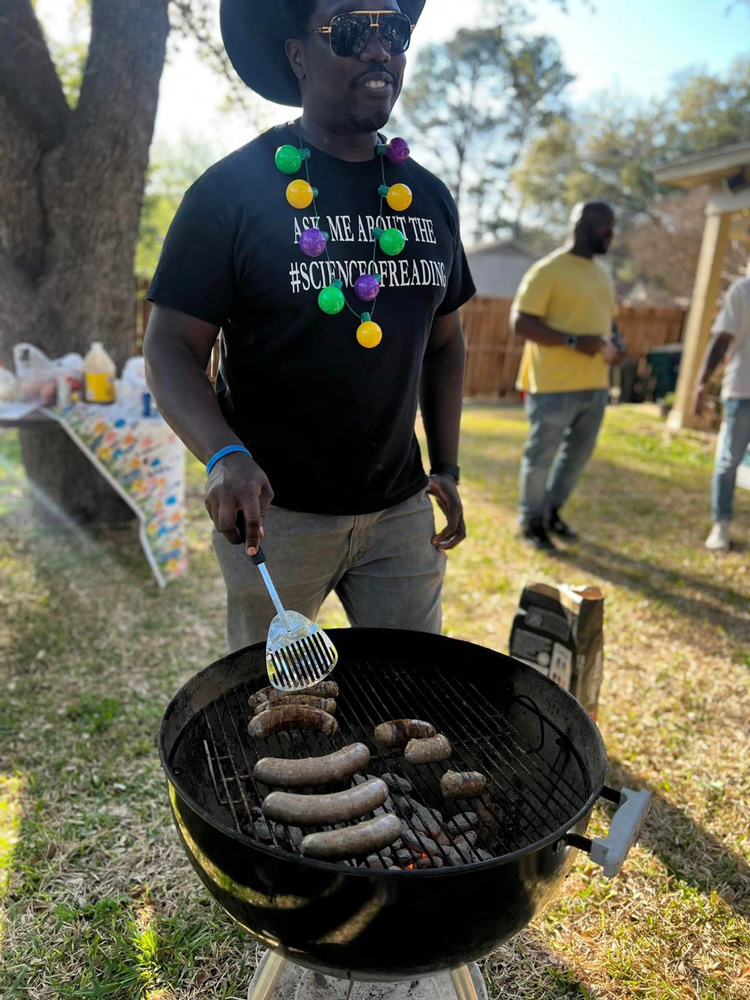 Husband and wife team Fasicka and Patrick Hicks of Smoke'N Ash BBQ will move into a new, larger location in Arlington (5904 S Cooper St, Ste 110, 817-987-7715) mid-June. They've been producing barbecue together for around five years, first in a food truck, then in a brick-and-mortar location. The formal melding of Fasicka's Ethiopian spices (she grew up in Addis Ababa) with Patrick's down-home Cen-Tex BBQ skills happened around 2020 and garnered the pair national attention. First, Texas Monthly threw the duo some love in 2021, and then broadcast and print media (The New York Times, CBS) crowned them the king and queen of 'cue fusion.
Whether you're grilling with charcoal and a packet of woodchips for flavor or you're smoking the meat, the kind of wood you use is more about personal preference. Robinson says that oak is always his favorite, "but that's our Central Texas purist heritage coming out." At Smoke'N Ash, Patrick uses a 2:1 ratio of hickory and post oak — "hickory for flavor, post oak for moisture."
Robinson says that chicken is easy and quick, whether prepared in a smoker or on a grill. The Hicks family is a house divided. Fasicka says she could eat brisket all day, every day, but Patrick prefers pork ribs. Still, both sets of restaurateurs also like to grill vegetables. For Robinson, the favorite is cauliflower burnt ends: Cut the florets into quarter- to half-inch pieces, cover them with olive oil, and grill. Baste with your favorite barbecue sauce toward the end of cooking.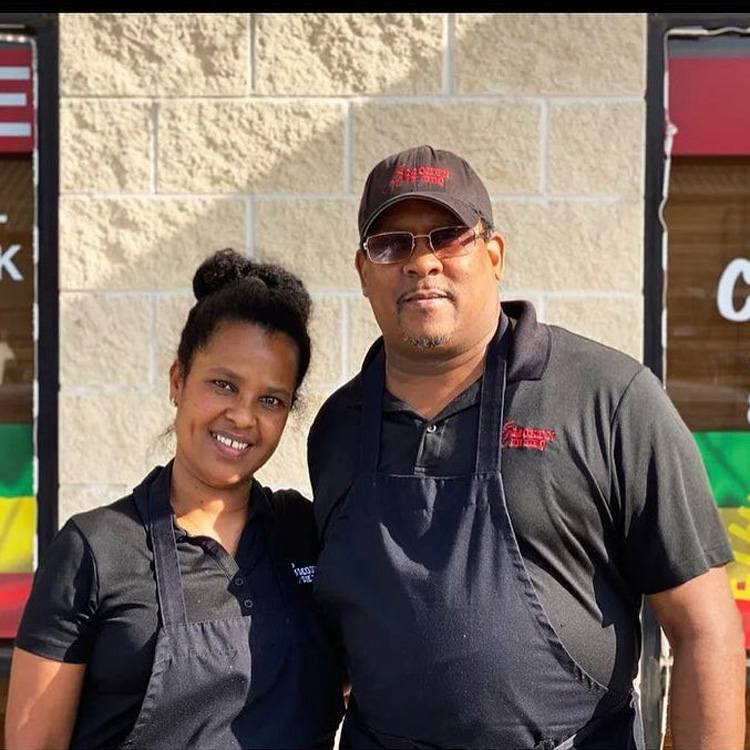 "Broccolini on the grill is to die for," he added. "Use plenty of olive oil and your favorite seasoning that complements the meal, whether that's lemon pepper with fish or barbecue spice."
Fasicka's traditional Ethiopian recipes include plenty of cauliflower, lentils, and other veggies, but the pair now makes smoked cauliflower and mushrooms so that vegans and vegetarians can have some options.
"We have greens," she said, "but those are definitely not vegan."
When asked about some tips for the DIY 'cuer or griller, Robinson started off with the basics.
"It should go without saying, but have a source of water just in case," he said. "Be safe."
During one of the milder, non-rainy early spring weekends, my personal grill master kicked off grilling season a little early, cooking some burgers on the propane grill he hadn't used in about six months. Fire and chaos reigned in my backyard. When the flames died out and the fire was controlled, we realized that the grease/food trap at the bottom of the gas grill may not have been cleaned in a minute. Also, perhaps there was a nest from a small critter who'd made a home in the heretofore-unused grill. So, Robinson's advice is spot on. Be safe. (And clean your grill beforehand.)
Other tips from Robinson: If you're cooking chicken, always brine it. You can find a basic brine recipe almost anywhere. The salt-sugar-water ratios are pretty standard, but Robinson also encourages a little creativity.
"Experiment with your sugar," he said. "See if you like brown sugar or maple syrup better."
For Fasicka, having the right amount of fat on a brisket is key.
"Before we started smoking meat for a living, my understanding was to trim as much fat as possible from the meat," she said. "But fat is good."
Husband Patrick also cautioned about having enough fuel source to keep the grill going. "Make sure the temperature of the smoker or the grill is adequate to the job," he said.
There's nothing worse than having to go to the grocery store for another propane tank or more briquets mid-grill or to the barbecue supply place for expensive pellets.
Patrick also counsels patience, especially during a stall in the cooking process, when many of us are tempted to jack up the heat source to finish the meat so we can eat already. He recommends allowing about an hour cook time for each pound of brisket or ribs and building in a little extra time just in case. "If you cook it too fast, the smoke overpowers the seasoning."
Speaking of seasoning, all three restaurateurs were generous with theory but cagey about actual ingredients. Patrick says that a simple blend of salt, pepper, and garlic plus warm Ethiopian spices will do the trick. When their larger restaurant opens in June, they'll sell their fusion spice blend to go, but one spice blend doesn't fit all meat.
"Brisket, ribs, and chicken should all have a different seasoning," he said.
Fasicka adds that their Berbere seasoning spices add a beautiful color and a depth of flavor to the things that come off Patrick's grill. The duo get their spices from family in Ethiopia because they say that American grocery store spices are often cut with preservatives or other ingredients to save money.
Some people like a multi-spice blend for the stuff that goes on the grill, and there are plenty for sale locally. Jon Bonnell and Tim Love will sell you their bespoke rubs on their respective websites, and over at Goldee's Barbecue, the website is pretty much sold out of everything but the Texas Monthly #1 All-Purpose Rub and the #1 Bar-B-Q sauce. Panther City BBQ's All-Purpose beef rub and their Custom BBQ sauce are the web price winners at under $10 each, and the sauce is what Panther City puts on their spareribs and burnt ends.
While we can argue that a 20-spice rub is a great thing, barbecue scion Aaron Franklin once famously said on a network food special that he uses only salt and pepper for his rub. Robinson says Lil Boy Blue falls into this purist category as well.
"We have a spice blend that we call The Sh*t," he said. "It's classic salt and pepper with onion and garlic. It's a good finisher for us."
If you want the rub to stick, the grill master in my home favors painting a moderate amount of cheap yellow mustard all over the meat as a base for whatever seasoning you use. It sounds disgusting, but it really makes the spice cling and flavor the crust.
Finally, the Robinsons have elevated dessert on the grill, and Reggie was happy to share the recipe. All you need is some quarter-inch thick pineapple slices and your favorite glazed donuts.
"Cover the donuts and the fruit with a mixture of melted butter, brown sugar, and rum," he said. "Put both on the grill just until you get the grill marks, then plate with the donut down, then the pineapple, and top with some ice cream and salted caramel sauce."