A handful of years after Summer Dean took a chance and gave up her work in education to focus instead on her dream of country music as a career, the risk she took is starting to pay off. Since the release of her debut album Bad Romantic in 2021, those dreams have become her reality. She's essentially spent the last two years on the road, playing countless shows opening for heroes like Mike & The Moonpies, Charlie Crockett, Colter Wall, and the legendary Marty Stuart, as well as headlining plenty of her own bills.
It's been everything she had hoped and has been a testament to her simple, confessional writing and its resonance with her audience. She released the follow-up to Bad Romantic last month, and the momentum that began with her debut has found another, higher gear. Appropriately titled The Biggest Life, the 13-song sophomore effort shows an artist growing into being exactly where they're meant to be.
"It has completely changed my trajectory and my goals and my career, and I'm having a wonderful, wonderful time," Dean said from the road in Portland before her show there that night. "I just feel like I've turned some kind of corner. I feel like on Bad Romantic, I had my fist in the air, and I had something to prove in country music. Now with The Biggest Life, it's not about proving anything or being anything. It's about these songs and their stories. Arrows were pointing in on my career [then], and now, my arrows are pointed out," meaning, instead of proving something to herself, she's focused on showing her audience who she is.
Upon listening to The Biggest Life, it's easy to see why audiences are responding to who it is Dean is showing them. Her style is faithful to classic women country greats like Loretta Lynn and Tanya Tucker without being overtly derivative. Her husky twang is warm and welcoming, whether over a tender ballad like "She Ain't Me" or the bright honky-tonk of "The Sun's Gonna Rise Again." The stories she crafts in her songs are as relatable as they are memorable, her sultry melodies delivering her words with the care of a woman who knows who she is and has something to say about it.
"You write about what you know," she said, "and I know what it's like to be me. I know what it's like to be a woman in her forties. I know what it's like to be a musician, and I know what it's like to be a country person. I know what it's like to be alone and single and wishful and hopeful, so I write about those kinds of things. I don't know what it's like to be in love so much, so there's not too many songs about that," she joked.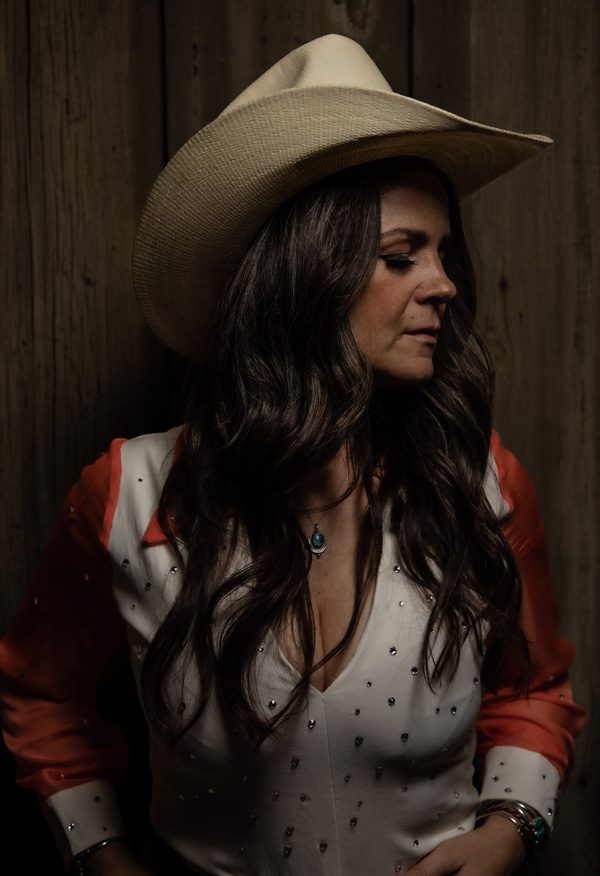 Because of what she writes about, she's earned a bit of a reputation as a voice for women in country music and for women in general. You'll find some mention about these themes in seemingly every bit of media surrounding her. However, when it comes to being saddled as some sort of standard bearer for country feminism, Dean is bemused.
"To be honest, it's wearing a little thin," she laughed about the label. "But that's OK. Sometimes I'm like, 'Why is everybody calling me this or calling me that,' and then I watch a video of one of my shows or look at my songs, and I'm like, 'OK, that's why they do it.' I don't want to be recognized as 'chick country' or 'woman country' or as a 'country feminist.' That's not where my brain is. I don't wake up every morning thinking, 'I'm a woman, and I'm in country music!' I just wake up every day trying to be great, trying to be badass, no matter whether you're a woman or not, so that comes across as a country feminist? I can't help where it lands and how it's perceived, but if it's effective, and helps people, and people enjoy it, and if it keeps selling tickets, well, I guess I'll just keep doing it," she laughed again.
Intentional or not, it's resonated with her audience, and it's currently affording her the life she always dreamed about. The life she yearned for and took such a risk to pursue. One she's growing more and more comfortable living.
"I definitely settled into it," she said, "but sometimes you've got to pinch yourself. If you're gonna be a dreamer, you've got to be a doer. That dream is always there, but you have to physically do the work. You can't sit there and complain and wish. You've got to do. You've got to try, and fall down, and get back up. The biggest thing is knowing your abilities and realizing you're probably underestimating yourself, so just go for it."
With The Biggest Life and the momentum it's gaining, not only are Dean's arrows pointed out, but they're also pointed up.