The guy who produced Yellowstone probably knows a little bit about film. And Fort Worth.
The problem, David Glasser recently said, is that while the city may be a "great place to live," it needs a more robust local workforce for film. To shoot 1883, the prequel to the hit Paramount Network TV show, in the Stockyards, Glasser and his 101 Studios had to bring in camera operators, gaffers, grips, and other behind-the-scenes workers from out of state. "We need to train more crews."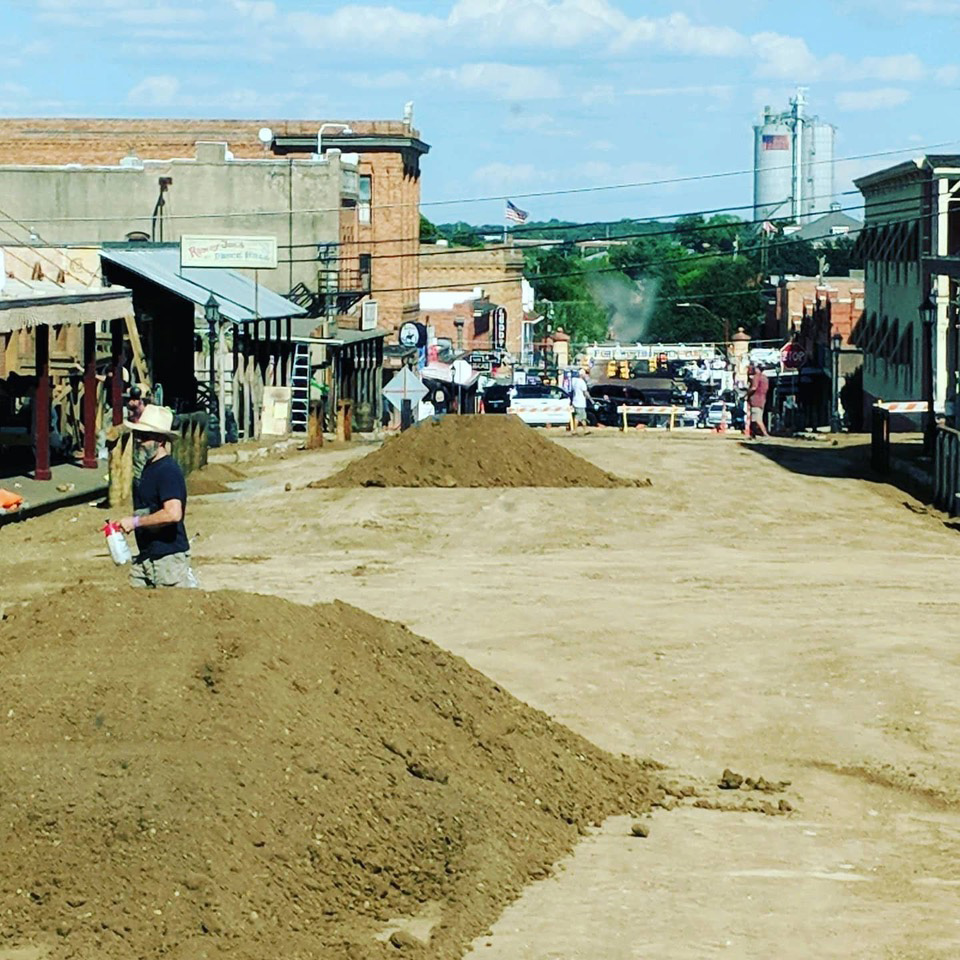 Enter: the Fort Worth Film Collaborative, a new training program headed by Tarrant County College (TCC).
Glasser was in town speaking at the collaborative's launch last week at Red Productions. The event had all the trappings of a red carpet soiree. Waiters served glasses of wine and small bites as several dozen movie pros, reporters, and public officials packed the Near Southside studio. TCC Chancellor Elva LeBlanc described the education program that she co-created with the Fort Worth Film Commission (commonly known as Film Fort Worth) and 101 Studios as crucial for meeting the needs of local and visiting videography crews. The collaboration will provide jobs for TCC students while meeting the needs of local film crews, she said.
"These certifications are designed to fit around work and family," she added. "Around 75% of our students work."
The creation of several four-week courses that lead to certifications in construction, lighting, and electrical comes at a time when state leaders are finally taking notice of the economic benefits of hosting film and commercial shoots. The Lone Star State's incentive program lingered at a paltry $25 million a year after 2021's legislative session. The passage of two state bills recently boosted public spending on domestic movie and commercial incentives to $200 million.
"The incentives have been exciting news," said Taylor Hardy, associate film commissioner and marketing manager for Film Fort Worth. "It helps us stay competitive. We have to think of filmmaking like a business. It's not just production folks who are helped. For every dollar invested in a film, five dollars are generated for the city. The incentives are an acknowledgment of the impact of film on the city" and state.
State Rep. Craig Goldman, whose district encompasses much of Fort Worth, authored a bill that is now law that lowers the percentage of Texas residents required on certain production crews: from 70% to 55%. The lower threshold, Goldman said in a public statement, will encourage large film production companies to come to Texas because they will have greater flexibility in whom they hire or bring here.
Fort Worth's filmmaking industry is an ecosystem. Small to medium production companies like Coffee Pot Films, Prelude Films, and Twelve Midnight create commercial content and occasional short films throughout the year, providing consistent work for editors, actors, and production assistants. Studios like Red Productions, Blanc Studio, Lowtown Studios, and others produce original content and provide spaces for locals and outside groups to film commercials and other projects.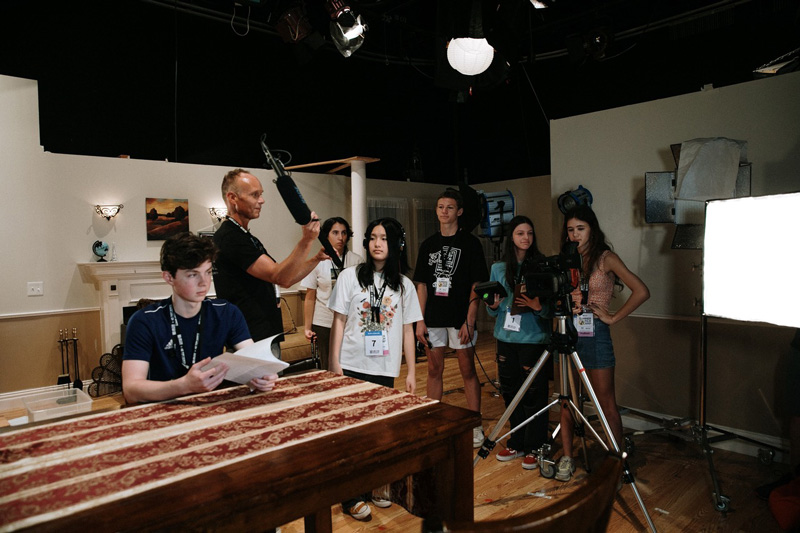 Two entities promote the scene: the Fort Worth Film Commission/Film Fort Worth, the city-funded group that attracts and supports outside film projects; and the Lone Star Film Festival, the nonprofit that hosts Fort Worth's annual multi-day event. While the two groups work collaboratively to grow the quantity and quality of video content churned out locally, ongoing worker strikes threaten to taper that growth.
Projects staffed by workers with SAG-AFTRA — the union that represents around 160,000 script writers, actors, announcers, voiceover artists, and other media professionals worldwide — are slowing but not halting filming in Texas because the lockout does not impact independent, non-union projects. Texas Monthly found SAG-AFTRA granting waivers on several Texas films, notably indie movies.
Chad Mathews, executive director of the Lone Star Film Festival, is optimistic that the walkout won't stop film production, especially in Fort Worth.
"The strike will not last forever," he said. "The writers, actors, and companies are suffering. Are we seeing it first-hand here? Not really. Commercials are still being shot. When it comes to wider guild members writing for a TV or movie, that has stopped."
Speaking at the collaborative's opening celebration, Mayor Mattie Parker said Fort Worth has historically lost [business] to nearby states like Louisiana, Oklahoma, and Georgia, where incentive programs have historically been better.
"We were able to create an [incentive] fund that has lasting potential for the State of Texas," she said, referring to the funding boost she advocated for with the help of filmmaker Red Sanders and Goldman. "We wouldn't need a workforce if we weren't creating [great shows and movies]. The type of production that someone like David Glasser needs is hard work. There is something special happening in Fort Worth, Texas. I firmly believe that supporting the creative class will set Fort Worth apart."
*****
When we wrote about the early days of the Fort Worth Film Commission/Film Fort Worth ("Jessica in Wonderland," June 2016), we said, "Working in the film and television industry while living in Fort Worth means you'll probably spend a lot of your time traveling to other cities."
In the story that captured the first few months of the newly formed Film Fort Worth was a profile of Jessica Christopherson, the commission's first full-time employee who still heads it.
"A typical day for the commission involves helping people find shooting locations, providing assistance with permitting, and answering myriad questions about accommodations, transportation, catering, and anything and everything needed to make a production happen," Christopherson said at the time.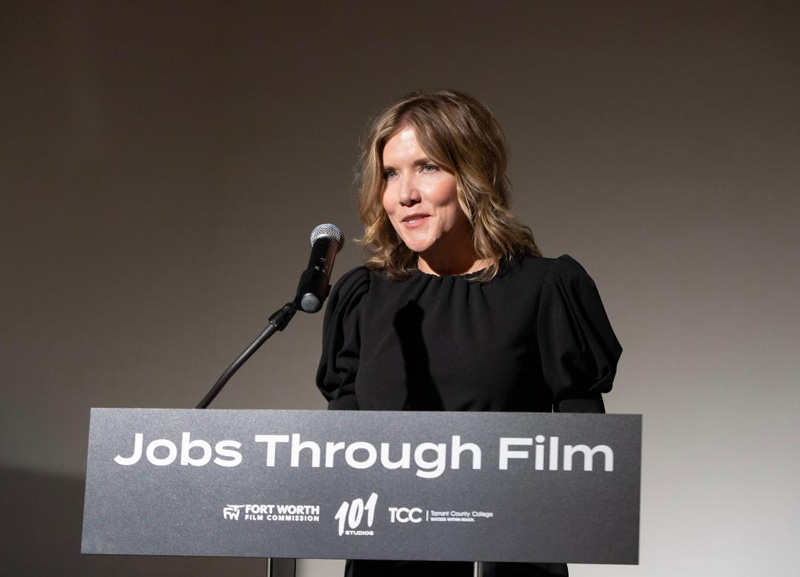 In the intervening years, Film Fort Worth has generated $555 million in economic impact and supported 18,900 jobs, based on data from the City of Fort Worth. The commission's work benefits a range of local industries, from retail and construction to hotels and restaurants. Major movies and shows shot in Fort Worth with the help of Film Fort Worth include 12 Mighty Orphans, 1883, Miss Juneteenth, The Old Man & the Gun, and Never Goin' Back.
Throughout much of 2021, Taylor Sheridan's crews filmed the bulk of 1883 in the Stockyards. The Yellowstone prequel stars Sam Elliott, Tim McGraw, Faith Hill, and others on the west blocks of Exchange Avenue. With the help of the Film Fort Worth team, production staffers removed street signs and built facades to transform the streetscape into a replica of Western towns in the 1880s.
While Film Fort Worth attracts large and small projects throughout the year, Mathews and his team from the Lone Star Film Festival organize workshops, screenings, and educational programs to facilitate the growth of the local film community. Mathews recently wrapped up a four-week film camp at TCU. The festival executive director made education a central part of his work since taking over the nonprofit eight years ago. Around 20 high schoolers started by writing a script during each two-week camp, he said.
"We would pick which script we put in production," Mathews said. "The following week, we would shoot and edit the film. In the end, we walked away with two products."
The newish partnership with TCU, he added, allows students to work with a professional sound stage and editing software.
"It is so rewarding to see kids being so creative and getting better at their craft," he said. "They come in having an idea of what they want to do, but we encourage them to try every job on the set."
Building the next generation of local filmmakers is part of the festival's mission. The fest — which runs from Thursday, Nov. 2, through Sunday, Nov. 5 — allots around a quarter of the screenings to Texas films.
"We want to showcase local talent," Mathews said, "and we want them to continue making movies. Some people don't feel welcome at a film festival. If they go to see a Texas film, they will realize quickly that this is a cool experience and that they are welcome. Showing local films also generates outside interest in making movies here."
Throughout the year, smaller production companies like Red, Twelve Midnight, and Prelude provide work for locals by making films, promotional videos, and more artistic endeavors like music videos and indie films.
Twelve Midnight co-founders Dustin McLaughlin and AJ Aiello formed their business — which they describe as a "visual agency" — several years ago based on a shared love of making video content and photography.
McLaughlin said his startup's first big gig came from working with Visit Fort Worth, the tourist-focused promotional wing of the City of Fort Worth. To draw outside filmmakers, Film Fort Worth had the duo produce short clips of 10 film-friendly locations in the city. The clips that currently populate Film Fort Worth's website make scouting destinations easy for outside filmmakers. Building off that early project, the Twelve Midnight team documented Visit Fort Worth's 2019 takeover of Bungalow, a popular Austin bar, as part of 2019's South by Southwest.
"We ran a crew of four and made a lot of connections at their event," McLaughlin said.
Visit Fort Worth staffers rented a "house for three days — we got introduced to TX Whiskey while working there."
Four years later, the visual agency boasts major clients: Disney, Dickies, The Cliburn, Calloway, and TX Whiskey. Each company comes to Twelve Midnight with different needs and expectations, Aiello said.
"Some people want us to create the video from ground zero," he continued. "Other clients have an idea of what they want. It doesn't matter if it's music or a brand or whatever. We can step in at any stage."
Part of the fun and challenge of working with clients is balancing artistic ambitions with the business owners' goals.
"You very rarely have full control over the final story," Aiello said. "You are going to be restricted to what the brand wants. It's a fun challenge because you have to work within these restrictions."
Alex Rosales had his first break as a filmmaker thanks to Prelude Films. The short film Search and Destroy that recently premiered at the Oak Cliff Film Festival tells the story of a pre-teen who summons his neighborhood squad to find their missing friend. The coming-of-age story, Rosales said, is about friends drifting apart. During his senior year, Rosales attended the Cannes Film Festival, which "jump-started" his interest in filmmaking, he said. "I called the Prelude Film guys up, pitched them an idea, and we decided to make a project together."
Prelude Films partner Andrew Czap said he found his way into the film industry accidentally.
"I have a background in graphic design and photography," he said. "My friend went back to grad school for film and asked me to shoot this project. I fell in love with being around tangible things like lights, people, and locations."
Fort Worth, Czap said, is now an established film production destination even though the infrastructure needs to catch up.
Rosales said he isn't interested in pursuing his career elsewhere.
"The sky's the limit in terms of who comes to town and who stays" to make films, he continued. "I'm personally not enticed to go outside Texas at the moment. I want to set roots that will run deep. Diversity is one of our strengths. There are so many cultures, lives, and stories here. I think that makes for a dynamic and creative town."
*****
The crowds lingered well after last week's guest speakers concluded their remarks about the Fort Worth Film Collaborative. Eschewing the traditional ribbon-cutting, LeBlanc, Glasser, Parker, and other program organizers and supporters grabbed clapperboards as folks in the crowd shouted, "Rolling!" and "Quiet on set!"
The sense of achievement was palpable in the broad smiles of the officials and industry pros that late afternoon. Mathews said the focus on cultivating the next generation of moviemakers is critical to preventing an exodus of talent.
"If you have a high schooler who is interested in film but doesn't know how to enter the field, they may take a job doing something they don't love," he said. "You don't have to move to L.A. or New York to become a local production assistant. That isn't always explained."
Abortion bans and anti-LGBTQ laws passed by state leaders send conflicting messages about how welcoming Texas truly is to outside business, he added.
"We want to make sure that everyone feels welcome," he said. "Having a state that passes bathroom bills or eliminates female reproductive rights could be the reason a film company pulls out of Texas. I've met filmmakers who have been nervous about coming to the Lone Star festival because they don't know if they will be safe here. It sounds funny to outsiders that state leaders want to bring films to Texas, but they don't want trans people to have rights here."
Twelve Midnight's Aiello said Fort Worth will continue growing as a destination for film productions.
"We have the creative community" to support that growth, he said. "Like small businesses, we have a healthy underdog mentality. We know that we have talented artists, musicians, filmmakers — all of those things. There's a lot of energy and buzz here that I'm excited about."
Aiello and several other local film professionals said the biggest thing missing right now is a large studio lot, something akin to a hanger that can accommodate massive sets in a controlled environment.
"If I'm coming from L.A. and need to film a [big-budget] production, that doesn't exist here," he said. "That may give Dallas the gig."
Mathews said Fort Worth future growth will be spurred in part by Texas' unique landscape.
"Texas is also unique in that it has every setting you can find, from piney forests to desert," all within a short driving distance, he said. "I can shoot in downtown Forth Worth and then in 20 minutes be at a ranch. That's a unique situation."
Sometimes lost in the talks about economic growth and incentives is the fact that filmmaking is an artistic endeavor that allows folks of all ages to process and express their inner thoughts and feelings. For children and teens developing their identities while dealing with often conflicting emotions, writing, directing, and acting can help the kids cultivate a positive self-image, Mathews said.
"I think [film] is a great place for youths to express themselves," he said. "In these two camps, these kids wrote personal stories that they are dealing with. It's their way of expressing themselves through this collaborative artform. Filmmaking is so unique. It is unlike a painter who has a canvas to themselves. You have to work with others. I think that's really special at a time when a lot of us, especially teenagers, feel isolated."