Boca 31, 1000 8th Av, Ste 101, FW. 817-862-9700. 10:30am-8pm Mon-Fri.
The proverbial "they" say you can never have too much of a good thing. Whoever "they" are might be onto something because I can certainly never have too much of anything Boca 31 cooks up. Of the experience, a friend also nursing a full yet satisfied belly after an outing there said, "You'll have to roll out in a wheelbarrow, but who needs dignity?"
I sure don't — not when it comes to this hole-in-the-wall Latin food joint with Chef Andres Meraz at the grill. From street tacos and sliders to meat and rice bowls plus signature empanadas, it's damn near impossible to dislike this place.
I'd sooner believe you simply hadn't noticed Boca 31, which lives in just the right spot where, if you blink at precisely the wrong moment, you'll miss it entirely. Who could blame you? The restaurant occupies the tiny corner plot neighboring a Jimmy John's in the scarlet-and-aluminum shipping container-esque building off 8th Avenue on the Near Southside. Your eyes likely were diverted from Boca's unassuming sign above the door to the obnoxious "TATTOO & VAPE" one featuring a snarling, tatted bulldog that wraps the side.
Lemme tell ya, the food is well worth braving the onslaught of Jimmy John's delivery drivers whippin' in and out of that square paved monstrosity they call a parking lot. Y'all can have your cold meat and white bread — I'll take Chef Andres' daily specials any day and twice on Sundays (if only they were open on weekends *cough, cough*).
The Cuban sandwich of freshly toasted, spongey ciabatta bread pressed around juicy pulled pork and ham that's enhanced with Swiss cheese, pickles, and mustard feels like a steal when all it costs is a Lincoln (the bill, not the coin).
A fellow Fort Worth enthusiast initially discovered the place via social media, where Boca 31 and its head chef are fairly active. She's always finding some novelty or another to try out, and I can't stress enough how thoroughly thirst-trapped we were by the many meaty, melty concoctions posted on Instagram. Unlike the typical online dating profile, the food matches its pics and delivers on the promise of a good time.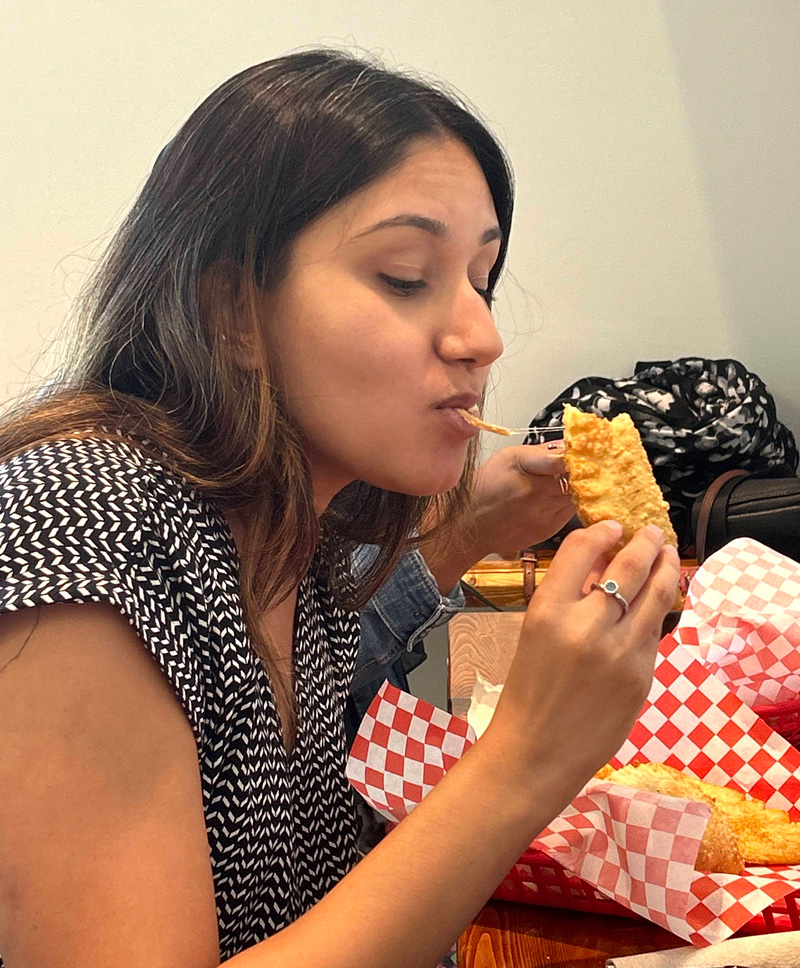 Beyond being loaded with food porn, Boca 31's Instagram features several videos showcasing the chef's passion for education and his hands-on approach to teaching cooking lessons. That's probably why the kitchen remains closed to customers on weekends. For those pouting, you're not alone. Luckily, Boca recently extended its weekday hours to include dinner service. I guess, once again, what "they" say rings true — relationships really are give-and-take.
Seating is limited inside, and the space mostly consists of the kitchen, but there's a warm atmosphere within (sometimes quite literally). There's not much by way of decor, but what the interior lacks in adornment, it more than makes up for with affable service and rich offerings packed with robust flavors. Boca 31's personality shines through its people and cuisine.
On my latest excursion to the corner restaurant, the empanadas were calling my name. They usually do. I ordered the combo, which included the chicken and cheese, ground beef and cheese, and a dessert one filled with sweet guava and cream cheese and covered in powdered sugar. A side of Boca 31's classic yucca fries accompanied the meal. Without exaggerating too much, I dream about those fries, so perfectly crunchy on the outside yet soft and steamy on the inside. If I'm a glutton for anything, it's a good dipping sauce, and the cilantro mayo and crema options hit. the. spot.
Speaking of crispy outer shells and fluffy insides — no, I don't mean me — the mofongo fritters, crafted with yucca and plantains, easily elicit an over-the-top chef's kiss.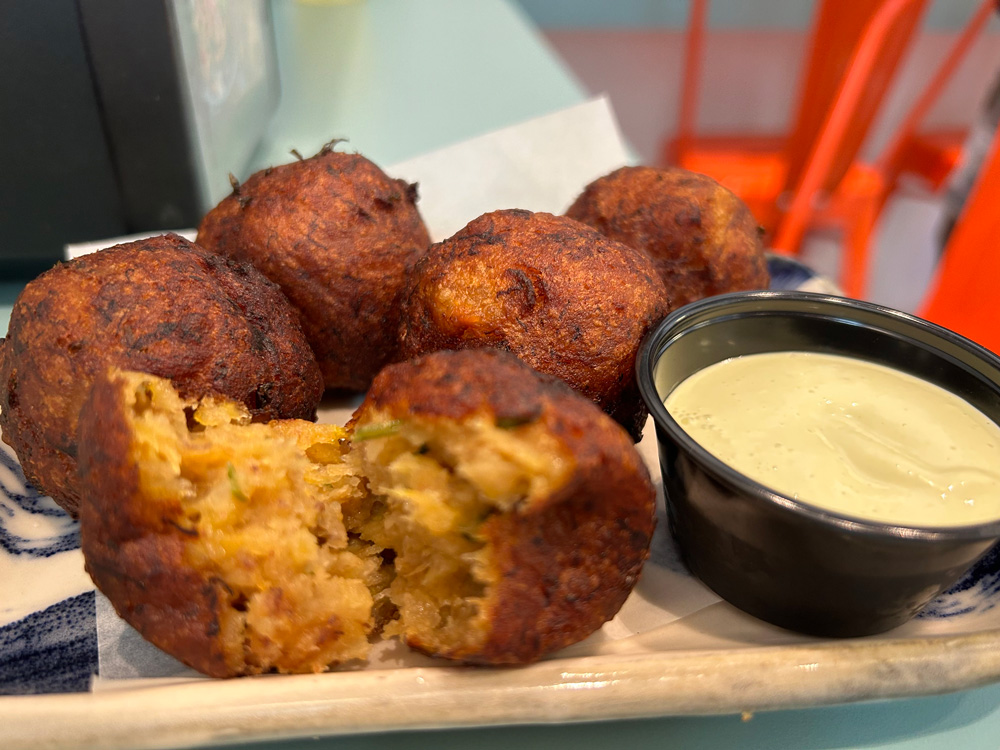 Biting into the buttery exterior of an empanada and reaching the pocket of tasty meat and gooey cheese within embodies an entire experience in and of itself. My mind may have short-circuited during my first nibble of the dessert pastry as the sugary, creamy filling oozed and deposited powdered sugar onto my black shirt. I didn't even care that it would look like I'd done a few lines at lunch.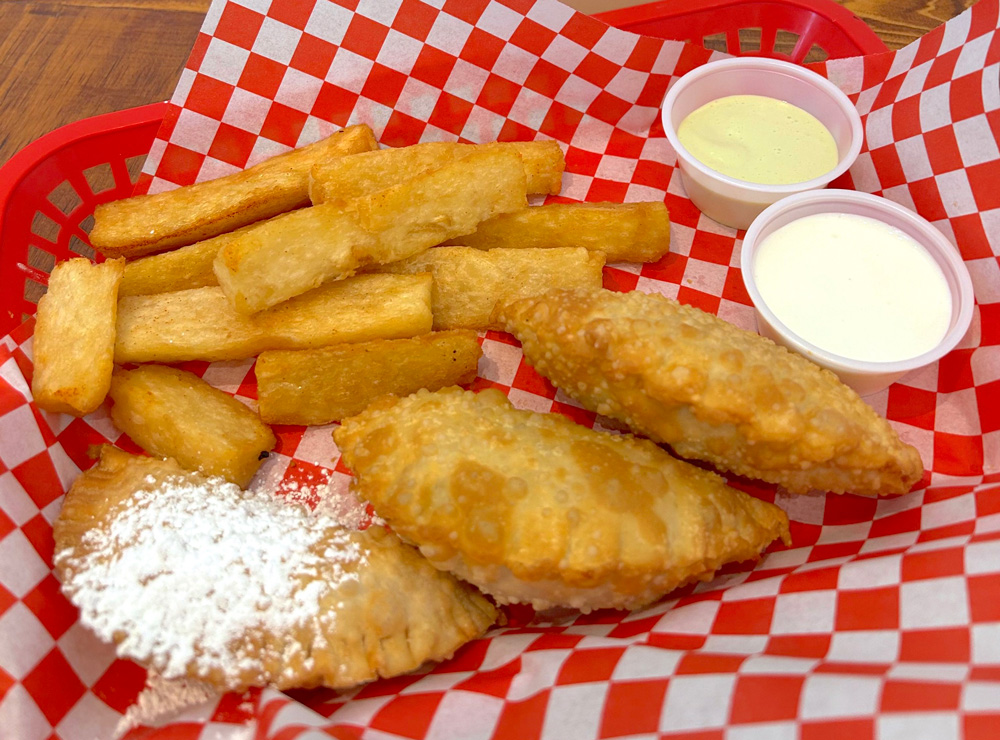 A contented silence fell upon the normally chatty group I'd introduced to my new favorite place in town. While one friend had a comically classic "cheese pull" and eyebrow-raise moment with her empanada, which I happened to capture, another mmm'ed and nom-nommed over her savory chicken pastor rice bowl with pinto beans, plantains, pickled onions, and that luscious cilantro mayo.
By the time the crew had wiped our bocas and reclined back lazily, the consensus seemed to be we all needed a little snooze to digest and recover from the "knock-out food."
As long as Boca 31 keeps rolling out new specials, I'll keep drooling over them on social media before battling the sandwich and vape customers for a spot in the nightmare lot — all for the sake of incredible Latin fare that's simple but far from plain.