Some people can't stop themselves from stepping on a rake and blaming someone else for it. That's the case with the conspiracy-peddling mayor of Colleyville. Ordered to pay nearly $200,000 not long after losing a lawsuit he filed against a handful of political opponents more than seven years ago, Bobby Lindamood has once again been legally required to shell out some cash — this time, for theft.
After his efforts to avoid the fine were unsuccessful, he took to Facebook to air his grievances about the City of Irving and, in the process, demonstrated a casual disregard for the truth.
"Super disappointed," Lindamood wrote in a now-deleted post on October 2 in the group Keep Irving Accountable. "I'll save the deep details but I'm super disappointed in the City of Irving for what has transpired."
What transpired essentially is that one of Lindamood's companies, JR Demolition, won a contract in July from the City of Irving to demolish the Lively Park swimming pool, and, during the job, one of his employees was caught by an employee of Irving Water Utilities using an unauthorized water meter — an act that amounts to criminal misdemeanor theft of a city service. The water department then issued Lindamood a citation for unauthorized water use on August 10 and confiscated his unapproved, faulty meter.
Lindamood then tried to lobby the higher-ups at the City of Irving for leniency. Per an August 22 email that he sent to Irving's mayor and city manager and that we obtained through an open records request, he blamed the incident on a new employee who misunderstood directions and implored the city officials to reconsider the criminal citation.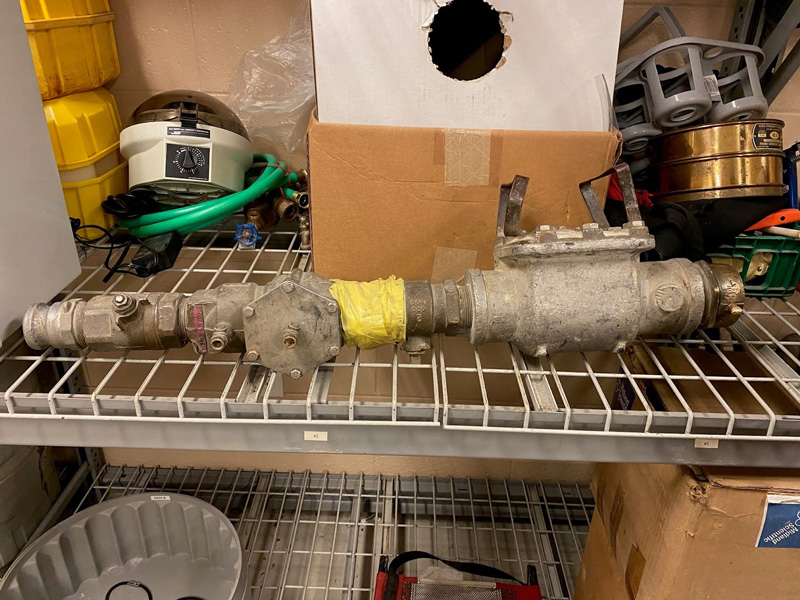 "I'm certainly not asking for favors," Lindamood wrote. "But I do think being called a thief (as it says on my ticket) is a little rough, and the $1,076 on a simple mistake is quite excessive. I'd be more than happy to pay for the accidental tank of water (which wasn't full when they stopped [the employee]), but I would certainly like to have my personal water meter back please. I hated to even bother you guys, but I felt I needed to ask for your assistance after I have exhausted all other avenues. Thank you for your time and service."
Disclaimer or not, it sure reads like Lindamood is asking to skate on by — a request that was not indulged. After initially pleading not guilty, Lindamood ultimately paid the fine. When reached for comment, he replied, "I will not give you any other information because of your history of not publishing all the facts. You will write what you want anyways — as you've proven."
Lindamood has been part of the MAGAfication of Colleyville, a bedroom community east of Fort Worth where right-wing public officials backed by groups like the True Texas Project and Empower Texas have taken control of the city council and school board. Lindamood was first elected to Colleyville City Council in 2016 and then mayor in 2022, and in that time, he routinely spouted off half-truths and outright conspiracies. While serving as mayor pro tem, he shared debunked conspiracies on Facebook about January 6 and imagery associated with QAnon, the wackadoodle fringe movement whose members regularly cast non-MAGA people as satanic, pedophilic, or both.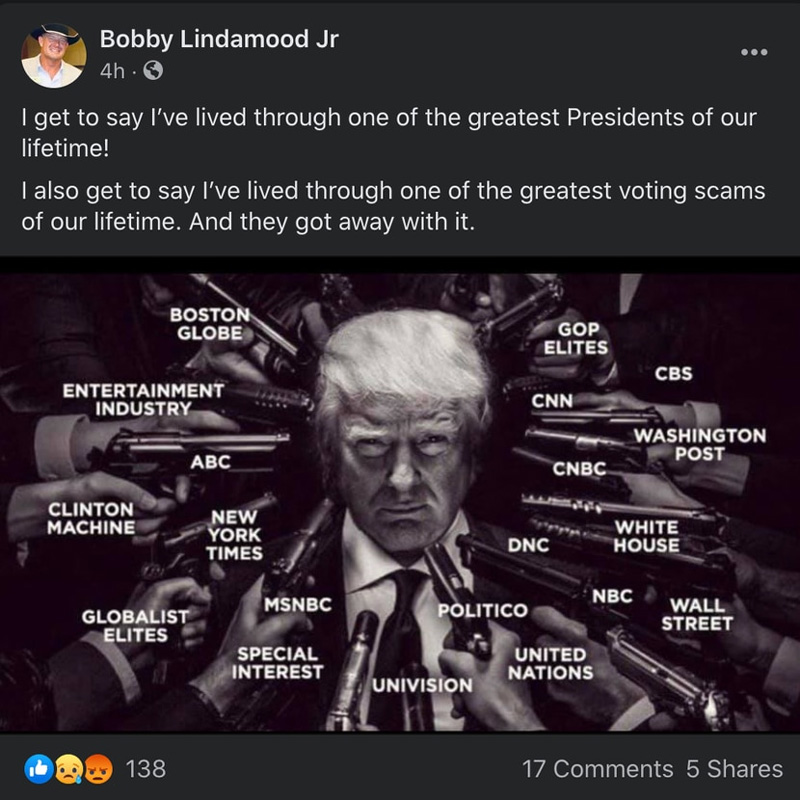 Being labeled a thief by the City of Irving clearly irked Lindamood, who was born in Irving and whose family's contributions to the city were reflected in the naming of Lindamood Park. He made his displeasure known via social media, and in classic Lindamood fashion, what he posted is — surprise — not based entirely in reality.
"I have tried to reach the mayor and city manager several times for help to resolve this situation," Lindamood wrote. "But not one response of any kind."
In fact, the assistant director of water utilities, Steve Pettit, directly responded to Lindamood's August 22 email on September 1, per communications we obtained via an open records request.
"It is standard practice," Pettit wrote, "for our employees to confiscate unapproved fire hydrant meters that are attached to Irving's water distribution system. As I'm sure you are aware, only meters supplied by Irving Water Utilities may be used on Irving's system."
Lindamood went on to say that the "value cost" of his demolition job for the City of Irving was $1.05, making it seem like it was charity work. Per records we obtained, the contract value was $49,890. In an email to us, Lindamood said, "The $1 fee has nothing to do with my contract in any way, shape, or form" but did not identify its purpose.
Via Facebook, Lindamood also claimed he has "NEVER been in trouble, tried to steal, or done anything maliciously to undermine anything or anyone."
While it's true that this was Lindamood's first criminal citation on record, there are multiple reasons not to believe him.
In February 2020, Lindamood's demolition company tore down the wrong house in Dallas, resulting in a lawsuit that twisted its way through Dallas courts for three years until it was apparently settled on the cusp of a trial in February 2023. One month earlier, Lindamood lost the aforementioned defamation lawsuit that he'd filed after his first run for Colleyville City Council in 2015. The $200,000 he was forced to cough up went mostly to cover the legal fees of the defendants, whose bills exceeded that amount.
After Lindamood's failed defamation lawsuit cemented a number of deeply disturbing facts about himself in court records — namely, that he inappropriately fondled his stepsister 20-plus years ago and bizarrely denied being married at the time — he jumped on Facebook to cast himself as the victim of unfair anti-SLAPP laws and an allegedly abusive mother.
Lindamood deployed a similar reversal of victimhood in his October 2 Facebook post, claiming that his compliance with City of Irving regulations cost him tens of thousands of dollars.
"Just know, I will never give any donations or help this city again," Lindamood concluded. "It's been a one-way street and all take by my beloved Irving. What a shame. Over and out!"