Vida Café, 3522 Blue Bonnet Cir, FW. 682-760-8058. 11am-9pm, Mon-Thu, 8am-9pm Fri-Sat.
When I invited my childhood best friend to try out a vegan spot with me, she unsurprisingly blurted out an emphatic "EW" — one of those all-caps utterances that originates from deep within the gut (or perhaps the soul?). It's why I buried the lede until she'd already agreed to dinner.
Paired with her contorted expression, my bestie's kneejerk reaction made me both cackle and ponder just how common such a response might be. I'm not a vegan myself, and I have not known many. Don't get me wrong. I'm not opposed to the idea of veganism, but I am opposed to making my life any more inconvenient.
Why, then, a vegan restaurant? Mainly, why not? Vida Café serves plant-based Italian fare, and I can't resist the siren song of my people. However, with Italian food, I'm cautiously optimistic as a rule. If my expectations for the cuisine were a tower, they'd be the one in Pisa: fairly high and admittedly leaning.
On Bluebonnet Circle a couple doors down from Belenty's Love, the vegan Mexican spot with the same owners, Vida Café was fairly quiet when the group I'd convinced to join me visited one cold Thursday evening. With the front garage door flung fully open, a wonderful chill permeated throughout the restaurant.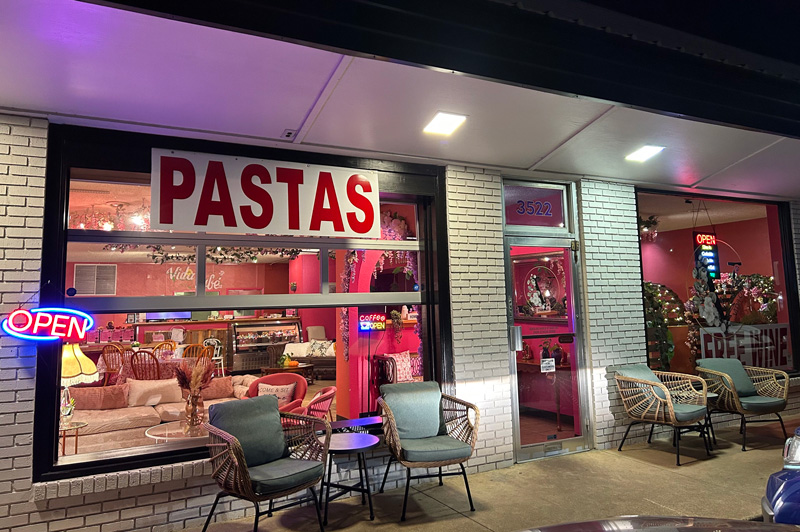 Some spaces are merely decorated, and others are an entire vibe. Vida Café is the latter. As if sponsored by Pepto Bismol, the cafe's interior features nary a wall that hasn't been splashed in a vibrant pink. Floral accents and vines hang from nearly every surface, and even the tablecloths feature blush flowers budding under the clear plastic protectors. From floor to ceiling, Vida Café elicits the feeling of being engulfed in the liveliness of springtime — one that thankfully won't make you sneeze.
Several comfy seating areas within beckon you to stay awhile. Just inside the garage door, an elegant ivory couch and pink velvet accent chairs do just that. On the other side of the fairly vast interior sits a trio of cozy pods covered in the same flowery decor, strung lights, and piles of plush pillows and cushions. I'm no clairvoyant, but I see myself lounging there, poring over a book while sipping wine or working remotely with a coffee.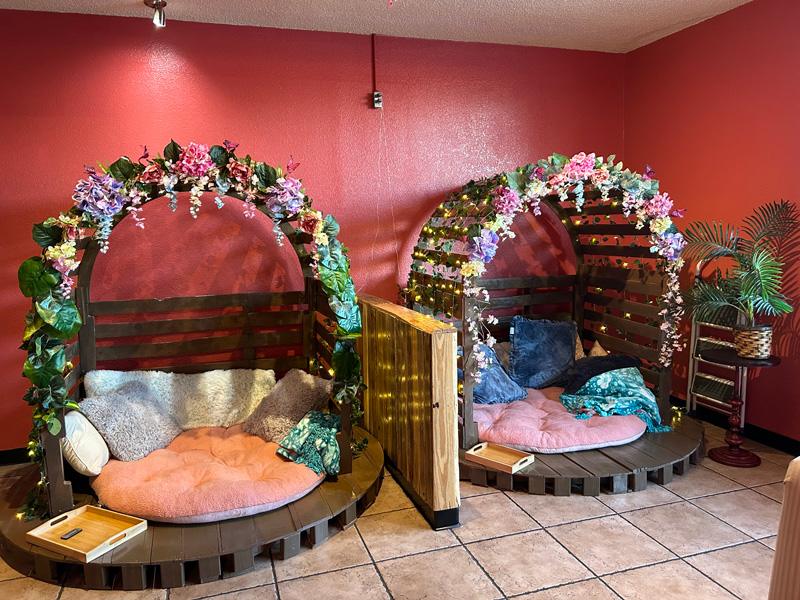 Our server, who I recognized as owner Belen Hernandez, warmly greeted us and attended to our every need. She flitted about with a genuine, beaming smile ever-fixed on her face as she made baby-talk with the li'l tyke in our group and offered the older tykes free wine. That alone solidified my good opinion of the place, but the food certainly contributed.
If I'm to believe that everything we indulged in at Vida Café that evening was purely plant-based, I guess I'm also to believe in witchcraft. From the first plate to hit the table — perfectly toasted, airy bread and velvety butter spread — to the finishing slice of dense, moist vanilla cake sprinkled with cinnamon, the meal enchanted us all.
Of the soy and veggie meatball appetizer swimming in perfectly spiced housemade marinara with chunky tomatoes, a fellow Italian (or Sicilian, as he'd most certainly correct me) stated, "Honestly, if I didn't know it was vegan, it would have fooled me." The chef nailed those juicy faux meatballs down to the texture.
The only recognizably different item turned out to be the mozzarella sticks. The consistency beneath the crispy shell was super melty, almost liquid. Even so, the fried cheese dipped in marinara was finger-lickin' good.
For the main course, we jabroni sampled several of the pastas on the menu. My chick'n marsala with mushrooms tasted buttery, creamy, and a little bit sweet with the infused marsala wine. Though I could tell the chick'n contained no poultry, the all-plant variation on one of my favorite pasta dishes was no paltry substitute.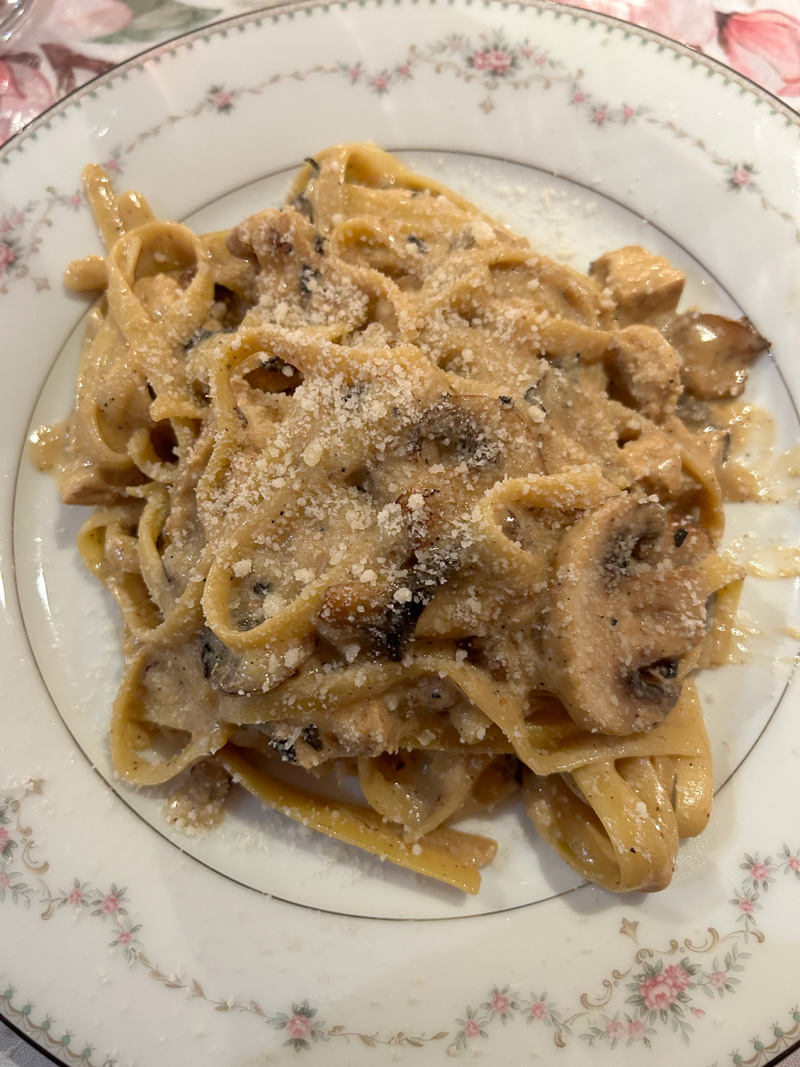 I all but coerced one friend to order the cacio e pepe so that I could try it. Even with how few ingredients the pasta contains — pecorino romano, butter, pepper … e basta, niente di più! ("enough, nothing more!") — the balance is difficult to pull off. After the first bite, he closed his eyes and slowly nodded in approval.
The pasta primavera delivered with all manner of fresh, colorful veggies, including some asparagus spears, an addition I haven't seen before. Even the classic spaghetti impressed with a kick of pepper for spice. I patted myself on the back for assembling the perfect crew who'd allowed me to steal a few twirls of noodles from their plates — purely for the sake of the article, of course.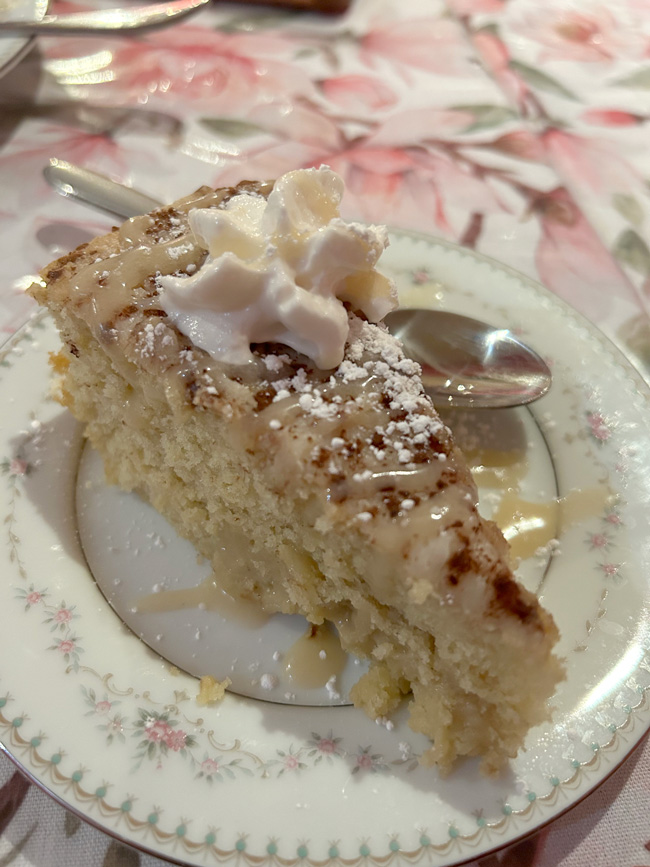 Can we call the sentiment around vegan food a stigma? I feel confident making that claim, especially considering geography. While I'm more of a city girl who occasionally indulges in vegan fare, even I had my initial reservations about Vida Café. Would vegan and Italian go well together? Should it? Why mess with a good thing?
I may not have started off as a total skeptic, but I'm a convert. Though I'll continue to cling to my superiority complex gained from being related to some spectacular Italian cooks, Vida Café helped expand my mind and palate — and that's never a bad thing. "Vegan" the biggest doubters among us can agree on that, no?
Vida Café
Marsala pasta $20
Spaghetti $20
Meatballs $12
Mozzarella sticks $12