Typically as part of our annual Music Awards, Fort Worth Weekly commandeers a local nightclub for a day and lets some of the nominees play their little hearts out.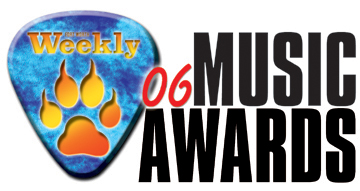 This year, our approach is gonna be a little different. Instead of taking over a single club, we're gonna take over four, and instead of a mere handful of nominated local bands, six will play at each club (amounting to 24 in all for folks keeping score at home). Even cooler this year is the way we'll raise funds for our charity sponsor, the Safe Haven of Tarrant County — not through compulsory cover charges (admittance is free) but via the sale of a $5 compilation c.d. we've put together that features select nominees' songs: "These Are the Dead Days" by Calhoun, "My Movie Morning" by The Color of May, "These Tears Could Rust a Train" by The Theater Fire, "Heartbreak" by Stephen Pointer, "Tender" by Black Tie Dynasty, "Hold Me Down" by the cut*off, "Seven Seas" by Darth Vato, "My New Romance" by The Burning Hotels, "All These Years" by Lost Country, "A Good Place to Start" by Chatterton, "Love's Bitter Rage" by Jhon Kahsen, and "Go Down Moses" by Jason Eady.
The Flying Saucer Draught Emporium, 8.0., Rick O'Sheas, and The Pour House are the four venues. The music will get going around 4 p.m. and wrap up around 10. Slated to perform are Alan, Black Tie Dynasty, The Burning Hotels, Calhoun, Chatterton, the cut*off, Darth Vato, Sara Donaldson, Jason Eady, Electric Mountain Rotten Apple Gang, The February Chorus, The Fellow Americans, JustCause, Latin Express, Legends of the South, Maren Morris, Nuwamba, Pablo and the Hemphill 7, Stephen Pointer, John Price, PrinceRodriguez, Poo Live Crew, Sleeplab, and The Theater Fire. Come support local music and have a good time while you're at it, why don't ya.
Sun at various locations, Sundance Square, FW. Free. 817-321-9700.