Fallen Angel, a documentary on singer-songwriter Gram Parsons, has an interesting angle: that the Southern man's career goal was to die young and become a legend. This charismatic, troubled, self-assured, and self-indulgent rich kid did just that, living like Hank Williams in a rock 'n' roll world where he willed country into cool.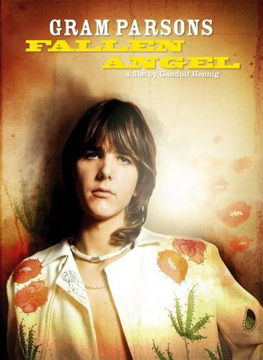 Parsons' influence, through his passion for the music, is unquestionable.
The music-filled film from producer/director Gandulf Henning and writer Sid Griffin tells Parsons' story in chronological order and features interviews with family, friends, and relatives; historic photos and film; and footage from his performances. Henning spent seven years putting the doc together, releasing it in Europe in 2004. The U.S. release, scheduled for July 11, has been drawing recent buzz on roots-music chat rooms and mags.
At 103 minutes, Fallen Angel is a little long. Lots of quotes about "how stoned we got, what mischief we got into" scan across the surface of Parsons' life without ever stopping at any one place to explore meaningful details.
Parsons grew up in Florida and Georgia, rich from the family's orange juice business. His mom eventually drank herself to death, his father eventually shot himself fatally, and his stepfather drank a lot and drove Jaguars when he wasn't on the yacht. Parsons met Elvis when he was 10, in 1957, later failed every course he took at Harvard while discovering country music, and moved to California where he stole David Crosby's fiancé.
Chris Hillman, who fired Parsons from both The Byrds and The Flying Burrito Brothers, remained a friend. He later hooked Parsons up with the then-unknown Emmylou Harris for the "Fallen Angels" tour.
Parsons died when he was 27 of drug and alcohol overdoses at the Joshua Tree Inn on Sept. 19, 1973. His long-time road manager, Phil Kaufman, and friend Michael Martin, drunk and trying to fulfill what they considered his last wish, borrowed a hearse, signed for the body at the Los Angeles airport, drove it to the Joshua Tree National Park in Southern California, poured five gallons of gas on the body, set it on fire, and walked away as it burned. (About 35 pounds of remains were buried in New Orleans, where his stepfather lived.)
Harris said Parsons' music and passion, not his death and partial cremation, should be remembered. At the beginning of the film, Keith Richards, R.E.M.'s Peter Buck, and Dwight Yoakam reminisce about Parsons' influence. If he had lived a long life, what would we remember? Jimi Hendrix, Janis Joplin, and Jim Morrison all were 27 when they died. Hank Williams was 29.