Music festival season is officially in full swing, especially 'round these parts. This weekend sees not one but two indie festivals, and they're both brand spankin' new.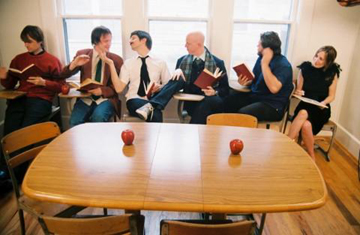 On Friday in Cowtown, the Metrognome Collective is putting on POPFEST!, a night-long event featuring 11 bands from across North Texas, including Happy Bullets, Fishboy, Man Factory, Teenage Symphony, Ballroom Dancing, The Shapes, Maya Bond, The Bracelets, Hardin Sweaty and the Ready to Go, American Werewolf Academy, and The Beatdown. Frank Hejl of the dearly departed Frequency Down radio show will host the event.
The following night a more moody, less sunny festival will take place at Rubber Gloves Rehearsal Studios in Denton. Strategies of Beauty is being billed by the North Texas musos who've put it together as a celebration of the marriage between noise and folk. Slated to perform are Notes From Underground, Fra Pandolf, Stumptone, Shiny Around the Edges, You Are the Universe!, Cue, Chris Garver, Idi Amin (no, not the African dictator but the band), Eat Avery's Bones, Ribelle Scaltro, Samantha L. Moss of jetscreamer with Emil Rapstine of The Angelus, and Hotel, Hotel.
The two events provide a nice counterpoint to another pair of festivals this week, the Vans Warped Tour (Saturday) and Willie's Picnic (Tuesday).
POPFEST! is Fri at the Metrognome Collective, 1518 E Lancaster Av, FW. $5. BYOB. 817-810-9777, www.metrognomecollective.org. Strategies of Beauty is Sat at Rubber Gloves Rehearsal Studios, 411 E Sycamore St, Denton. Free. 940-387-7781, www.rubberglovesdentontx.com.