The Mimir Chamber Music Festival returns once again to restore intimacy and rigor to Fort Worth's classical music scene after the Concerts in the Garden. This year's event features a few new musicians and the same mix of familiar and unfamiliar chamber music repertoire.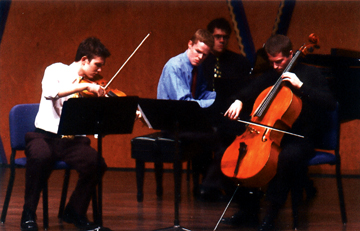 The first performance on Thursday kicks off with Erno von Dohnányi's Serenade for String Trio, a refined yet spiky cocktail from a composer who in his own time looked to have struck the perfect balance between old-fashioned tastes and 20th-century modernism. His wilder compatriot Bartók wound up eclipsing him after their deaths. Nevertheless, it's a celebrated piece for string trio, a field that isn't crowded. Bartók also features in the festival with his icily poised String Quartet No. 2.
Elsewhere, there's Joaquin Turina's La oración del torero ("The Bullfighter's Prayer"), a trifle originally written for four lutes that became such a hit that the Spaniard wound up transcribing it for string quartet and then for full orchestra. John Adams' 2003 piano-and-violin piece Road Movies has a middle section of breathtaking hushed beauty. It's found in the Sunday concert, along with two early chamber works by Erich Wolfgang Korngold, who would later flee from the Nazis to Hollywood, where he'd become a great composer of film scores. The final concert on July 14 contains Search by Samuel Zyman, a composer whose music has received terrific performances at TCU in the past. With all this and Mozart, Schubert, and Beethoven, there's no better way for music-lovers to beat the heat.
The Mimir Chamber Music Festival runs Jul 6-14 at TCU, PepsiCo Recital Hall, 2800 S University Dr, FW. Tickets are $15-20. Call 817-257-5443.