Hooters founder and former CEO Robert H. Brooks may have died last month, but his leg-acy lives on. As he told Fortune magazine a couple of years ago, "Good food, cold beer, and pretty girls never go out of style."
Since the inception of his empire in 1983, no one's taken better advantage of the Immutable Law of Hetero Guys than Hooters, with 41 shops in Texas and more than 400 across the United States.
Until now.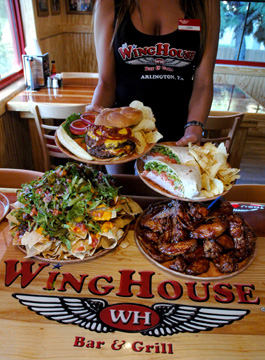 Twelve years ago, Crawford Ker opened his first Ker's Wing House in his native Florida. The former Dallas Cowboys linebacker now owns 17 locations across the Sunshine State and three here. A Wing House in Addison opened last year, one in Bedford last month, and one in Arlington in April, right around the corner from a Hooters. One more is on the way, in Mesquite.
Ker's Wing House closely resembles a Hooters, starting with the menu of no-nonsense bar food. Both Arlington restaurants have their good qualities. Both serve cold beer, and both make decent burgers. Wing House's is big and salty but a little on the greasy side. Hooters' is tender and comes in a toasty bun but is slightly dry. As for the wings, Hooters gets the better grade.
Though Ker denies the allegation, his competitors claim that Wing House wings are "blanched," meaning that the chicken pieces are pre-cooked in the morning and, in the afternoon when an order is made, reheated and covered in sauce. Hooters, on the other hand, supposedly fries wings fresh.
Wing House also resembles Hooters in other ways — the warm, wooden interior, the spacious seating, the sports-bar vibe. The only material difference: Instead of orange and white, Wing House's buxom wait staffers wear black.
Ker is fully aware of what he's doing. At his restaurants, he sells t-shirts emblazoned with two cartoon characters. One is an obese woman in orange and white. The other, a slim, curvaceous lady in black. Beneath them is the question: "This or That? Need We Say More?"
"I was a football player in a culture where someone could replace you at any time," Ker said. "I thought Home Depot was great until Lowe's came in. My point is that Hooters can afford competition. … We are still a small regional chain, but I've always wanted to be a Burger King."
Hooters is also fully aware of what Ker is doing. Three years ago in Florida, Hooters of America Inc. sued Ker and his business for copying the Hooters look. A federal court awarded Wing House $1.2 million in counterclaim damages, just about enough to cover Ker's attorney fees.
"Ker's a copycat, but no one can stop him in a free market," said former North Texas Hooters regional manager Brian Hood, who amicably split with the company last month. "They did it better than we did in [Florida], and, instead of beating them at operations, we went for the strong arm. It didn't work."
As Ker added boldly: "Hooters has worked really hard on the marketing of their business. We're into running clean, sharp restaurants."
Hooters is still the big dawg here when it comes to bar food served by scantily clad women, and the location in Arlington is Hooters' flagship. But in addition to simply proclaiming his Arlington eatery's superiority, Ker is offering a few amenities that the Hooters just doesn't. One, the A-town Hooters is known as a beer-only joint, but the Wing House has a fully stocked bar. (Three weeks after Wing House opened, Hooters got its liquor license.) Two, Hooters sits in a newly renovated stand-alone building smack dab in the middle of Arlington's entertainment district, but Wing House is right down the street from Ameriquest Field and has great visibility from the freeway. Third, and most importantly, Wing House's owner is a former Dallas Cowboy — 'nuff said.
But David Olsen, Hooters' Arlington district manager for more than five years, definitely doesn't think Ker has the advantage in this wing war.
"For somebody to be your competition, they have to be different than you are, and they're not," he said. "Wing House can be a competition only if we allow them to be. I'm not losing to them until I start losing my customers on a regular basis, and right now we are performing extremely well. I don't see a threat at all. The things we've learned 15 years ago, they're just starting to learn."