Though the proprietors of Taste of Europe are from Russia, they don't seem to have any trouble getting the hang of this capitalism thing. "Shop while you eat!" gushes the sign outside this combination restaurant, tchotchke store, deli, and — seriously — used car dealership. Taste of Europe is clearly eager to meet as many Western consumer demands in one visit as possible.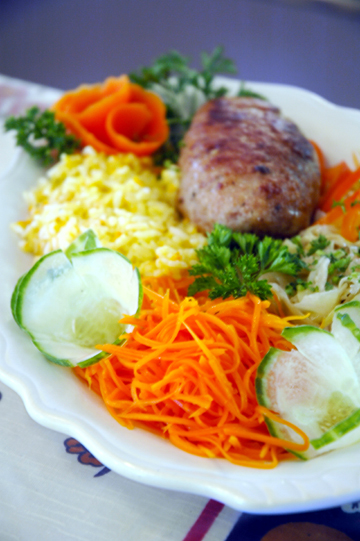 The name of the restaurant duly reflects the menu full of Eastern European staples. But the rest of this ma-and-pa endeavor is strictly Russkie (well, OK, except for the cars). The gift shop contains Russian movies and music discs; Russian magazines; ornate dolls; t-shirts adorned with Cyrillic lettering; and, if you're feeling nostalgic for Stalin's brutal tactics of starvation and coercion, even Soviet-era military uniforms. The deli part is a small refrigerated window case full of cold cuts, cheeses, and sausages.
Given that the small dining area is located among clothing racks and gift shelves, the dine-in experience at Taste of Europe is peculiar, to say the least. But offerings from the mid-sized menu proved to be consistently fresh, yummy, and obviously hand-prepared.
The meal began with a cup of borscht; the deep-red beet soup that has warmed many a soul during those harsh Moscow winters. Taste of Europe's version was savory and had a slightly oily edge to it that was, in fact, quite appealing. The generous portions of carrots, potatoes, and cabbage made it seem like more of a hearty vegetable soup than the beet broth would otherwise suggest.
The beef stroganoff perfectly demonstrated why Russian chow has the reputation for being "hearty" if you like it, "heavy" if you don't. A big plate of noodles was topped with a thick, creamy brown layer of beef chunks so tender they almost fell apart at the touch of a fork. Folks who are used to the stronger interplay of spices that happens farther east, in India, might discount the stroganoff as a bit bland, but at our table, every bite was a Pavlovian trigger.
The meatloaf stuffed with mushrooms was a similarly "butch" culinary experience: simple in execution and flavor, generous in portion size, and definitely to be avoided by effete salad nibblers. The fat ground beef pod was crammed with glistening, steaming fungi and served with saffron-colored long rice and a sweet variation on sauerkraut with parsley.
The Moscow salad, which can be ordered in single or double scoops, was like a mayonnaise-based potato salad with cubed spuds, green peas, carrots, ham chunks, briny pickles, and pieces of egg white. Served cold, it was an oasis in the middle of a 105-degree day.
As a gift shop, Taste of Europe probably doesn't depend on a core customer base of homesick immigrants and Russophiles, but as a restaurant, it deserves a wide audience in a state where people don't want the cook to mess too much with their beef and potatoes — "rib-sticking" clichés apply to the entrées here.
Only one touch was missing to send us truly back to the U.S.S.R. Why, in a place that sells everything from Soviet hats to sausage, was there nary a drop of chilled vodka on the premises? Given the choice, it's an easy bet that most of us would prefer our stroganoff with Stoli than a Suburban.
Taste of Europe
Moscow Salad $4.45
Borscht $4.45
Meatloaf stuffed
w/mushrooms $9.95