Even though he's an independent filmmaker based in lil' ol' Fort Worth, Jon Keeyes is probably busier than a lot of Hollywood dudes.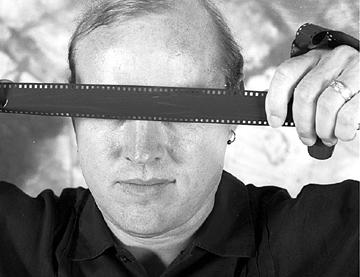 Along with his partners in Highland Myst Entertainment, the young writer/director of the classic straight-to-video slashers American Nightmare, Hallow's End, and Suburban Nightmare has a bunch of projects in the works, and, as luck would have it, they've all begun to move forward … at the same time. Some may actually get theatrical releases.
HBO will put out his cops 'n' robbers flick Living and Dying as a DVD in early January. The movie will then be given a late-night run on some of the network's spin-off channels. Produced by the Los Angeles-based distributor New Films International, L&D was partially shot on South Main Street, near Club Axis. The film stars Michael Madsen (Reservoir Dogs, Kill Bill), Edward Furlong (Terminator 2: Judgment Day, Detroit Rock City), Bai Ling (Wild Wild West, Anna and the King), and local Matt Tompkins, among others — enough well-knowns, in other words, for Keeyes to continue negotiating with distributors for a limited theatrical release in the States. And if you're backpacking through Eastern Europe during Thanksgiving, you'll be able to catch the movie on the big screen. It's hitting Turkey in November.
Keeyes has been conducting L&D business mostly via e-mail. He's been spending the majority of the past two months in North Carolina with actors Udo Kier (Blade, BloodRayne), Dominique Swain (Lolita, The Intern), and David Carradine (Kung Fu, Kill Bill). They're on the set of his serial-killer-thriller Fall Down Dead. New Films International is also backing this title, a yarn about a madman known as the Picasso Killer (Kier), who traps a group of people in a building at night to look for "a woman who shall become his masterpiece."
"We didn't hold back on the horror and violence, which has become so common today," Keeyes continued. "It still works off the parameters of long, slow-building sequences, instead of just surprise scare after surprise scare. … For most of the movie, we [used] moonlight, emergency lighting, and flashlights."
Another film of Keeyes' that may get picked up by a distributor is Mad, Bad, and Dangerous to Know, the psychological thriller he directed for a Dallas-based production company about three years ago. The movie's been sitting on the shelf since then — funds had run out. Earlier this year, to salvage the film, Keeyes and his partners rounded up some cash, completed production, and are now ready to submit the flick to the festival circuit.
This week, Mad Bad (its new title) screens at Los Angeles' satellite version of the New York International Independent Film and Video Festival, with more screenings at the real deal in the Big Apple this November. Keeyes said he and his company plan to schedule a local screening in the near future.
Keeyes is also doing some non-horror work. He's co-producing Teen A Go-Go: The Grassroots of Rock in the Sixties, a rockumentary directed by former booking agent extraordinaire Melissa Kirkendall about the British Invasion's influence on American music but with a very Cowtown-centric narrative.
"In the '60s, Fort Worth had a very large teen-a-go-go music scene, including bands that made the radio charts across the country and its own local version of American Bandstand," Keeyes said. "We will use Fort Worth as the example for what was happening everywhere."
For more information, visit Keeyes' blog at www.myspace.com/highlandmyst. — Brian Abrams
Son of No Respect
From down Houston ways, a five-year-old online publication devoted to Texas visual art has become the talk of the town, thanks in large part to a glancing mention a couple of weeks ago in The New York Times Magazine. GlassTire.com is a fine-looking site, and professional freelancers do most of the writing, but editor Rachel Cook is a little concerned about something: Not enough wordsmiths are offering to cover Fort Worth.
The result is that while all of the other big cities in Texas get ample coverage, the art capital of the Southwest goes unnoticed. Only eight stories of the hundreds archived on the site have anything to do with Cowtown. By comparison, more than 40 pieces have been written about our offensively supercilious, and more fashionable and faddish, neighbor to the east. A shame considering that when it comes to the fine arts, "Big D" is hardly: At least until their new arts complex is completed three years from now (but more like seven), Dallasites have — what? — zero classical dance companies and the decrepit Meyerson Symphony Center. We have Texas Ballet Theater (formerly Fort Worth-Dallas Ballet), Metropolitan Classical Ballet (formed by an ex-Bolshoi principal and staffed primarily by ex-Moscow Classical Ballet members), Bruce Wood Dance Company, and the gem of all Southwestern concert venues, Bass Performance Hall.
Now that unique visits to GlassTire.com are probably going to increase tenfold because of the NYTM article, somebody in Fort Worth needs to do something. Cook, who is also a working artist and independent curator, just doesn't have the staff or the time to come here every week to recruit. Contact her at info@glasstire.com. If y'all want coverage, y'all have to reach out.
And maybe not just figuratively. Cook will be in town on Sept. 19 to lecture at the Modern Art Museum of Fort Worth (3200 Darnell Street) as part of the museum's Tuesday Evening series. The topic of Cook's discussion is The Mobile Artist in the Digital Age, and it appears to be about the influence of cyberspace on artists' personalities, production methods, and sense of context. At 5 p.m., two hours before the talk gets going, the doors will open for attendees to arrive early and enjoy some cocktails and finger food, and hang out. Admission is free. For more, visit
www.themodern.org or www.glasstire.com.
 Tuesday Evenings at the Modern
Tue, Sept. 19, at 3200 Darnell St, FW. Free. 817-735-1161.