Anyone who's ever had it happen to them knows the pain. You're at work or out shopping, and you return home to find that someone has assaulted your yard with intent to uglify. Trees you had coddled for years appear to have been hacked by butchers. Yet, you know this type of thing has been going on for decades, and the law isn't on your side.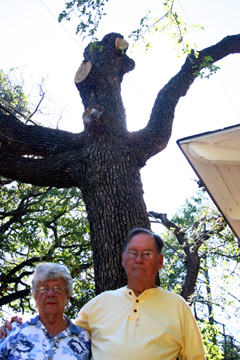 "They have ruined our trees," Beth Bobo said, ruefully surveying the results of an Asplundh crew's "maintenance" of the trees growing in the power company's easement beneath electric lines. An oak tree that the Bobos estimate to be more than 100 years old looks like a tall stump now. For many years, it had provided shade to the couple as they ate breakfast on their backyard deck at the Eastside house where they've lived for 49 years.
"If this tree lives, it's going to be a miracle," Bobo said. "It breaks my heart to look at that one. And look at that tree in the corner — it's really not even a tree anymore."
Three sides of the couple's home are bordered with power lines, and a few weeks ago their yard witnessed a stark transformation from the tree-covered paradise it once was. Their neighbors were also upset about the handiwork of Asplundh, which contracts with TXU to cut tree limbs away from electric lines in Fort Worth.
Cecelia Gilbreath came home from work and almost cried. Her trees were savaged and her yard a messy carpet of leaves and small branches.
"I understand they have a right of way and have to cut limbs that might be on their line, but I don't understand them cutting limbs way back when they are not even on the lines," she said.
She confronted the tree trimmers and discovered what the Bobos and others had also found — the work crew consisted of Latinos who didn't seem to speak English.
"Somebody in that crew should speak English," she said.
Gilbreath comes from Mexican roots and knows Spanish, but that didn't help. She told them to quit cutting, that they had cut more than enough. "They wouldn't get out of the trees, they wouldn't quit cutting," she said. "They didn't even rake up all the limbs."
The Bobos said tree crews have come every five years or so to trim trees from power lines, but have never damaged trees to this extent.
"This is the most severe it's been in 50 years," Elvin Bobo said.
Some homeowners hatched a conspiracy theory: The more severely TXU cuts the trees, the less shade is left for homeowners, indirectly leading to higher electricity bills.
TXU spokesperson Carol Peters said that wasn't a consideration. The company's main concern is safety and keeping trees away from power lines, she said. In high winds, limbs that are too close can hit the power lines and knock out a neighborhood's electricity service.
"We deliver electricity," she said. "Our goal, our concern, is to deliver electricity reliably."
When asked how many complaints TXU receives about tree-cutting crews, she declined to be specific. "Not that many, actually," she said.
She obviously hadn't talked to Meadowbrook resident Judye Williams, who saw the cutting taking place in a nearby neighborhood and became proactive. Watching Asplundh crews cutting trees on nearby Brentwood Stair Road prompted her to send an e-mail complaint to Mayor Mike Moncrief, City Councilman Danny Scarth, TXU, Asplundh, Fort Worth Star-Telegram columnist Bob Ray Sanders, and Fort Worth Weekly. She described the pruning as "butchering," lamented that Asplundh was pruning during the growing season instead of waiting until the trees became dormant in winter, and wondered why the crew had no city supervision.
"I got nothing from the mayor," she said. "Somebody in the office could have responded." Asplundh didn't respond either, she said.
Scarth, by e-mail, said similar cutting was occurring in his Eastside neighborhood. "He said he feels my pain, but the city has no jurisdiction," Williams said.
TXU's e-mail reply to Williams smacked of a blow-off: "We understand your concern and we totally agree that a beauty of a tree should be preserved. However, the Local Transmission and Distribution Service Provider wants to make sure that electrical lines are safe so they do tree-trimming as preventive maintenance."
The e-mail apologized for "any inconvenience" and encouraged Williams to let TXU know if she needed further assistance. Williams reiterated her complaint and requested that a supervisor be notified.
TXU's next response was longer and more heartfelt, but just as unsatisfactory: "Please accept our sincere apology as to the way the tree-trimming maintenance has turned out. We at TXU Energy have a deep concern for our customers and the quality of service we provide. We can indeed sympathize with your feeling of frustration during the maintenance in your area. … When any of our customers fail to receive this type of service, we are deeply concerned. Rest assured that we have already noted your concern and that we will continue to work even harder to provide you excellent service."
Asplundh showed up in her neighborhood only days after this exchange, and Williams' jaw dropped to see the drastic pruning. A large tree on her fence line was completely topped, leaving little but trunk.
"I think they get pleasure out of this," she said. "It's so unnecessary what they're doing. To take every single branch off of that tree was totally unnecessary."
She suspected the TXU apology had been nothing but window-dressing.
"What good is an apology when they continue doing this?" she said. "Asplundh calls themselves tree experts. If they were experts, they wouldn't be cutting trees this time of year when these trees are still awake and the bugs can still get in them."
A local arborist concurred that summers are a bad time for drastic pruning.
"Major cuts you don't want to make during spring or summer. You make them when the sap is down during the fall and winter," said Steve Stikney, owner of All American Arborist Tree Care.
Still, he understood the dilemma that TXU faces when dealing with customers, trees, private property, rights of way, and the cost of doing business. Ideally, it's best to make minor cuts every year instead of major cuts every few years, but that would add to the cost of business, and those costs would be passed on to customers.
"If you cut them back eight feet you might not have to go back to that place for a couple or three years," he said. "If you're cutting four feet, you have to go back every year."
TXU has no plans to change its methods. "Our policy has been the same for years — we trim and prune the way we always have," Peters said. "Quality power is our priority."
Quality of life should be considered as well, Gilbreath said.
"We moved over here because of the trees," she said. "Meadowbrook will never look the same."