While classical composers all over the world were going in for atonality and serialism, William Bolcom kept the faith and turned out tuneful, accessible compositions influenced by both ragtime (he rode the wave in the 1970s when The Sting made Scott Joplin popular again) and Tin Pan Alley (he and his wife, mezzo-soprano Joan Morris, have made some excellent recordings of songs by Cole Porter and Irving Berlin). Bolcom's concert works range from tiny piano pieces to full-scale operas, and the highlights of his career include the hilarious song "Lime Jell-O Marshmallow Cottage Cheese Surprise" ("I did not steal the recipe! / It's lies, I tell you! Lies!") and his latest opera, based on Robert Altman's movie A Wedding, which was greeted with loud applause from the critics when it premiered in Chicago two years ago.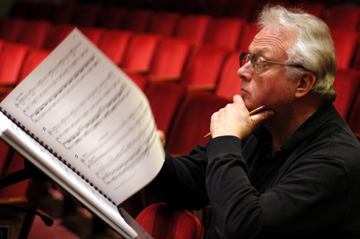 The 68-year-old composer from Washington state will be on hand when Cliburn at the Modern pays tribute to him as a way of beginning their new season. Local musicians, many of them faculty members at TCU, will perform his chamber quintet Whisper Moon, his enormously engaging Capriccio for Cello and Piano, and selections from his Cabaret Songs, three suites of jazz- and Latin-inflected numbers with lyrics by Arnold Weinstein ("My uncle Murray the furrier / Was a big worrier / But he's no hurrier now, not today"). The evening should be a great introduction to the work of one of America's greatest, not to say most enjoyable, composers.
Cliburn at the Modern begins at 8pm Thu at Modern Art Museum of Fort Worth, 3200 Darnell St, FW. Tickets are $15-20. Call 817-738-9215.