Gary Patterson wants to play the guitar, you can tell. The Texas Christian University head football coach has been sitting in his living room answering questions for more than an hour, but that acoustic guitar propped in the corner beckons.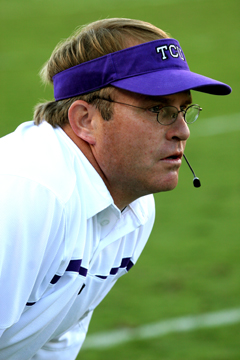 "Sure I'll play a little bit for you," he says. "But I don't sing too well at this point in the season, with all that yelling going on."
But he does anyway, a little bit of George Strait, then some fiddling around with some classic rock, "Fox on the Run" and Steve Miller's "The Joker." For the first time during the interview, Patterson seems completely comfortable, focusing on his fingers, smiling as he moves through the riffs. The past month seems to be behind him, a time when TCU beat Texas Tech in a big game, after which Patterson somewhat bitterly complained about TCU not getting respect. Unfortunately, that was followed by two untimely losses to Mountain West Conference opponents. Timing is everything in sports, and the timing of Patterson's Rodney Daingerfield act, followed by two losses, had gotten him ripped throughout the news media.
From all accounts, Patterson is passionate about football, getting in players' faces during games, moving and crouching along the sidelines, working a 7 a.m.-to-11 p.m. schedule on most days during the season. But he also seems to be passionate about music. Just never gets much time for it these days, what with keeping one eye on the student athletes and the other on analyzing the game films. In fact, his wife, Kelsey, bought him some music studio time a few years ago as a present, and the coach has yet to use it.
"I've played in some bands, and we did a lot of weddings," Patterson says. "So you had to know everything — blues, rock, country, even disco." His catholic taste in music shows on his iPod, where at last count he had 8,632 tunes stored.
"That's after we got rid of so many," Kelsey said with a laugh. Patterson probably leads NCAA Division I coaches in tunes on an iPod.
Patterson continues strumming, tapping his feet in fancy loafers without socks, a 46-year-old locker-room rat who has moved on to the big time. He's had 12 coaching jobs since 1982, a failed marriage that suffered from the gridiron demands, thousands of hours "breaking down" game films, and running around the country recruiting high school kids to come and play for him. And maybe all that led to his remarks after the Texas Tech win, when in his post-game press conference, Patterson said TCU football was treated like a "stepchild" in Texas, and even in the school's hometown of Fort Worth.
"When we go recruiting, sometimes we are thought of in a better light in other parts of the country than we are in Fort Worth," Patterson said. "That's not talking about the 20,000 people who always come to our games. … When we beat those two Big 12 schools in the state [Baylor University and Texas Tech], the focus was on what they had done to not win those ballgames. … I believe we have to fight for the attention we get here."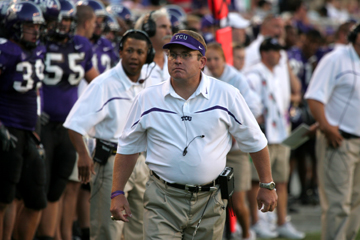 Gary Patterson's record as TCU head coach would look great for any Division 1 program — 43-18 in his first five seasons and 3-2 this year. He's had three 10-win seasons and four college bowl bids. But critics point to the untimely losses: After going undefeated through most of the season three years ago, TCU was in position to bust up the big schools' lock on the Bowl Championship Series and bring TCU a $14 million payday. But the Frogs lost to Southern Mississippi that year, and there went that chance to move up in the college football hierarchy. Last year, TCU stunned powerhouse University of Oklahoma, playing in Norman. The next week, lowly Southern Methodist University stunned the Horned Frogs in Dallas. TCU won the rest of its games, finishing at 11-1, but had to settle for the less-than-wonderful Houston Bowl.
This year, TCU won its first two (including a win over Big 12 also-ran Baylor), and Texas Tech came to Cowtown. Before a sold-out crowd of 45,000 at Amon Carter Stadium (half of Lubbock had come east), Patterson and the No. 20- ranked Frogs faced No. 24 Texas Tech. Two years ago in Lubbock, the only other time the two teams have played since the Southwest Conference disbanded after the 1995 season, the Red Raiders beat TCU 70-35 — the most lopsided loss and most points given up in any game of coach Gary Patterson's TCU tenure.
So Patterson had the Sept. 16 game circled on his calendar. Texas Tech head coach Mike Leach is known for being a mad-scientist offensive genius, and hangs half-a-hundred points on most teams the Red Raiders play. Patterson made his name as a defensive coordinator, and the 70 points his team gave up two years ago was still bugging him.
The final score in this one was TCU 12, Texas Tech 3.
After the game, Patterson was planning his payback. The general rule for losing coaches at post-game press conferences is to praise your opponents and leave the put-down of your own players for a more private setting. But Leach wasn't handing out much praise. "TCU deserves some credit, and I'll be nice and politically correct about that. But you know what? That was the sorriest offensive effort I have ever seen," Leach said of his team. "Today, I coached the worst offense in America, which would make me the worst offensive coach in America."
Patterson was mad. "I'm going to go upstairs and do something I've never done before," he told his players in the locker room. What he did then was not to criticize Leach or Tech, but to straight-arm the rest of college football in Texas.
"People have been under-selling our kids for years," he said at the press conference. "All they ever want to do is talk about the Big 12. We're not the Big 12 but just a Texas team playing with Texas players — and beating every Big 12 team that shows up on [our] schedule. I have a lot of respect for Mike Leach and his staff. Don't get me wrong. The bottom line is, I'd like to get a little bit here at TCU.
"I get tired of being treated like the stepchild in this state and in this town," he said. "My kids do, too."
---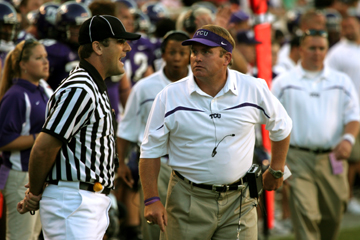 He got a hell-yeah from some of his players for the remark. "People overlook TCU and kind of treat us like a Division II school until the end of the year, when we come out of nowhere," linebacker Robert Henson said.
But the press had a field day with Patterson's stepchild quote, blasting the TCU coach for having the gall to state what many thought was the obvious. "Frogs Coach Gary Patterson owes a big, fat 'I'm sorry' to Fort Worth," wrote Fort Worth Star-Telegram sports columnist Jennifer Floyd Engel. "It was not a good time for a whine."
S-T sports columnist and local sports talk radio host Randy Galloway wrote: "That's stupid, Gary. You don't say that, not after that game. Good grief, man."
Dallas Morning News sports columnist Kevin Sherrington poked even more fun: "Quit being so emotional," Sherrington wrote. "TCU gets more ink in Fort Worth than a tattoo parlor in Deep Ellum."
But the national sports media seemed to love the tension, and TCU has never had more national coverage, according to the school's media monitoring office. Noted Sports Illustrated writer Austin Murphy wrote a glowing piece called "Gary and the Stepchildren." The New York Times weighed in with "That Other Texas Team Craves the Spotlight."
But maybe the best response came privately from Kelsey Patterson, who married the coach in 2004 and has been active in Fort Worth for many years as the director of the Fort Worth's Zoo's marketing department. She now runs the Patterson Foundation, which directs programs for children living in local homeless shelters.
"I'm proud of him for standing up for his kids," she said. "Sometimes the opportunity presents itself to stand up, and Gary did what he needed to do. Gary cares about these kids so much and just wants them to get some credit."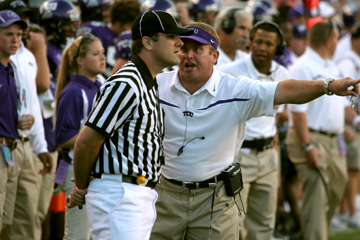 It was a Thursday evening, and the TCU Horned Frogs were playing their second straight weeknight game. The road game against Utah was nationally televised — but in name only. The Mountain West Conference used to own Thursday nights on ESPN, but the sports network had signed a new deal with the Southeastern Conference, giving them Thursday nights. The Mountain West could have Tuesday or Wednesday nights if they wanted to stay with ESPN.
Instead, Mountain West formed its own cable channel, MTN, available to just over a million homes. Additionally, its games are broadcast nationally on Versus, formerly Outdoor Life Network (OLN) — not a channel familiar to every cable subscriber. The TCU faithful found it, however. There were two big game-watching parties in downtown Fort Worth, with the younger alumni partying at The Pour House and the elders at the Fox & Hound. Despite TCU's loss to BYU the week before, the crowds were fairly large and upbeat.
At The Pour House, grad student Zeb Houston was wearing his "Horny for Life" purple t-shirt and working on some sort of beer bong with friends (not the funnel kind, but looking more like a pot smoker's rig). Houston is totally on board with Patterson and TCU football.
"We are a small school in a big market," he said. "The local radio and tv ignores us, and we need the support to get the word out on how good this team has been. TCU graduates about 1,200 to 1,500 [students] a year, but [the University of Texas] and the other state schools get as many as 10,000 grads every year. What Patterson is doing is just trying to energize the alumni and the fans and the city. That is what is needed."
The head coach "is starting to make the media and the people of Fort Worth take notice," Houston said. "Some years ago we had the longest losing streak in the country, and before the [BYU] loss last week, we had the longest winning streak in the country. The program has changed, and Patterson is responsible for a lot of that. We expect to win now."
Across the street at Fox & Hound, there were more purple shirts but no beer bongs or horny slogans. The older alumni harken back to the great days of old in the Southwest Conference, but many think the present is far better than the past.
"We now have a program where we are winning every year," said Don Klick, a local real estate developer and 1977 graduate. TCU "was seen in the past as a stepping- stone for coaches, a lower-level program where you spent a few years and then moved on. Patterson has us on a level now where we are regularly ranked in the Top 20. The alumni are really on board with him, and we think he can take us to the next level.
"We are in a conference with big markets" — San Diego, Las Vegas, Denver" — we have better competition, and we are getting better exposure," Klick continued. "And he seems to be very much interested in academics. We have one of the highest graduations rates in the country."
He's right — for the past two years, the TCU football program posted graduation rates of 86 and 75 percent, ranking third in the country, according to the TCU Athletic Department.
As Klick talked about academics, draining a draft beer and eating a cheesesteak sandwich, Utah scored on a bizarre play. The TCU defensive back deflected a pass with both hands, but the ball bounced into the waiting arms of a Utah receiver in the end zone. The Fox & Hound crowd groaned; it would be one of those nights. TCU lost 21-7 — the first time in Patterson's tenure that his team lost two games in a row. Academics are nice, but you need victories to keep the faithful on board.
And not all the faithful are on board with Patterson. Radio talk show host Greg "the Hammer" Williams of KTCK "The Ticket" is a TCU grad. "Patterson is all smoke and mirrors," he said. "Check out his record after big games and against ranked teams, and he's not that good."
---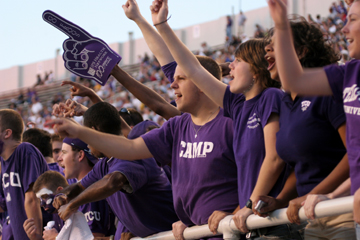 The stepchild comments "were one of the most embarrassing moments in the history of TCU football," Williams said. "They just beat a team they were supposed to beat. You don't use that as a forum to piss and moan about respect. You get respect by going 12-and-0. But they haven't played the same since."
TCU Athletic Director Daniel Morrison, who counts a bit more than a sports talk radio guy, is a big Patterson fan. "Gary has a passion, and that passion has become part of our program," Morrison said. "I think with our football situation it now indeed is a winning program. Out of the five years he has been head coach, we have played in four bowl games and have had three 10-win seasons. And we have better academic success than almost every Division 1 school in the country."
"I think he has done a marvelous job, he has been a great fit for TCU," the athletic director said. "His inner drive to make this a perennial winning program is evident to all. A winning program sustains itself year after year. Are we where we want to be? No. But we are now able to take a long- term view of what we want to do instead of a short-term view that causes so many schools to fail."
Like all coaches, Patterson doesn't rule out moving to a bigger program if a whole lot of things fall into place. But several factors suggest he might be here for a long time. First, he is signed up through 2012, though most coaches' contracts have clauses that allow them to leave before the end of a contract. But his wife is a Cowtown native, and well-connected within the Fort Worth hierarchy. Big moves — like going to Manhattan for the Kansas State job last year, as was rumored — are tough to do if the spouse ain't thrilled about it.
Patterson's background is a primer on how important football can be in small towns. He grew up in Rozel in southwest Kansas, a town of 175 in a part of the country so flat you can see the grain elevators in the next town 20 miles away. "It's near Larned," Patterson joked, mentioning the closest town with a movie theater.
The future coach was one of four kids. His father ran an irrigation business, and his mother worked as a nurse. He gravitated quickly to sports, as so many guys do in that type of town. At Pawnee Heights High School (his graduating class had 28 students), he played four sports — football, baseball, basketball, and track. "If you didn't play sports in that size town, then you worked, so it was always better to play," Patterson said.
In football, he was a two-way player, fullback and linebacker, thinking he might get a scholarship to a big school, but the big boys never came a-calling. Instead, Patterson wound up at Dodge City (Kan.) Community College. He transferred to Kansas State as a walk-on but did not letter in his two seasons. "I was just a special teams guy," he said.
Patterson became a graduate assistant for the 1982 K-State football team and planned to go into high-school coaching. But when Gary Darnell left the K-State staff to become head coach at Tennessee Tech in 1983, he invited Patterson to tag along as the linebacker coach. At the new school, Dennis Franchione was the offensive coordinator. Franchione and Patterson became close through the years, and when "Fran" was named head coach of the New Mexico Lobos, he brought in Patterson as his defensive coordinator. When Franchione was named head coach at TCU in 1998, Patterson followed his mentor.
From then on, Patterson's resumé illustrates how college coaches have to keep moving to move up. Before he came to TCU in 1998, Patterson had held 10 coaching jobs. In one bizarre job, he coached defense for a team called the Oregon Lighting Bolts, part of a now-defunct minor league in the Pacific Northwest, coached by former Dallas Cowboys quarterback Craig Morton. "We went down to training camp in Arizona, but the team folded before we ever got out, and we never got paid," Patterson remembered.
These days, the expectation is that any TCU coach who builds a winning record will ride it right out of town. But that's no guarantee of further success. Look at Franchione: After his successful three-year run at TCU, Franchione ran off to Alabama. Alabama then ran him off, and he's now at Texas A&M. The Aggies are now grumbling, and most Texas college football pundits think Franchione might need to get into a major bowl fairly soon or risk the wrath of the A&M cadets.
Patterson is also more interested these days in the overall TCU football picture, the business side of promoting the program in a major market. "TCU doesn't have an identity in Fort Worth, and we are working on that right now," Patterson said. "Most coaches chase after the over-55 booster crowd, because it is a win-now attitude. We want to get the younger crowd and non-TCU alumni — UT, A&M, Baylor grads — who live here and love college football. If we play against their schools, they can root against us. But we really think there is a unique Fort Worth fan base out there we can tap into.
"If Fort Worth wants a BCS school football program, it is going to take all of us to do it," he said. "It is not just going to take the players, it is not going to take the coaching staff, it is going to take the city itself to join all the parts and make us a program we can all take pride in. We are getting closer, but we all need to do more.
"I want to get to the point where, when I don't do my job, the whole city of Fort Worth hates me."
Whining or not, Patterson was right about TCU's treatment on the national football scene. TCU is sort of a stepchild when it comes to NCAA football. The system is set up so that the big boys — about 10 big conference teams — stay on top year to year. And he's also right that Fort Worth itself is a tough place for a sports team to win respect. It's a big market, with plenty of collegiate competition and a veritable infestation of professional sports teams.
---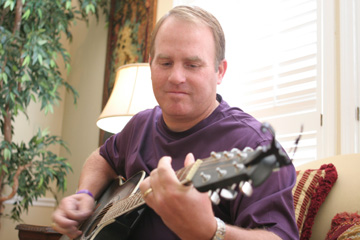 TCU's first hurdle in getting to the big time is the Bowl Championship Series itself. The BCS selections for the five major bowls favor the big conferences — Atlantic Coast, Big East, Big Ten, Big 12, Pac Ten, and Southeastern. The champions of all these conferences get a bid regardless of their record. Runners-up of those conferences get preferences, and the University of Notre Dame gets a bid if it ranks in the top eight in the season-ending poll.
In years past, the only way a non-BCS conference team could get in was to finish in the top 12 and win their conference championship. This year the rules changed slightly. Any non-BCS conference champ can get in if the team finishes in the top 16 and ahead of a BSC conference champ.
In another example of TCU's history of bad luck and bad timing, the Frogs would have qualified last year if the current rules had been in place. TCU finished ranked No. 13, while SEC champ Florida State came in at No. 22. Of course, all TCU had to do was beat SMU, and that would have given them a major bowl spot as well.
In 2008, BCS officials will re-examine their qualifying rules and add a sixth bowl. The BCS could add another conference to the existing six that get preference, replace one with another, or leave things alone. The experts think they will add another conference, and TCU's Mountain West Conference seems to be at the head of the list.
Getting into a BCS bowl game means huge money — at least $14 million to share with other teams in the conference, versus about $1 million from a lesser bowl. If the Mountain West is added, with nine teams, TCU is assured of a minimum of $1.5 million every year at the current rates, whether they go to a bowl game or not.
Beyond the BCS decisions, a larger question is whether TCU and Fort Worth can support a big-name football program. The Horned Frogs average about 34,000 in attendance per game, but conference rivals BYU and Utah pack in almost twice that many. Suffice it to say, there are more sports and entertainment options in the Metroplex than in Provo, Utah.
Fort Worth natives have a hard time getting it through their heads that they are part of the Dallas/Fort Worth media market. The Star-Telegram has to cover the Cowboys and the other pro sports teams, but the paper also gives a ton of coverage to Big 12 teams like UT and A&M and Tech because of the alumni of those schools who live here. So in the local paper, TCU stories often get bumped back to page C5. The electronic media, based mostly in Dallas and drawing a larger audience on that side of the county line, are even harder to crack. The way the tv and radio bigwigs figure it, a football fan in Plano isn't that interested in the Horned Frogs.
Patterson's solution to the news media problem is simple. "If we are a consistent winning program and do it with class, the media will come around," he said. "Nine years ago when I came here, our motto was 'We're all we need,' because no one paid attention to us. That is changing now."
But the new cable deal is also tough for TCU. When ESPN booted Mountain West from Thursday night games, the conference became the first in the country to form its own cable channel. But MTN is not being picked up by many cable companies just yet, certainly not in Fort Worth, and when the games are televised on Versus, many fans have to hunt through the channels for it.
That's part of the reason that TCU seems to play so many games on nights other than Saturday. Patterson admitted that playing back-to-back Thursday games is tough and may have been a factor in the two losses. But the national exposure was worth it, he said.
Mountain West's new tv deal pays the conference $84 million over seven years, but that includes all sports. The payout per school in the conference is just a paltry $1.3 million per year. Bigger schools get more than that for their local football radio rights.
TCU is building up their football facilities. A new $7 million, 70,000-square-foot indoor training facility will be finished this spring, and Amon Carter Stadium may be overhauled to bring in suites and club seats and better concessions. School administrators hope this will increase attendance and corporate sponsorship, but in a market of this size, it's still a crapshoot.
Where this all comes to roost is in recruiting. Patterson can pull out his guitar and wow high school students and their parents, but facts are facts. Top recruits are going to see a stadium with 12,000 empty seats, a media market that doesn't make them into college stars, and a tv deal that makes it hard for their friends and pro recruiters to find them on the tube. A kid can go to Norman, Okla., or Austin and do better than that on all three counts.
That's what TCU will be up against for the near future. If the BCS changes its qualifying rules and adds the MWC, then TCU could benefit quickly and become one of the major players. But if that doesn't happen, TCU will be a mid-major school fighting for attention in a big media market, with the occasional lunge into the top 20. That's the mountain Patterson has to climb, and he knows it all too well.
A few hours after meeting with Patterson, I watched UT and Oklahoma play their annual "Red River Shootout" in the Cotton Bowl. The game was televised on ABC, and a good share of the Metroplex and the country were glued to the screen. UT won, and football recruits around the state found themselves wishing they could play in front of such an enthusiastic crowd. If the idea of playing for a famous coach appeals to them, they can watch UT head coach Mack Brown playing a high school booster on the fictional ABC series Friday Night Lights. Even Oklahoma coach Bob Stoops' syndicated tv show can be picked up in the North Texas market.
During timeouts, I flipped channels and found another Texas football classic, Dazed and Confused, a movie about pot-smoking high school ballplayers who run over mailboxes and go to keg parties. As I listened to the great soundtrack, I figured Patterson has most of those songs on his iPod.
---
Patterson can be uncomfortable with the media at times. Most don't know who he is, and those who do apparently have a picture in their heads of some bug-eyed coach who always seems to be pulling up his pants. But after spending time talking to him, it becomes clear he is bright and energetic and very different from the coaches that the Ticket refers to as "big Southern dummies." He is now spending more time in the community, trying to get alumni and business leaders on board with what TCU football is doing, working with homeless children though his foundation, and even getting on stage occasionally to play guitar at fund-raisers.
The TCU brass thinks that a prominent national football program is important to the school's growth. Undergrad applications are at record levels, and TCU Chancellor Victor J. Boschini thinks the Frogs' success under Patterson is part of the reason. "Football does seem to be helping as far as getting our name out," Boschini told The New York Times. "Our reputation is focused mainly on our academic programs, because we do have a great academic program to offer kids here, but if you don't know about it, we don't have a chance to tell them about the excellent programs. Football is kind of the window to the world."
So it's somewhat strange that TCU's public relations folks haven't put Patterson out there more front and center. He would be ideal for a coach's tv show, narrating game films, maybe closing with a song. The theme could be "The Joker," with Patterson belting out the famous lines, "People talk about me, baby/Say I'm doin' you wrong, doin' you wrong/Well, don't you worry baby/Don't worry/Cause I'm right here, right here, right here, right here at home."
Home right now is Fort Worth, and Gary and Kelsey Patterson say they want to keep it that way. TCU isn't going to the BCS promised land this year, but in coming years — if everything falls into place — the Horned Frogs could make the jump. If that happens, lack of respect could become a distant memory.
"If people think I was putting down Fort Worth, then I think they missed the point," Patterson said. "I love it here, and I think we have a real opportunity to do something special. Our job is to energize the community, and Fort Worth's job is to help energize us."
"Could I have said things differently and not used the word 'stepchild'? Sure. But that's just the way I am. I just felt it was time to say something. And I'll keep saying it until we get to where we need to go."
You can reach Dan McGraw at dan.mcgraw@fwweekly.com.