A year ago this month, the much-feted playwright August Wilson died of liver cancer at age 60, and theater companies have reacted by reviving so much of his work that it has practically constituted a national Wilson festival. His output lends itself to this kind of celebration. His professional ambition, which he fulfilled, was to write 10 plays, one for each decade of the 20th century, examining what the advancing years had done for the personal, social, and political progress of African-Americans.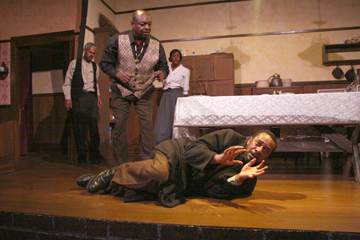 But far from being a cheerful symbol for "Black History Month," Wilson has always been controversial. Jubilee Theatre's late artistic director Rudy Eastman took a bit of umbrage to the assumption that he was obligated to stage Wilson because Jubilee is African-American. Eastman felt the expectation was an artistic straitjacket and once said in an interview he'd rather stage lesser-known black playwrights who received little or no support from white theatrical institutions. As a result, he didn't tackle the formidable but problematic playwright until late in Wilson's long career, with a 2005 production of Fences.
New artistic director Ed Smith makes his Jubilee debut as stage director on Wilson's 1984 piece Joe Turner's Come and Gone, the most richly mystical, almost hallucinatory play (next to Gem of the Ocean) in the author's decalogue. The actors get a little bogged down in some of the first act's long speeches, for which one could fault the playwright as much as Smith, but the show gradually accumulates its own urgent, naturalistic rhythm and at a recent matinee performance had the audience breathless by the climax.
The entire action of Joe Turner takes place in a boarding house in 1911 Pittsburgh, Pa., the playwright's hometown and the setting for most of his 10-play cycle. The home is owned and run by Seth (W.L. Lloyd Barnes Jr.), who spends most of his time trying to avoid trouble with his tenants, the Anglos for whom he works, and his wife Bertha, a household saint-type who cooks, cleans, and advises some of the female guests to be wary of falling too hard for any man. The women include timid Mattie (LaCrisha Brown), making a pit stop while searching for her runaway husband, and Molly (Teekoyah "T.K." Nickson), a sly beauty whose goal is to find a sugar daddy and kick back. Eyeing both of them is Jeremy (Mandel Hill), a handsome, guitar-playing ne'er-do-well whose libido is considerably bigger than his common sense. The sage who counsels them all is Bynum (Robert Rouse Jr.), a "conjure man" straight out of a Robert Johnson tune: He uses pigeon blood, elaborate nighttime rituals, and fetish items to remove curses and help people find lost loved ones.
Anglo audience members will be familiar with some of the nicknames used by African-Americans for white authority figures, such as "The Man" and "Mr. Charlie," but "Joe Turner" may be a new one to many. The name, Wilson has said, originated in the 19th century and applied to everyone, from slaveowners to cops to Southern governors — everyone, that is, who harassed and persecuted black folks, who were mostly just trying to keep their heads down, work, and put food on the table. Joe Turner was the guy who demanded a cut from their fieldwork salary or threw them in jail for no good reason. The latter was the fate of the play's central, mysterious figure, a tall, glowering, black-coated man named Herald Loomis (F. Carl Brown), who's traveling the region in search of the wife who abandoned him when he was unjustly imprisoned for seven years. He claims to despise God, yet is seized with twitching, ecstatic fits in which he sees visions of bones rising up out of the ocean. The other guests grow to mistrust and finally fear him. And at the culmination of his fevered hunt for the woman he loves, he learns the meaning of that hoary Zen maxim "Be careful what you wish for."
As with many Wilson plays, you can't help but think that Joe Turner's Come and Gone would benefit greatly from some judicious editing. (Then again, the same could be said of Eugene O'Neill, yet his status remains intact.) But director Ed Smith has the perfect weapon to tame the verbosity: crack cast members who imbue their characters' words with spontaneity and telling detail. Each actor has clearly endeavored to carve out a real personality for this show. It's great fun to watch Barnes and Rouse simply play a game of dominos, because their comic deliveries contrast so well. Barnes sneaks up on you with a rambling, tell-it-like-it-is jadedness, while Rouse speaks in a shorter, punchier style. Nickson does the most with her small role as a worldly opportunist who informs her landlord that she will occasionally need the evening company of gentlemen. She's holding auditions.
Brown as Herald Loomis is so physically right for the part of a reluctant seer who has "lost his song and is trying to find it" that he can compensate for some early hesitance in the opening scenes simply by striding, soldier-like and grim, across the stage. At the close of the first act, when he collapses into a heart-pounding epileptic seizure of Old Testament-style visions, though, the audience was hooked. He seemed to be consumed by the same spirit that had allowed Herald to be punished in his earthly life. By the play's end, that scene gives Brown the authority to hold the entire household hostage with just a furious stare. Despite some flabbiness, Jubilee's Joe Turner soars high on this kind of conflicted spirituality.