On first glance, it seems odd: a restaurant/biker bar in the rear of a building, with a motorcycle showroom and shop up front. But it's a combination that works surprisingly well in the capable hands of Leslie Liner, who has owned a motorcycle shop on aptly named Race Street in east Fort Worth for years. When a larger building went up for sale across the street several months ago, Liner jumped at it. "I ride all over the United States," she said, "and I get so angry when I get turned away from a nice restaurant because I'm wearing leathers. So I decided to open a place where you can come in, have a beer and something to eat, and get your oil changed all at once."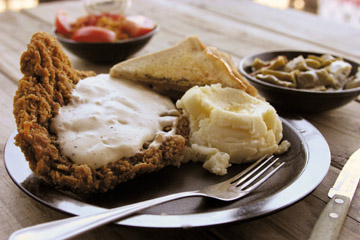 The result is Liners Throwback Café, one of the coolest new spots in town. The comfy back-door beer-bar and restaurant is high-ceilinged, slate gray, and covered in sports and motorcycle stuff. The televisions, tuned to sports, are unobtrusive, and a combo of heavy metal and rocking country comes from the speakers, though not played so loudly that you can't hear yourself talk.
In the front of the divided space is the showroom; out back is a deck with picnic tables opening onto a large motorcycle parking lot, the centerpiece of which is a gazebo bar with about 30 barstools. On a recent visit, a hundred or so people crowded the area. Liners doesn't serve hard liquor, just wine and beer, and the beer, both tap and bottle, was ice-cold and cheap — a buck for tap, two dollars for domestics, and $2.50 for imports. And it's served by the most genuinely friendly staff you can image. All of the employees seemed really happy to work there.
From a foodie's point of view, Throwbacks is not a destination. The portions are large, but an appetizer sampler of cheddar-stuffed jalapeños, chicken tenders, and mozzarella sticks were all brand-name products — nicely prepared and decent enough, but no different than what you might find in a hundred other joints. A dinner-sized fried chicken salad was OK, but nothing to write home about: battered chicken pieces diced and tossed over a bed of shredded iceberg and served with your choice of either ranch or blue cheese dressing, both commercially made.
If you're looking to stuff your face, you could do worse than the chili cheese fries, a huge portion of scalding potato strips slathered in pretty good and substantive chili, all of which was topped with bubbling hot cheddar. Use a napkin 'cause it's gonna get messy.
On the other hand, both the cheeseburger and chili cheeseburger proved to be knock-outs: a full eight ounces of quality chopped beef, flat grilled, then topped with lettuce, tomatoes, pickles, and sweet red onions; kind of like every other exceptional burger joint's patty but better. Why? The seasoning? The biker love? Who knows, but they were great.
But food isn't necessarily why you'd go to Liners Throwbacks. You're headed up Race Street to see the bikes, and it's a rush to sit on any of the more than two dozen for sale — not while eating the chili cheese fries, of course. Most of them are Harleys, many custom-made and one of a kind, but we also saw a decently chopped Yamaha and an overworked, gorgeous Triumph. While only a couple in the showroom were new, they all looked to be in mint condition, the chrome glistening and the leather seats looking saddle soft. Can't afford the $9,000 to $17,000 price tags? You can settle for road gear, from vests to chaps to helmets and do-rags.
Additional bikes are for sale in the parking lot beer garden, and there were dozens of other motorcycles around. They belonged to the easy riders who had stopped in for a brew.
Despite the fact that Liners is a biker bar, the owner says folks shouldn't be intimidated if they don't ride a bike or even if they want to bring their kids. (My 9-year-old daughter was made to feel like a queen.) "This is more family-oriented than most biker bars," Liner said. "You can bring your kids and not worry about seeing half-naked chicks dancing on the bar."
 Liners Throwbacks Café
Appetizer sampler $7.95
Chili cheeseburger $7.95
Hamburger $6.95