Many folks will no doubt mistake Ornette Coleman's new Sound Grammar for a comeback — and with good reason. For starters, its creator — the alto saxophonist who, in the '50s, more or less invented free jazz — is now 76 years old, which means he can release just about anything other than a smooth jazz or jazz fusion record and some tastemaker somewhere will call it "his best in years" or "a return to roots" or whatever folks say when a new Dylan record comes out. Plus, because Coleman charges what biographer John Litweiler describes as "outlandish" fees to perform, the Fort Worth native often prices himself out of circulation, creating, in effect, the illusion of retirement.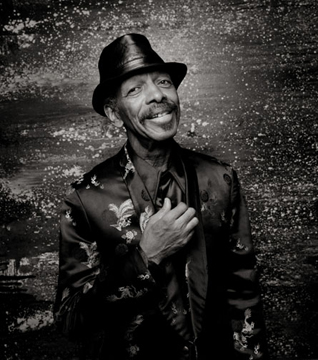 The reality, however, is that Coleman has been making regular, or at least semi-regular, concert appearances ever since he released a flood of mid-'90s recordings (1995's Tone Dialing, 1996's Hidden Man and Three Women, 1997's Colors). Even though his latest marks the recording debut of his current quartet, they've been playing together for more than three years now, at least a year longer than the Coleman quartet that caused a Rite of Spring-like ruckus at New York's Five Spot in 1959. In other words, Sound Grammar is less a comeback than a long-overdue introduction to the saxophonist's latest working group, a bottom-heavy ensemble that features his son and longtime sideman Denardo on drums, as well as both Greg Cohen and Tony Falanga on upright bass.
That's not to say that this live set, recorded in Germany last October, wouldn't make for an impressive comeback. Coleman, of course, will be forever judged by his Five Spot act, a piano-less configuration that featured trumpeter Don Cherry, bassist Charlie Haden, and drummer Billy Higgins. His new group isn't as bright and poppy as the classic quartet, but it's as close as any new band he's put together in decades, perhaps since 1985's Song X. That album, a one-off with guitarist Pat Metheny, proved that even an easy-listening icon could be molded into a Coleman sidekick. Now, on Sound Grammar, Coleman takes it a step further, evoking the spirit of '59 with no sidekick at all.
Or maybe it's just that he's really into bass. That much is suggested by the lineup, which, in concert, Coleman once expanded to include a third four-stringer, electric bassist Al MacDowell. Even without him, Cohen and Falanga take up an inordinate amount of space. Cohen, a rock-solid musician who has worked with both John Zorn's Coleman-esque Masada and Woody Allen's New Orleans Jazz Band, assumes Haden's old role, plucking away at scales and sometimes providing more of a backbone than Denardo. Falanga, on the other hand, does little to betray his mainstream roots, bowing wild, fiddle-like lines that often compete with Coleman's white plastic alto.
Opener "Jordan," one of Sound Grammar's six new compositions, illustrates the structured/unstructured nature of Coleman's songwriting. Cohen and Falanga surge just beneath the horn player's Bird-like melody, like troubled water lapping at a sturdy bridge. Once upon a time, Coleman referred to this sort of thing — boppish music that eschews boppish chord changes — as "harmolodics." Now, evidently, he prefers "sound grammar," though it's unclear if there's any difference. "Sound grammar is to music what letters are to language," he offers by way of explanation. Yet Coleman's thesis hardly tells us why the album's two remakes, "Song X" (from the Metheny collaboration) and "Turnaround" (called "Turnabout" on 1959's Tomorrow Is the Question!), are so different from their respective sources.
The latter, in particular, sounds more like a halting rehearsal than a polished take. Coleman, whose tone is and has always been joyful and acidic in equal measure, gets the Monk-turned-sideways theme just right. But his lethargic rhythm section achieves none of the original's boogie-woogie bounce. That, actually, might have more to do with Coleman's son than with his bassists. Unlike Shelly Manne, the lithe West Coast drummer who plays on Tomorrow Is the Question!, Denardo is a true one-of-a-kind percussionist who seldom conforms to traditional notions of swing. In Litweiler's bio, Third Stream composer and Coleman tutor Gunther Schuller describes Denardo's dad as fully formed on arrival, someone who, by the early '60s, had yet to learn "accurate reading and notation." Denardo, similarly, plays as if unfettered by formal training.
And that's probably just the way Coleman intended it. His revolution, after all, was not about instrumental prowess or lung capacity. It was actually the opposite: What happens if you make bop and hard bop less complex? Plenty of accomplished musicians, such as Miles Davis, Roy Eldridge, and Max Roach, denounced the saxophonist's do-it-yourself approach. So, is it any surprise that Coleman would hire someone who could be taught harmolodics from scratch? In that sense, Denardo, who first appeared on record when he was just 13, seems out of place only when he's competing against our memories. He may be too modest at times (the Latin-tinged "Matador") and a little too sloppy (the bluesy "Sleep Talking"), but his value in this context is never in doubt.
That's because, on Coleman's best recordings, the parts are less important than the whole. When the saxophonist gets it just right — say, during the Five Spot era — what you have is a band that sounds like a band, not some loose configuration of freelancers just waiting for their moment in the spotlight. On Sound Grammar, that style of unity is best exemplified by "Call to Duty," a barnburner that brings to mind the stop-start infectiousness of Coleman's biggest hits. What's most striking about this late-in-the-album performance is that, even while the quartet zigzags, the rhythm section sounds less like three individuals than an extension of Coleman's notes, as if they're all part of the same gale-force wind.
If that kind of whoosh is what you're after, there's plenty more where that came from. But the most compelling aspect of Sound Grammar is not that its new material is so solid; it's that, after all these years, Coleman is still down in the trenches, still honing his music, still trying to create meaning. At this point, the easiest, most lucrative option would be for the guy to rest on some well-deserved laurels, perhaps hire some anonymous young guns and play sanitized versions of tunes from back in the day. That Coleman no doubt realizes this and opts for a more difficult path just goes to show how much Sound Grammar is business as usual. To call it a comeback is to miss the point: It's just one more effort worthy of a living legend.
Originally published in the Washington City Paper.