Take one of the prettiest spaces in the beautiful Southside Historic District, near downtown. Paint it burnished red with black highlights. Leave plenty of 100-year-old wooden beams exposed. Put bright, copper-colored, stamped tin on the 12-foot ceiling and dark copper tile on the floor. Leave the entire shiny chrome kitchen open. Decorate with photos of old Fort Worth, and you've got one of the most gorgeous dining rooms in town. Casual dining, that is.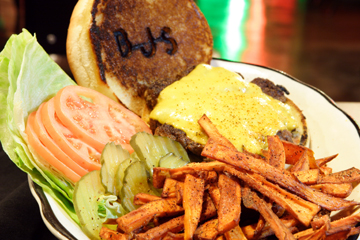 At new-again BJ Keefers American Bistro, relaxed is the name of the game. No fine china, tablecloths, or flower arrangements to detract from the luxe minimalism. Just a great-looking, large, open room that feels intimate because of the way it's laid out and decorated. Which might be a problem for owners Jacob and Justin Daniels, and chef Walter Bortz, who created the restaurant from the remains of a previous establishment also known as BJ Keefers. Some people might find the new place too lovely for a burger, but not quite dolled up enough for a big date.
The food is also a little schizophrenic: Exceptional in parts, but always one or two culinary touches away from overall excellence. This shortcoming may have something to do with BJ Keefers' opening a little earlier than scheduled, about a month ago. "People in the neighborhood wanted us to open, so we have," said Bortz. "But we're still a little while from a grand opening." Still, the fare is good enough to make you believe it will only get better.
Start with the simplest item on the menu, the Texas Nickels Fried Dill Pickles: tangy, serrated, thin slices covered in a light breading that lets the veggie's bite come through in a way few restaurants can match. The cheeseburger was perfect. Well, almost. The fresh, charred chuck was generously seasoned and cooked wonderfully medium rare, as ordered. (You get your toppings from a fixin's bar.) The tasteless bun, unfortunately, brought it down a notch. It was fresh enough, and Bortz said it's delivered daily from a nearby bakery, but it had no appreciable flavor. Even a sesame seed bun would have been preferable.
The same type of bun made another appearance, on the otherwise outstanding rib-eye steak sandwich. The juicy, perfectly seasoned meat melted in the mouth, but the limp bread made you want to run into the kitchen and shout, "Do you know how good this food is?! And how much better it would be if the bread was up to par?!" Like the cheeseburger, the basket of Cajun crawfish could have been perfect: an ample portion of shell-less tails covered in a light, spicy batter, deftly fried and non-greasy, but … no sauce? Chef Bortz thinks the fixin's bar offers enough dressings. But if personal touch is what makes a good place great, then BJ Keefers would do well to let Bortz whip up a Cajun broth or remoulade to make the dish sing.
As for the sides, the mashed potatoes were buttery and rich — and heavenly, as were the black-eyed peas, which were served in a rich broth rounded out with slivered green beans and white onions.
The quality of the crawfish made up for the lack of special sauce. But what happened to the grilled cilantro-lime chicken salad was, you might say, hard to swallow. Slices of perfectly grilled chicken were set on a bed of romaine, accompanied by corn kernels, shredded cheddar, tortilla strips, and tomato slices. But think how much better the chicken could have been had it actually been marinated in cilantro and lime, rather than having the dressing served on the side. In its last incarnation, BJ Keefers tried to go Italian on us after having been a great burger joint for 20 years. The new crew has eliminated the Italian and moved closer to the old roots: good American fare. And with a little work, they're gonna have just that.
 BJ Keefers
Cajun crawfish tails $8.99
Cheeseburger $4.99
Grilled cilantro-lime
chicken salad $6.49
Rib-eye steak sandwich $7.99