he comfort-food joint known as Front Porch Café is located in a knot of businesses on Jacksboro Highway, but it's not hard to spot. Right beside the place is a billboard featuring a buxom blonde woman with "Boo Koo" written across her tight t-shirt.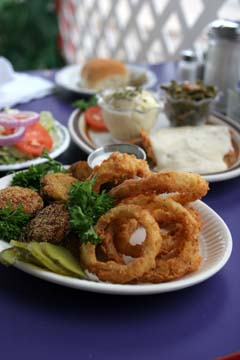 This out-of-date advertisement for a motorbike race may not be every home-cooking fan's idea of family values, but if they can shade their eyes and get past that, they're bound to appreciate the glorious Texas-tacky chic that the Front Porch Café revels in. Iron and plaster rooster statues sit next to unicorn images and illustrations of Betty Boop in fishnets astride a chopper. The restroom contains photos of African big cats in leopard-print frames. Two tv sets broadcast ditzy celebrity chat shows In short, this place is Emerald City for a certain kind of Texan.
The kind of Texan, that is, who knows that a sophisticated ambience won't stop your tummy from growling. The ladies toiling in the kitchen (it appeared to be an all-female crew on this visit) understand and will sate your hunger by serving up simple, big flavors. Given the considerable amount of teasing banter exchanged between customers and employees, it's clear that the Porch has quite a few regulars. Given the high standards that the chefs obviously set for their grub, it's a wonder people aren't setting up cots and pitching tents in the dining area to get all three squares a day here. In addition to specialties like fried catfish, burgers, and tuna melts, they serve breakfast all day, so it's not necessary to get up at some ungodly hour for typical morning faves. For customers who love eggs, waffles, and sausage for lunch, this is a great spot for your mid-day break.
Getting smothered is rarely a good thing — unless you're The Porch's Down-Home Style plate. This is their variation of Southern biscuits and gravy. You don't so much eat this dish as excavate it. The first layer is thick, smooth, peppery white gravy, followed by savory, salty pork sausage; buttery scrambled eggs; then hash browns, and finally the fluffy biscuits. The real sign of victory for the Down Home Style: Every ingredient could be tasted in each bite.
The huevos rancheros was also a superior version of a familiar plate. Two eggs cooked as desired sat atop a thick, soft corn tortilla with a side of salsa that had a surprising zip to it. Sunny-side up was a good choice; it's a thing of beauty to break the yolks and watch the yellow slide down into the sides of coarsely mashed refried pinto beans and home fries, which are flat, crispy-cornered potato squares.
As its name implies, The Front Porch Scrambler is a signature dish. It's a steaming, gooey tangle of scrambled eggs, mushroom slices, strips of green pepper, bits of onion, and small tomato cubes, all held together with a rich, mellow skin of cheddar cheese. It's served with hash browns or home fries (when in doubt, go for the fries). The English muffins looked like they'd been whipped up on the premises: thinner than store-bought, cooked to a deeper brown, and tasty as heck.
If you're hungry but in a bad mood, The Front Porch Café is a great place to go and get happy. Be forewarned, though: Since it's not advisable to touch strangers, you may have to stifle an overwhelming urge to hug the server with the big silver-gray bouffant and sequined blouse.
 Front Porch Café
Front Porch Scrambler $5.25
Down-home-style biscuits $5.50
Huevos rancheros $5.25