In Mr. And Mrs. Smith, Angelina Jolie plays a sexy professional adventurer, swinging through danger while never disturbing a hair on her sex-symbol head. Nice work if you can get it — but most of us can't. We don't get paid for living out our fantasies, we have no sexy alter ego, and we're not the least bit dangerous.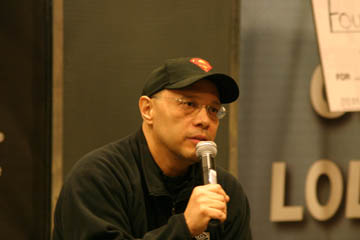 Then there's Valkyrie. She spends her days mowing down enemies right and left, gets paid for doing what she loves, has fans all over the country — and her battles never leave so much as a bruise on her alter ego, mild-mannered San Antonio native Amy Brady. As Valkyrie, Brady is a member of the Frag Dolls, a professional video gaming team that travels the country playing in tournaments against — and frequently beating — other teams and players with similarly cartoon-y, rapper-sounding monikers like Fatal1ty, Lil Poison, and Toxic. The tournaments pay thousands of dollars in prize money — enough to pay for most players' gaming habits, but seldom enough to let them quit their day jobs. That's changing, however, as the pro video gaming landscape heats up and tournaments and prize money increase. In the Frag Dolls' case, their lives are made simpler by the fact that their day job is their hobby — they are employed by Ubisoft, a software developer. The Frag Dolls are a marketing tool for the company and its games, like Splinter Cell, Red Steel, and Dark Messiah.
If you're still amazed that anyone can make a living — much less a multi-million-dollar industry — out of something like, say, skateboarding, hold onto your laptop. These days, there's a possibility — admittedly more remote than that a kid shooting hoops will make the NBA — that the games parents keep dragging kids away from could end up paying their way through college. One young woman from Odessa won a cool million dollars last September in a 12-hour competition — the largest prize-winner in pro gaming's short history. Professional gaming, born in North Texas, is still in its infancy, and it's still struggling to achieve mainstream appeal and a mass audience. But leagues have sprouted everywhere in the last decade, and tournaments are drawing thousands of (mostly young) people to watch.
The fans crowd into the metal bleachers, the kind with seats and backs made of thin metal strips that make your butt and legs itch after you've sat there a while. Sustained by popcorn, sandwiches, and drinks, they cheer on their favorite players and rally their teams, applauding for a move flawlessly executed or a last-minute upset. In short, they look like normal fans at a normal sporting event — at least from a certain angle. But the players they're cheering aren't throwing passes or hitting home runs. They're playing against each other in almost universally violent games like Halo 2 on Xbox 360, a multiplayer game where the object is to shoot, stab, run over, or explode your opponents before they do the same to you, and the first player to get a certain number of kills wins. Or CounterStrike, a team-based game played on a computer where combatants compete four on four, acting as a unit, each team member assigned specific weapons, and trying to kill the other team more times than they get killed. Once again, the kills mean points, and the most lethal team wins. Some competitions feature racing games, but the dominant competition-level cyber-sports are of the shooting kind, both team and individual.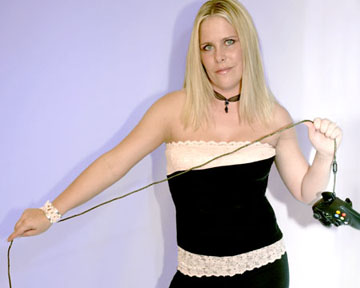 In this world where the kills and shootings are all fantasy, it's only fitting that the fans don't even watch their favorite players directly. Instead, they watch what the players watch. The bleachers are arranged in a semi-circle around a bank of 42-inch and 60-inch plasma screens and one large projection screen, broadcasting in high-definition or 1080i or whatever the kids call it these days. The teams themselves are seated at a bank of computers on the other side of the room. The televisions show the cyber-carnage, as images of blasts and bullets and bombs and knives flash past. The screens show what the players are seeing as they play, while showing off how virtually violent and effective they are. Each big plasma monitor cycles through views from the different players' computer screens, showing first-hand how they react, what the score is, and who's getting the next kill. The view is jumpy, sometimes hard to follow, and only shows what a single player at a time sees, making the experience a bit daunting for those not familiar with the game. Commentators announce the scores and results as they happen, then broadcast interviews with the competitors after each match.
The crowds and the players mirror each other in appearance, all young, mostly male, and of all races. Most fans are wearing gaming t-shirts and jeans. Some sport beanies and others hoodies, but the Abercrombie & Fitch kids definitely stay home. Some professional video gaming leagues are flourishing, some failing, and several have combined to form larger events. These events pit player against player, or team against team, with winners advancing in the tournament brackets while the losers go home. The tournaments include several different games. Most players compete in only one game. Pro gaming, or e-sports, which has become the new buzz word for professional gaming and its many iterations, got its start in 1997 with the Cyberathlete Professional League. The CPL was founded in Dallas by Angel Munoz, who was president of a Dallas-based investment firm before he got hooked on gaming. Regarded by many as the father of e-sports, he coined the term "cyber-athlete" — a pretty ironic concept considering that serious gamers may never see the sun — as a pseudonym for "professional gamer" and built a successful business model and tournament structure from the ground up. Since then, the CPL has grown into a worldwide league and has given out more than $3 million in prize money. A pile of other leagues followed the CPL's lead, evolving into the almost-mainstream, pseudo-sport that exists today, much like skateboarding in the '90s.
The growth of professional gaming tournaments has mirrored the explosive growth of the gaming industry over the last several years, sustained by newer and better technology, huge budgets, and huge hits. Video game sales totaled a record $12.5 billion in the United States in 2006, according to market researchers. When two new gaming systems debuted in November 2006, they made more headlines than any new car model or celebrity baby. The biggest winner of 2006 was Nintendo, with its super-popular (and still impossible to find) Nintendo Wii selling 1.1 million copies in just a little over a month on the market. Not far behind, Microsoft had a string of hits for the Xbox 360, and Sony launched the Playstation 3, to riots and shortages and much secondary-market speculation (read: people immediately reselling the games on eBay for big profits). Just as Little League grows future pro baseball players and their fans, every new round of excitement over video games seems to add to the pro gaming phenomenon.
---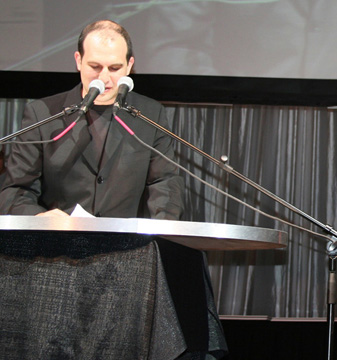 The number of tournaments and the amounts of prize money have now increased to the point that the dominant teams can make a living playing cyber-sports. Most competitors, however, are still semi-pro, weekend warriors who play the game in their free time, enjoy some cash when they win, and return to their normal lives. Christopher Isaacs is one of those semi-pro gamers. He doesn't play on a computer or a console. He plays Madden Football, on an arcade cabinet. And he wins money doing it. The online arcade version of Madden, which came out in 2004, is hooked up to the internet and allows for online tournaments that take place at arcades around the world. The best gamers, such as Isaacs, win money and prizes, and the top 64 go to Vegas each year for a three-day finals tournament. Isaacs is 34, married, and runs a meat delivery service in Fort Worth that allows him time to play in the Madden tournaments. And he's done well with that time, winning cash, a tv, and, last year, a trip to the Vegas finals. He finished 23rd and won $1,500.
"Shoot, with the points and the cash, I've probably won $25,000," Isaacs said with a grin. Not much of a gamer before discovering Madden, he's now played in about 75 tournaments. "I love football, and I found that I was pretty good at it," he said. Isaacs still competes in the semi-monthly tournaments, even though the payouts have been lowered recently. Now he's getting into another game from the same company' PGA Tour Golf, that has more frequent tournaments. "It's been fun," he said, "and it pays out money." Last September, Kavitha Yalavarthi of Odessa became cyber-gaming's biggest winner to date. She took home first-place honors in the first WorldWide Web Games national competition, a 12-hour marathon of casual web games such as Zuma, Bejeweled 2, and Solitaire, sponsored (of course) by a cyber-gaming company and aired on the Game Show Network last month. Those games, played online and usually solo, are not the typical games most pro gamers compete on — but that didn't make Yalavarthi's check any less cashable. A University of Texas graduate who plans to go to law school, she immediately called her parents to tell them that the games they used to complain about had just won her $1 million.
Even though the phrase "cyber-athletes" draws guffaws from people who actually sweat to build muscles and stamina, video gaming nonetheless requires real skills: top-flight hand-eye coordination, quick reflexes, and a grasp of battlefield tactics. Teams will practice for months, working out exactly which role each member will play. During competitions, they yell instructions to each other over their headsets. They'll also memorize every map available in the game and prepare tactics and plans for each one. It's a battle of speed on one hand and strategy on the other. What works once won't work again, as other gamers see it and emulate it. The pressure is huge and the competition fierce, with pride and actual money at stake. And just like in "real" pro sports, the egos tend to expand, top players are treated like celebrities, sex sells — and the real moneymakers aren't the players but the companies. Wherever Amy Brady and the Frag Dolls went at a recent tournament, a herd of teens followed. When they demo'd games, fans lined up for the chance to play against a Frag Doll or to watch them play each other. Decked out in black and white uniforms emblazoned with Ubisoft logos, Brady and her six Frag Doll teammates all looked cute and bubbly — and all are seriously good at gaming.
Cyber-gaming, unlike most sports, doesn't particularly favor brawn or upper body strength or jumping ability, so you might think it would be, for once, gender neutral. And it is, in many respects. Still, the players and fans in cyber-gaming continue to be overwhelmingly male. The few females still stand out in the crowd and in the nerdy frat-house atmosphere of many gaming tournaments and arcades. In December, when Valkyrie and the Frag Dolls won tournament honors for Rainbow Six Vegas, a four-on-four tactical shooter game produced by Ubisoft, at the CPL finals in Dallas, it was the first time an all-female team had won a tournament at a pro-circuit event. Brady grew up playing games on her computer. "Gaming's always been my passion and my hobby," she said. But it wasn't her job until recently (and she won't be more specific than "business" about what she did before).
In 2002, when she was 26, she and her twin sister founded PMS Clan, the first-ever female gaming group. They built a web site and starting playing games online just for fun. The group flourished, with all female gamers welcome to join, and soon the PMS elite started competing in tournaments. It didn't take long for Ubisoft to figure out how to turn the group to its advantage. "Ubisoft saw the attraction," Brady said, and figured, "'Why don't we hire these girls?'" So now, instead of the women paying their own way to tournaments, Ubisoft pays, and also pays them to host and market games. The Frag Dolls quit their day jobs. At tournaments, their value to Ubisoft is quickly apparent. Squad members dress in matching in black and white Frag Doll baby-doll t's with big Ubisoft logos on the back. They sport gamer nicknames like Brookelyn, Psyche, and Seppuku. When they're not competing, they do appearances, host game demos, and compete against — and usually beat — fans. They do well in the tournaments, winning several in the last few years and placing high at the recent World Series of Video Games in Grapevine.
Brady readily agrees that what she does is mostly a form of marketing, but she's not losing any sleep over it. At her old job, she said, she was always questioning what she was doing with her life. As Valkyrie, she makes a decent living playing games every day, has a Nintendo DS constantly in her purse, and, "If I'm not traveling, I'm gaming." It may crush the hearts of some fans to find out, but Valkyrie is 30 — and married. Still, her passion for gaming makes her fit right in with the rest of the cyber-sport crowd, and they love her for it. Commercialism is front and center in every major sport, from the name of Ameriquest Field and American Airlines Center to the Poulan-Weed Eater Bowl in football to multi-million-dollar endorsement contracts for top athletes. In video gaming, however, the companies, in effect, invented the sport, own the sport, annually revolutionize the sport with new games and equipment, and employ many of the players, like Brady. Every booth, every item, every competitor has an ad on it. This makes the tournaments seem like a cross between a high-tech chess game, a high body-count war game, and a trade show.
The "cyber-athletes" marched into the venue like the super-stars their fans believe them to be, the teams wearing uniforms, mostly black shirts with sponsor logos on the back, top players stopping every few steps for interviews with reporters. Entering their roped-off areas, they settled into folding chairs and the carnage began. When it was all over, more than a thousand competitors would divvy up cash prizes totaling more than $160,000. In the heat of a Texas summer, spectators in the bleachers stayed cool in the air-conditioned mega-space of the Gaylord Convention Center, even though an estimated 15,000 of them showed up over the three days of the event. They modeled the latest in video game shirts and wandered through the booths offering the latest in gamer gear and other merchandise. The event was part of a professional gaming competition called the World Series of Video Games, even though competitors would probably argue with the "world series" claim. This tournament has been around for only one year, and the Gaylord swallowed it up in two large conference rooms like it wasn't even happening.
---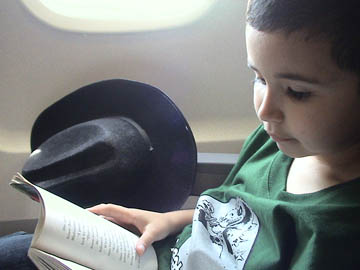 The game company reps sat around looking bored and above it all. Off to the left, a few mothers cheered on — and probably embarrassed— their gamer children as they competed. Past the bleachers were booths for most of the major game publishers: Dell, Vivendi, Ubisoft, Microsoft, ATI, and numerous others, promoting the games with demo units and video clips and cool gaming seats. Beyond these, rows of food vendors and merchants hawked hot dogs and cold drinks. Outside of the vendor ranks, the actual "pro" players sat to one side, amid a bank of computers. Opposite them, behind a large black curtain, was the amateur section where the "just for fun" gamers played and socialized. The July 2006 World Series Intel Summer Championship, the pseudonym for this leg of this World Series, was one qualifying tournament on the way to the organizers' version of a international championship. The series is organized by Games Media Properties, sponsored by Intel, and combines tournaments produced by the Cyberathlete Professional League, as well as Lanwar and Dreamhack, two smaller organizations that ran regional gaming tournaments in years past. The World Series goal is to establish a universal tournament (or at least the one that gets the most attention). At least nine other national competitions exist with more in the works, not to mention the various foreign tournaments. Korea is touted as having the largest professional gaming circuit, but the U.S. is catching up, with more television and media coverage by the day. More money is at stake every year, both for the promoters and the competitors.
At the end of three days of competition, four members of team Complexity, a clan of gamers from all over the world, took home first place in the Counter-Strike 1.6 and Day of Defeat tournaments, netting $40,000 and $5,100 respectively. Other top prizes, in games like Quake 4 and Project Gotham Racing 3, ranged from $5,000 to $20,000. The winners used names like Johan "Toxic" Quick and Hammer & Anvil 1. The gamer tags are universal at these tournaments. Like hip-hop and rapper names, gamer names are full of odd grammar, misspellings, and random capitalizations, but they at least have a reason: In gaming competitions, every name must be unique, easily identifiable, and recognizable from game to game. That way, if a player sees Frag Doll Valkyrie pop up as an opponent, they can know who they are playing and possibly wet their pants at the same time. If she signed in as Amy Brady, the same infamy might attach, but there would always be the possibility of another Amy Brady showing up to confuse the issue.
The gamer fanboys flock to the tournaments for the competition, the display of cyber-skills, the camaraderie, and sometimes the women. The weekend also offered up the Miss World Series of Video Games beauty pageant (not even a suggestion that it was a "scholarship competition") — more evidence that the event organizers understand all too well the adolescent, male-dominated nature of their audience. Eight women stood on stage trying to look their prettiest while the audience cheered for its favorites. Serious gamers like the Frag Dolls don't strut their stuff in these contests because they're too busy killing people in the "real" competitions. But for a bunch of fans who love Attack of the Show, the vapid, MTV-inspired cable tv show about the video game world, the beauty contest was a perfectly logical addition to the schedule.
"This was a great weekend for sports — from the World Cup and Wimbledon to the World Series of Video Games," said Matt Ringel, president and CEO of Games Media Properties, at the close of the tournament. "We could not be more thrilled with our event here in Grapevine. The level of gaming competition and media coverage has intensified, and having Michael Dell on hand to crown the winners was the icing on the cake." He was looking forward, he said, "to the next World Series of Video Games event — in China." Tournaments like the World Series are happening all over the world now, growing from humble beginnings back with the CPL in Dallas. Now there's Major League Gaming, the World Cyber Games, the Electronic Sports Cup, the Championship Gaming Series, and the Global Gaming League — not to mention the annual free QuakeCon held in Dallas each year. The leagues have grown, split, and reorganized but still remain just short of hitting it big.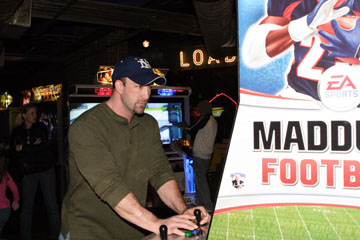 Brian Crecente is one of the experts on the current state of video gaming. As editor of Kotaku.com, the most popular gaming blog out there, and also as video gaming reporter for Rocky Mountain News, Crecente has covered the ins and outs of the gaming scene for years. In his opinion, professional gaming is set to make it to the mainstream in the next few years. "If it's ever going to take off, it's going to be now," Crecente said, noting the recent announcement by DirecTV of the creation of their Championship Gaming Series. Crecente said the series could be the device that successfully introduces gaming to the masses, if producers can make it entertaining and figure out how to display the skills involved. Convincing a jaded and uninformed public that professional gaming is a sport to be taken seriously, and that it is even entertaining to watch, is a major challenge, Crecente said — and translating the gamers' jargon to the masses will be a big part of that.
DirecTV will launch the series on its Channel 101 in February, with featured competitions in three of the most popular games, Counter-Strike, Project Gotham Racing, and Dead or Alive 4. Commentary will be provided by gaming legend Jonathan "Fatal1ty" Wendel, the most successful and popular professional gamer in the country. Sundance DiGiovanni, chief branding officer and co-founder of Major League Gaming, a three-year-old Xbox-based professional league, feels that gaming has more advantages than many other pseudo-sports and that it is already hitting the mainstream. Gaming fans, he said, are "a multi-media demographic, which means we can easily reach them through tv, internet, mobile, etc., instead of having to rely on one medium. In addition, it's easy and inexpensive for the average Joe to participate and compete for a chance to play their heroes. No other sport can say that. And there are an estimated 168 million gamers in the U.S. alone, so the potential fan base is enormous."
---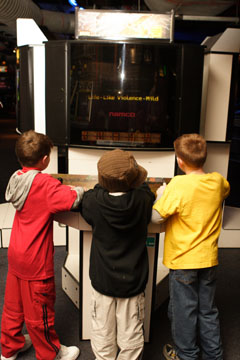 Major League Gaming has run 20 Halo 2 competitions (including one in Frisco in 2006) and employs 150 pro gamers. The top 12 have signed three-year contracts worth $250,000 each, as long as they keep competing and winning. DiGiovanni estimated that thousands of people have competed at the MLG tournaments, with audiences topping 5,000 each time. USA Network recently broadcast the finals of the league's Halo 2 championship, featuring many of MLG's professional gamers. E-sports could have stepped onto the ladder to the big time. Or it could still crash and burn, fading away as online gaming becomes the standard and competing in person with linked computers becomes as passé as the arcades that were so hot in the '80s. The next generation, growing up amid the gaming explosion, might be better equipped, too, with faster reflexes and better coordination honed from early use of computers and game controllers. The latest sensation on the pro circuit is 8-year-old Victor de Leon III, known to gamers around the world as Lil Poison. Billed as the youngest professional gamer in the world, he's been playing games since he was two, playing in Halo tournaments since age four, and started competing nationally shortly after that. The New York kid has become a media sensation as well, appearing on 60 Minutes and G4, the cable network focusing on video games, and rating a mention recently in The Wall Street Journal.
If de Leon represents the new face of pro gamer, then two Mesquite kids who wandered around the Gaylord tournament site last summer may be the next generation of gaming fan. Armed with a notepad and camera, siblings Andrew and Christalynne interviewed every pro gamer they encountered. Their father, who works for id Software, the Mesquite-based developer of tournament-staple Quake, brought them to the show as fans and possible future competitors. At ages 6 and 8, they already have plans to attend this summer's QuakeCon in Dallas — maybe to watch, maybe to compete. Maybe to take it to a new level.
North Texas freelance writer Jacob Taylor also works for SEGA Gameworks in Grapevine. He can be reached at jacobataylor@gmail.com.