A couple of years ago, after more than a decade of mainstream success, radio-prog giants Incubus found themselves on the verge of industry-caused destruction.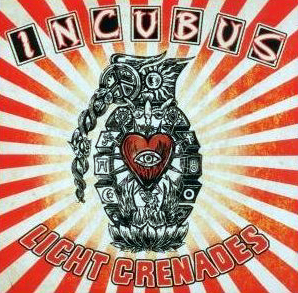 Co-founding member and bassist Dirk Lance was ousted from the multi-platinum group as the remaining musicians tried to sue their label, Sony, to get out of their contract. The court said uh-uh, leaving Incubus open to posing shirtless on MTV or in Rolling Stone. The group responded by releasing 2004's vitriolic A Crow Left of the Murder, essentially a hate letter to Sony. The energy the band put into dissing the label could have been better spent on writing stronger material. But a lot of people refused to lose faith in Incubus' intense, protean sound, and they're no doubt pleased with the band's latest album, Light Grenades. It picks up where 2001's excellent, charged Morning View left off.
Whether or not it's PC to admit, Incubus has influenced a new crop of DJ/sample-infatuated musicians. On Light Grenades, DJ Chris Kilmore's colorful effects push and pull guitarist Michael Einziger's fuzzy force. The result succeeds where other, similar attempts at digitally organic music fail: The instruments complement rather than talk over each other. In addition to several obligatory radio singalongs, the disc reverts to old Incubus in a number of punkish anthems. In the title track, over a flurry of downbeats, a shouting chorus urges, "Come on, remember who you are." Produced by Brendan O'Brien (back on the controls after ACLOTM), Light Grenades appears to indicate that Incubus will be cool long after what's cool is history.