The Stockyards is the city's internationally celebrated headquarters for all things dogie-roping, plug-chewing and, for better or worse, tourist-watching. But there's a genuine Cowtown aesthetic there. You just have to look a little deeper to find it, and the dig is usually worth the effort.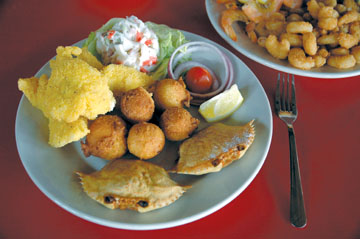 And now the reward is bigger by one ma-and-pa establishment. A few months ago, Bubba Jean's opened and introduced the 'yards to the concept of buffet-style home-cooking. The place offers less like what Wishbone would have whipped up on the chuckwagon and more like what Bubba Jean's mama-in-law slaves over during Sunday afternoon Cowboys games: meatloaf, mashed potatoes, fried vegetables, pecan pie, and other assorted, incredibly caloric delights, in portions big enough to feed a small army.
Joking aside, Bubba Jean's is the restaurant's second incarnation. Owner "Bud" Pogue still operates his first spread in Malakoff, about 80 miles south of Dallas. He's not the least interested in conquering new culinary frontiers, but during a recent lunch visit, our minimum expectations for a traditional home-cooking buffet — fresh, hot, seasoned just enough to give most of the items authentic flavor — were more than exceeded. Bubba Jean's seems ideally suited for large families or birthday/office parties, all of which Pogue is happy to accommodate with advance notice. There is a small, modestly equipped salad bar, but it was being roundly ignored on the afternoon of our visit.
Of course, in these health-conscious times, simply handing your child a chicken nugget might get you arrested for child endangerment. But Bubba Jean's nicely limits — which is not quite the same as eliminates — the grease factor of its food. The chicken-fried steak was stellar: mid-sized pieces of thin, pounded steak, thickly breaded, extra crispy, and not too oily. And succulent enough to be cut with a fork alone. The pepper-flecked cream gravy had no lumps, and its nice medium-thickness suggested that someone in the kitchen has heard of heart disease. Ditto for the meat loaf, tightly packed but tender ground chuck that contained nary a sliver of gristle and was served in brownie-sized pieces. The tomato sauce on top, however, was too close to that ketchup-y stuff that some of us used to drench our meatloaf in until the entire plate tasted like chunky Heinz 57.
The veggies ran the gamut from top-notch to disappointing. The baby lima beans were tender and cooked until they partially split and created their own gravy. The pinto beans were firmer, with a chewy hint of the husk still attached. The broccoli in cheese sauce was a bust, though. The only thing cheesy about the liquid in which the florets sat was the yellow color. Bubba Jean's is every bit as generous with its service. White-smocked cooks strolled by and patted customers on the back, and the servers called everyone "honey" — and were also quick on the iced-tea refills. The atmosphere is certainly hospitable, giving diners the kind of big-hug treatment that may encourage them to take to heart — literally — the term "all-you-can-eat."
 Bubba Jean's
Lunch buffet $6.95