Supermarket may not be the first place you think for a meal (the Subway at Wal-Mart and Starbucks at Albertson's notwithstanding).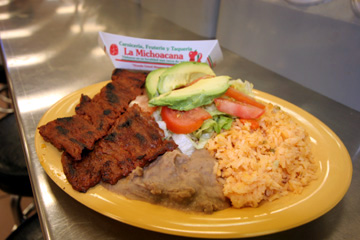 But at La Michoacana, a large, friendly Spanish grocery store on the North Side that's part of a Houston-based chain of the same name, the taqueria, or hot food section, is one of a couple of reasons to head there. But then again, so is the panaderia, the Mexican bakery section. And so are the veggie and dry goods sections. And lastly, of course, so are the meats from which the place takes its name.
An establishment like La Michoacana is generally referred to as a carneceria: a meat market around which a larger market has grown. And indeed the store's meats are extraordinary. No dingy, wrapped, pre-weighed packages here. Just a 30-foot-long display case heaped with mounds of goodies: flank steak seasoned for fajitas; beef and pork ribs just waiting for the grill; pork chops cut three-fingers thick; chicken breasts, thighs, and feet; stew meats; chorizo; and a dozen cuts of beef, everything piled high under glass. There are exotic cuts as well: tripe and pig jowl, cow's tongue, goat meat, beef leg bones, and freshly split ham hocks. Half-a-dozen men work to keep the line — sometimes 40 people long — moving. It's worth the wait: Meat moves so quickly at La Michoacana that there are another half-dozen people in the cool back room butchering and seasoning to keep the display case full. Prices are excellent, from $1.99 per pound for beef ribs to $2.29 for a chicken breast.
La Michoacana also offers dozens of items that you might not find anywhere else, from a full line of Jumex nectars (tamarind to pear to guava) to a rack of sweet Mexican condensed milk candies to dozens of Goya products that you probably never knew existed. Not to mention sacks of ground flour and cornmeal, exotic spices, and a wide selection of fresh and dried peppers. The vegetable section, while not the largest in town, is sparkling clean and loaded with cactus leaves, prickly pears, succulent dwarf mangos, 20-for-a-dollar limes, cilantro that nearly sears your taste buds, and strange-looking squashes, all lined up next to the usual: potatoes, tomatoes, bananas and plantains, corn, and broccoli.
And then there is the taqueria. For $5.40 a plate, you get your choice of a dozen hot dishes, all served with good yellow rice and decent refried beans. We tried the cabrito, an excellent dish of shredded goat meat seasoned with salt, pepper, garlic, and a hint of bay leaf. Another entrée, a type of pork-belly stew, was a little too earthy for me, though the guy at the next table was eating the same thing and smacking his lips. My favorite dish was the simple boiled beef: a giant portion of chuck steak that had been cooked long enough to fall apart on the fork, steeped in the juice of its own melted fats. On request and at no extra charge, we were given a plate full of well-seasoned, grilled spring onions that went particularly well with the cabrito and beef. Other entrée selections included pork, chicken, and spiced beef. All of the portions were huge.
A help-yourself salsa bar had hot peppers, onions, cilantro, and several other standard condiments, plus three sauces: a top-of-the-line hot red pepper sauce, a mediocre mild red sauce, and a fresh jalepeño, a mix of chopped onion and cilantro salsa with a vinegar kick that bit back. We topped off lunch with a fresh pecan pound cake ($2 for the whole thing) that was as good as any in town, and a couple of light, burnt-sugar, pastry bowties. There were dozens of other fresh breads and pastries that looked equally delicious. If you're in the mood for authentic Mexican but don't like too much bustle, round up some to-go food here. The eat-in ambiance is pure supermarket. But that's what La Michoacana is — and a darned good one at that.