When your restaurant is squeezed between a denture-repair shop and a nail salon in a small South Arlington strip mall, does ambiance really matter? In the case of Sake Japanese Steakhouse, located just south of I-20, the answer seems to be: Pile on the international kitsch.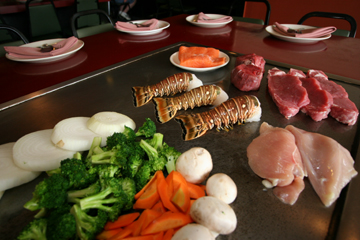 On the walls surrounding the U-shaped hibachi setups and tiny two-seater tables, decorations include an ornate crucifix, an inflatable bottle of Kirin Lager, and a cloth scroll featuring a baby panda bear hugging its mama. The soundtrack: a satellite-radio station that plays instrumental versions of American soft-rock classics, like "Strangers in the Night," "You've Lost That Lovin' Feeling," and "Do You Know the Way to San Jose?" This gaudy admixture of tastes and sensibilities actually makes the place seem more authentically Japanese, given that country's rabid fascination with American pop culture, no matter how frivolous or wacky. Sake's short menu is divided between sushi offerings and hibachi-cooked meats and vegetables, prepared with bombastic, suspiciously pro-U.S. showmanship. Both categories of dishes were generally solid despite the claustrophobic, cluttered surroundings. Two of Sake's specialty sushi rolls were delivered with an almost Francophilic zest for presentation.
The Dancing Eel Roll was arranged as if it the sea creature had crawled out of the ocean and laid down for a nap on the plate. The soft, utterly non-fishy, fresh-water eel arrived drizzled with a light brown sauce that was somewhat akin to Mexican cuisine's mole sauce. Stuffed inside the rice-and-seaweed rolls were the micro-crunchy orange smelt eggs known as masago, plus a smear of smooth cream cheese alongside buttery avocado chunks, and shredded crab meat. The Spider Roll was simpler but just as addictive: deep-fried, non-greasy soft-shell crab pieces joined to avocado slices and surrounded by a mayonnaise mixture. The li'l wasabi pile on the side offered a nasal-clearing jolt of contrast to all this creamy richness. Sake, in operation for several years, is now open for lunch seven days a week. On a recent early Sunday visit, the hibachi chef was a young Japanese-American named Bo, and he performed quietly if admirably given that he was cooking for only two people — the only two people in the restaurant, in fact. He began his show by squirting an olive-oil shaped heart sign on the grill ("This would be for the ladies," he said, gesturing toward the empty seats), and proceeded to toss eggs in the air and onto the hibachi; parcel out broccoli, bean sprouts, and mushrooms; and set meaty scallop towers dramatically aflame with sake and soy-sauce squirts. You know the routine: He scaled it down but was definitely entertaining. The results were delicate and flavorful. That's the story of Sake Japanese Steakhouse: miniature in scope but sometimes mighty in flavor.
 Sake Japanese Steakhouse Dancing Eel Roll $10.95 Sake Spider Roll $11.95 Hibachi scallops $18.95