The wait is over. It's been 14 months since we've staged an opera," said Fort Worth Opera director Darren Keith Woods, who could scarcely contain himself. "I'm so excited!" he burst out.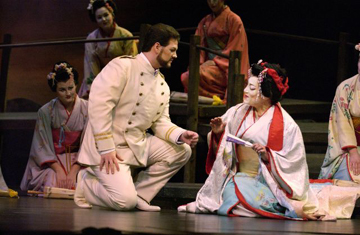 Those words were addressed to an expensively decked-out crowd at the May 19 performance of Madame Butterfly, which opened the company's season, re-jiggered as a three-week festival. The choice of opener was a pretty safe one: Butterfly is one of Puccini's indestructible operas, along with La Bohème and Tosca. An average or even downright bad production of any of those three can still give you a sense of their beauty and dramatic power. The production here isn't bad, but neither is it compelling and heart-stopping the way Butterfly can be — and the way Fort Worth Opera's festival undoubtedly deserved to open. Butterfly is under the baton of conductor Joseph Rescigno (pronounce his last name re-SHEEN-yo), the nephew of Nicola Rescigno, himself a locally and internationally renowned maestro. His musical direction was clean, professional, and attractive, but the overall effect was a bit on the phlegmatic side. Like Puccini's other great operas, this one is brimming with possibilities for electrifying drama, and that potential went largely untapped through much of the evening. The story's momentum sagged noticeably in the second act, although this probably lies with the material.
The opera is based on a 19th-century play by David Belasco, a wildly successful playwright in his day who is mostly and deservedly forgotten now. The play's racial and sexual politics, while essentially benign, are recognizably from another time. This proves to be less of a distraction to modern audiences than the main character's infuriating passivity. Puccini liked his heroines meek and submissive (although Tosca is a shining exception), and the title character's devotion to the absent Lt. Pinkerton can too easily seem infantile. Making that real is a tough assignment for a soprano, and Angela Maria Blasi had other troubles to distract her. She got off to a wobbly start, fading out consistently on the lower notes in the first act and producing a few fleeting moments that made me think, "Dear God, she's in trouble!" (Moments like these are one reason why opera is so thrilling — you don't get this kind of danger from film or classical music or even live theater.) She settled by the second act and managed to find some interesting undertones indicating that her Butterfly had a certain sense of humor about her predicament. Still, it wasn't until the final act that she and the production as a whole finally found a groove, offering up some belated but much appreciated tragic power. Robynne Redmon's excellently acted, decently sung Suzuki did a lot to create that mood.
By the way, the audience's applause at the end of "Un bel di" took me out of the story. I'm all in favor of that whole Italian mentality of cheering opera as if you're at a spectator sport, especially at an Italian opera, but if you're gonna do it, do it right — if you really feel like the soprano knocks the aria out of the park, you should be cheering while she's still singing that final "L'aspetto!" I haven't yet mentioned the most attention-grabbing element of the production, namely David Pomeroy as Pinkerton. Put simply, the guy has a hell of a voice. The strapping Canadian tenor filled out his naval uniform well and showed a terrific instinctive understanding of Puccini's vocal line. His golden-hued tones offered not only beauty but also great clarity in pitch and enunciation. Butterfly isn't the tenor's show, but he made it so throughout the first act and buoyed the proceedings considerably. The set came to Fort Worth courtesy of the Virginia Opera and proved to be both great-looking and functional, although Tim Ocel's direction was largely static. The striking visual at the very end of the second act only highlighted how flat the rest of the show was as a theater piece. The company broke out the frippery at Bass Hall, turning the downtown venue into an 18th-century Venetian carnival, complete with streamers, liveried footmen, and stilt-walkers. It was all a little much, and I'm not sure what it had to do with Butterfly. Among the revelers were two young men acting as living statues, wearing gold body paint and little else. They were standing with their backs to the windows, which meant that people walking by on the street had a great view of their asses. The female pedestrians were very demonstrative in their appreciation. Highbrow culture can be wonderful indeed.
 Madame Butterfly Thru Jun 7. Bass Performance Hall, 555 Commerce St, FW. $22-124. 817-731-0833.