How many ways are there to get into trouble in the Mid-Cities? At one Bedford Tex-Mex and Mex-Mex haven alone, there are more than a hundred.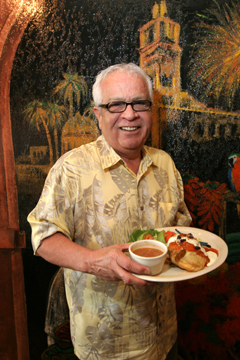 That's the number of premium tequilas available at Esparza's Tequila Factory, which merrily labels itself a "tequilaria," a distinguished purveyor of the fermented and distilled sap from the blue agave plant. Owner Johnny Esparza has found every angle possible to tempt you with his liquors. There's a margarita of the month. There's a specialty drink for every flag that has flown over the nation of Mexico (Spain, France — for a short five years — and the Republic of Mexico). There are tequila sampler specialties in which the customer can choose four shots of different tequilas, served alongside a scooped-out cucumber filled with homemade sangrita, a non-alcoholic chaser made of tomato and orange juices and chile powder.
So far, no tequila ice cream is on the menu, although Satan's spring water does find its way into some of the entrées' cream sauces. You'd think a steroid-pumped bouncer would be necessary to quell spontaneous outbursts of violence and nudity, but Johnny has chosen to pursue a rigorous serving policy: a hand-painted sign on the wall warns that non-dining customers have a three-margarita maximum, and then the bartenders turn off the tap. Without a doubt, Esparza's is a destination for (relatively) temperate tequila connoisseurs. But what about the food? A recent dinner visit merited a mixed grade. Problems began with the chips and salsa. Esparza's version of the traditional Mexican condiment is served steaming hot, and it heavily favors tomato pulp over peppers, onions, and other spices. The result tasted like a rich but rather bland marinara sauce — not such a great companion for corn chips.
The relleno al carbon was another disappointment. Most of the ingredients worked: roasted, shredded pork baked in a split-open poblano pepper the size of a toy boat, covered with soft, white Chihuahua cheese. But the raisin-pecan sauce, with a consistency somewhere between pie filling and jelly, effectively hijacked the entire dish. Much better were the camarones de Guadalajara, one of Esparza's signature dishes. The six shrimp on the plate had been sautéed in a simmering, tequila-infused cream sauce that was thin and complemented the shrimp effusively. The dish also included Oaxaca cheese, which had a provolone-type smoothness that also played its part wonderfully. The best entrée was the pollo poblano, a long, thin, sturdy chicken breast speckled with peppery spices and the titular chile, with a flavor that was slow and smoky rather than burning. All of the dishes were served with fresh avocado slices, pico de gallo, and either refried beans or charro beans (the soupy dish made with beer and bacon fat). When Esparza's advertises itself as a "tequilaria," take that seriously: The food on this visit, although not negligible, definitely played second fiddle.
 Esparza's Tequila Factory
Relleno al carbon $13.95
Camarones de Guadalajara $12.95
Pollo poblano $10.95