"Anyone who believes in expiration dates will not get in the way of the glory train! They must realize that the livers of the evil triangle rule!" Thus shouts a diminutive, gleaming-eyed doctor (shortly after giving a lucid policy brief and shortly before trying to kill himself) in Paprika, a Japanese anime film that screens at the Modern this weekend and is one of the year's best and strangest movies.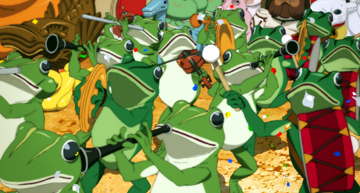 His psychotic outburst is brought on by the DC Mini, a device invented by psychotherapists that allows them to enter their patients' dreams. Someone has stolen three DC Minis and is now using them to drive people crazy, which is why psychiatrist Atsuko Chiba (voiced by Megumi Hayashibara) has to solve the theft, aided by her alter ego in the dream world, a woman named Paprika. The plot leads into a surreal hallucination like few others, as the DC Mini threatens to bring about the apocalypse by spilling the dream world into the conscious world. What makes this end-of-the-world scenario so terrifying is its cuteness, as the main engine of destruction is a parade of electrical appliances, souvenir tchotchkes, and horn-tootling marching frogs. This may sound overly precious, but the movie taps into all manner of buried fears (talking dolls, web sites that take over reality, giant monsters tearing up a city) and reflects on how movies mirror our dreams, via the character of a jaded cop who's a frustrated filmmaker. Paprika is a terrific introduction to Satoshi Kon, the next great anime master with a style and outlook all his own.
Paprika screens Fri-Sun at Modern Art Museum of Fort Worth, 3200 Darnell St, FW. Tickets are $5.50-7.50. Call 817-738-9215.