Here's the truest thing we can say about New Maps of Hell, Bad Religion's latest: "Well, it's definitely a Bad Religion album."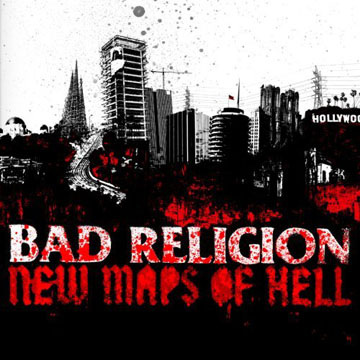 It's not Atlantic-era bad, but it isn't Against the Grain great, either. It's just … well, it's a Bad Religion album. Between the Atlantic/Grain divide is where most of the longtime punk band's LP's fall. They're all really fast. And political. And if you don't need a dictionary to make sense of the lyrics, then you either don't care about them or your name is Greg Graffin, in which case you wrote them anyway. Seriously, from what other band not named Rush can you expect to hear the word "susurrations"? The Bad Religion formula could be a lot worse. After all, it could call for a corny, radio-friendly, novelty song (we're looking at you, The Offspring) to anchor the rest of the album. New Maps of Hell doesn't stoop to that, but it also doesn't shy away from hooks, which again, is part of the BR template. While few would call Bad Religion pop-punk, there is enough sugar here to make the medicine go down. And, frankly, the songs need it.
As usual, Graffin (who, incidentally, has a Ph.D in evolutionary paleontology) packs his songs with lectures so verbose that you need the cushy chorus of whoa's that follow. In fact, it's really more like you earned them — absorbing Maps takes some effort, but it does have its rewards. For all the polysyllabic didacticism, the music itself is empowering. As the three-part harmonies soar, the guided-lightning leads of guitarists Brett Guerewitz and Greg Hetzin whip and crack around the precision thunder of bassist Jay Bentley and drummer Brooks Wackerman. The band is tighter than a Timex. Or the doomsday clock. Bad Religion songs always have a sense of genuine urgency to them and not just because they're fast. "Requiem for Dissent" is a strident call to reanimate the buried bodies of revolution, and in an oblique nod to James Howard Kunstler, "Grains of Wrath" declares that the fat, consumerist, American way is dead. "Before You Die" asks us why we're wasting our lives.
So it's not Bad Religion's best record, but even a crummy BR outing is better than anything that their Vans Warped Tour contemporaries can offer. New Maps of Hell is a necessary addition if you've been with the catalog for all of these years, but if you're trying to wean your kid or little brother off the pop-punk teat, you're better off pushing Against the Grain or leaving him to Suffer.-Steve Steward