The record rainfall and humidity this summer did a good job of quashing any hunger I might have had for raw fish.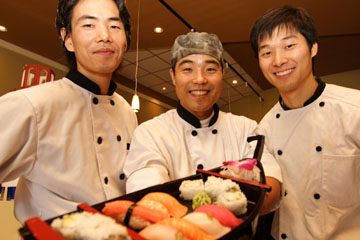 But then last weekend, the temperature reached 103, and all of the sudden the adjectives "light," "cool," and "fresh" sounded irresistible. The newly opened Blue Ocean Sushi in Cityview Plaza was there to meet my needs. Just walk through the doors of this quietly hip eatery, and you're engulfed and comforted by the place's overall hue, a kind of creamy avocado or seafoamy green that matches the delicate flavors on the menu and the dimly lit table lamps that cast colorful shadows on the walls. On the night of my visit, the hushed, jazzy piano-pop of songs like "Love Me Like a Man" and "Please Bring Me Someone to Love" cooed over the speakers. The whole scene seemed to activate the same endorphins that good sushi does.
Blue Ocean offers standard teriyaki dishes (beef and salmon) and fried fare (shrimp and vegetable tempura) as well as donburi (rice bowls with eel or sashimi on top). The restaurant's raison d'être, of course, is sashimi, the term for the raw fish in those tiny rolls that most of us mistakenly call "sushi" (as any know-it-all will tell you, sushi technically means "vinegar-infused rice"). Blue Ocean's tuna sashimi were fat, square slices of toro (fatty tuna) served alongside a haystack of shredded radish plus wasabi and ginger. The delicacies were silken, utterly non-fishy, and savory. The specialty rolls are the real reason to visit Blue Ocean. The curvaceous Pink Lady had the traditional makings: rice and slightly fishy seaweed wrapped around tuna, smoky salmon, and masago (also called "Japanese caviar" — small, soft fish eggs from the capelin fish, as distinguished from the cheaper, crunchy eggs of the common smelt). The roll's outer layer was pale-rosy soy paper, a tasty flourish whose gentle sweetness complemented the small, fiery dots of red-pepper sauce on each piece.
Unsurprisingly, considering its name, the I-20 had a lot of different ingredients jammed into it: tuna, salmon, yellowtail, cooked crab, and bits of jalapeño, everything deep-fried in a light breading. The exterior and the generous cream cheese inside carried this item easily into the comfort-food zone. The eatery's eponymous roll proved to be the lightest of the bunch: large wheels of cold, thin cucumber slices wrapped around bursts of yellowtail, tuna, bright-red salmon, soft masago eggs, and tiny slices of asparagus. The Sun-Kissed roll was all tuna, spicy red and with rich white fish inside and a delicate roof of sliced avocado. Like the best of Japanese cuisine, even the most modest item on Blue Ocean's menu hits the mark, especially if you're willing to relax, taste, and savor the cool sea breeze.
 Blue Ocean Sushi and Japanese Cuisine
Pink Lady roll $10.95
I-20 roll $10.50
Blue Ocean roll $13.95