The area north of Hemphill Street and I-20 teems with life these days, boosted by the Gran Plaza de Fort Worth mall and an ever-increasing flow of middle-class immigrants.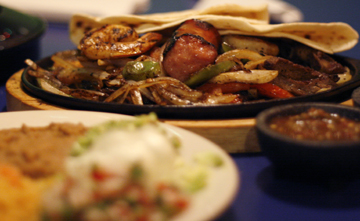 The dominant Latin-American culture there blends nicely with the humble nearby neighborhood of the Southwest Baptist Theological Seminary. Cattycorner from the mall, on Bolt Street, sits Rancherita. Buttressed by a house, a warehouse, and a large building advertising "Kingdom Manifesters" (?!?), the restaurant has an unassuming, industrial-ish exterior that belies the sophisticated culinary and decorative touches inside. Hanging on the sunset-colored walls are two flat-screen televisions (telenovelas were on during a recent visit), and, in tune with the surroundings, Rancherita approaches the traditional — in this case, inland-Mexico cuisine — with an eye toward capitalizing on a hot market.
Hot, taste-wise, is not Rancherita's middle name, but as our friendly — and impressively bilingual — server explained, the kitchen tones down the food a notch out of respect for newbies' stomachs. The salsa compensated for its lack of eye-watering attack by delivering a balanced, fresh mixture of tomatoes, garlic, and cilantro. Anyone preferring to step things up is welcome to ask for the smokier and more jalapeño-y, mas caliente version. Mexican cooking uses many kinds of meats, and, luckily for Fort Worth, Rancherita's owners, the Estrada family, have the recipes to prove it. The menu begins with the platos al carbon or "dishes from the grill." The bistec, accompanied by three cumin-heavy cheese enchiladas, met the knife with peppery grit and then yielded a tender, flame-grilled center.
The 15 different house specials are mostly Tex-Mex, but some traditional, stew-ish fare also appears. The guisado de puerco, which came with green chile sauce, made use of a hearty amount of tomatillos to complement the meat without altering its true, mouth-watering, fatty essence. Wrapped in Rancherita's hand-made tortillas, just about anything would taste great. An unnamed tortilla magician crafts each circle of corn or flour perfection every day, and her attention to detail is a godsend. In opposition to the bland Mexican flatbread scattered across our supermarkets, Rancherita's creations up the ante with thick, rich, melting flavors. If you've always thought that a tortilla needs condiments to shine, you need to try Rancherita's.
The restaurant opens early and does reasonably priced breakfasts. In addition to a daily $1.99 burrito special, which you can nab via a drive-through window, Rancherita also doles out that old American standby, pancakes, along with huevos and, if you like, chorizo. However, the one breakfast item that we recently sampled, the chilaquiles (tortilla chips cooked with meat and veggies), were soggy and oddly lackluster — they didn't have the copious amounts of cheese and eggs that you'd find even in the most thoroughly Americanized "Mexican" establishments. Worse, the spice-heavy molé was gracelessly overwhelming.
On weekdays, the restaurant closes at 3 p.m., which may explain why the most time-consuming entrées are offered only on weekends, when Rancherita is open for dinner and beyond. The barbacoa (cow's head meat) tasted as if it had been delicately slow-cooked for hours, its flavor was so bright and its texture so juicy. A server had cut the onions and cilantro right before coming out with our plates — the watery vegetables still had the kick of freshness that propelled the already-superlative beef into the stratosphere of "excellent." Rancherita doesn't serve alcohol, which is fine, considering the other liquid goodies available, including Mexican Coca-Cola (basically, Coke sans the high-fructose corn syrup) and homemade rice-milk (horchata), piña, and limonada. The horchata arrived in a milkshake mixer and proved to be a refreshing, much-less-sweet version of its American cousin, topped with what tasted like freshly ground cinnamon. The dessert selection is light, with puddings and creams, which after you've indulged in limitless chips and salsa, is appropriate. Rancherita also sells snowcones, adding a nice Texas accent to a nice unique restaurant.
 Rancherita
Horchata $2.50
Bistec and enchiladas $8.95
Guisado de puerco $6.50
Chilaquiles $4.50
Barbacoa cebolla y cilantro
(per lb.) $9.75
Rice pudding $2.75